Annual Humanities Events
Portia White Concert
Honouring Our Musical Heritage
A Dalhousie alumnus, Portia White (1911-1968) (pictured below) was the first Black Canadian singer to reach world-renowned status. She became one of the most inspirational women in Canada's history and has been honoured in many ways.
The annual Portia White Gala Concert showcases a varied repertoire that includes seasonal music, concert band and chorale favorites.  A portion of the proceeds from this concert are directed towards the Nova Scotia Talent Trust's Portia White Award to assist a young Nova Scotia voice student.  We think she would have liked that.


T.J. Murray Visiting Scholar
Humanizing Medicine
Whenever you are working with people it's important to take their humanity into consideration.  Medicine is no exception.  That's why this program was established. 
We want to help student and faculty better understand the link between medicine and the humanities by exposing them to drama, poetry, art, photography, philosophy and ethic. 
This program honours Dr. T.J. (Jock) Murray (pictured below), former Dean of the Dalhousie Medical School from 1985-1992. Dr. T.J. (Jock) Murray was our dean of Dalhousie Medical School from 1985-1992. He's a world-renowned expert in multiple sclerosis research, medical humanities and medical history. He's also the founder and first president of the Dalhousie Society for the History of Medicine, and has been recognized repeatedly for his achievements as a teacher, physician, researcher and historian.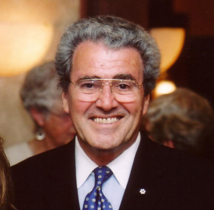 Pervious Lectures in the T.J. Murray Visiting Scholar series [PDF  kB]