Our Administration ‑ Tom Marrie
Deans, department heads, managers and directors
Q & A with Tom Marrie, MD, dean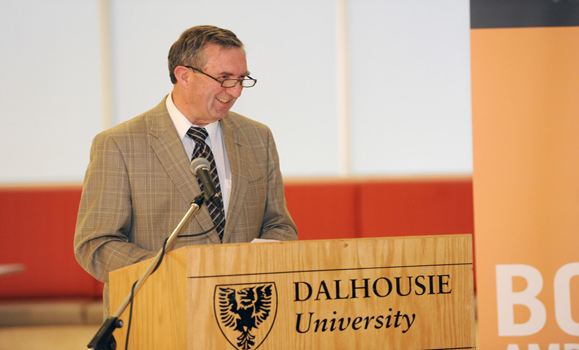 In September 2009, Dalhousie Medical School welcomed its twelfth dean, Dr. Thomas Marrie. In some ways, it looked as though Dr. Marrie had come full circle in his career: he would be leading the school where he was once a student and graduate.
But it wasn't the homecoming one might expect. The medical school had just been given notice by its US-based accreditor that it had two years to tweak aspects of its undergraduate program. Dr. Marrie used this as an opportunity to review the entire MD curriculum.
Now into the final stretch of his five-year term, we caught up with Dr. Marrie to take a look back at curriculum renewal, and what it was like as dean of Dalhousie Medical School.
What attracted you to the position of dean?
It's a privilege to be a dean of any medical school, but in particular this medical school. You get to play a role in shaping the next generation of doctors – these individuals will define the future of health care. Our students are young, idealistic and hard working; they'll accomplish great things.
What was it like coming in as dean during a probationary period?
It was exciting and frightening. I always believed that Dalhousie Medical School was recognized across the country for training good doctors. It was concerning thinking about the reputation of the school. Reputation takes years to build up, and then you find it can suddenly collapse in seconds.
At the same time, I knew that we had a chance to make Dalhousie's undergraduate medical curriculum the best in Canada. Looking back on the past four years, it was the greatest experience I could have had.
Explain a bit of what was involved to meeting accreditation standards.
There was incredible support across the entire medical school. Everyone from faculty and project managers, to administrators and secretarial staff came together in teams to discover how we could learn and improve upon the best practices in curriculum design.
No one had a sense of disbelief or thought it couldn't be done in the two years. There was fantastic trust and commitment from all those involved.
What were the lessons learned from being on probation?
There were three things:
It's important to recognize that not everything will seem ideal in a 'hurry up and get it done' situation. You quickly realize that you'll sometimes have to operate with less consultation than you'd like.
Never assume you're finished with something. Change is never over and you should never let yourself be content.
Be mindful of opportunity cost. During probation, some things had to temporarily be put on hold. Be aware of what's priority, but prepare for how you will come back to those other tasks.
How would you describe the state of the medical school today?
I think that the medical education program is in good shape. Our residency program and continuing medical education were evaluated just a year ago and both received high praise.
However, we are not doing enough education research on the innovations that we have made, particularly with the video-conferencing systems between our Halifax and Saint John campuses. We are now doing more to look at the impact and role of technology in education.  
What are your priorities in the time you have left as dean?
Enhancing our research environment is one of my main priorities. There are several obstacles impacting research at the medical school. Some basic science departments haven't been able to replace their retiring staff. Every person is critical in these departments, so not being able to replace them is a challenge.
The funding environment is also a challenge. The success rate for research funding is very low across Canada. Essentially, 95% of people do not receive the funding they apply for. It's discouraging for researchers, especially young researchers who are trying to get started.
What have been the successes at the medical school that you've seen?
I've only been as successful as those around me. It has been wonderful to see the accomplishments made by staff and faculty, and to see them receive recognition for their hard work. As a collective, the medical school has been very successful, but it has been a delight to see our people do well.
Outside of the medical school, we've done a lot to grow community involvement. Dr. Preston Smith has been working on our African-Nova Scotian committee; it has functioned really well at increasing the number of African-Nova Scotian students enrolling in medical school. As well, we've been making routine visits to Nova Scotia communities to meet with local physicians and business leaders, encouraging physicians to become involved with clerkships in rural communities, and communicating the role that Dalhousie Medical School has in patient care.
Finally, Dalhousie Medicine New Brunswick has been a fantastic success. Our first graduating class in Saint John will celebrate convocation in May 2014. The effort that went into accreditation from our New Brunswick faculty and staff was incredible.