Our Learners ‑ Cinera States
The next generation of doctors
Q&A with Cinera States, first-year medical student (2013)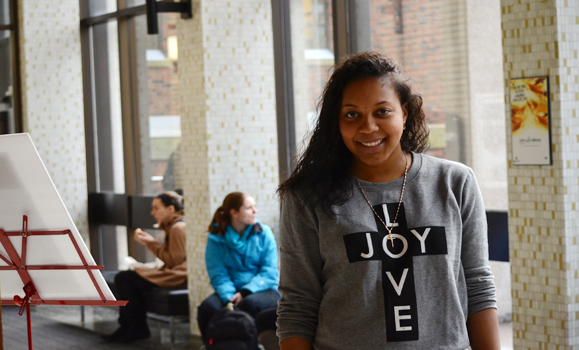 First-year medical student, Cinera States, is no stranger to Dalhousie University. She came to Dalhousie campus in 2008 for an undergraduate degree and settled into a role with Dalhousie's Imhotep's Legacy Academy (ILA) as a mentor to African heritage youth. A double major in biology and psychology later, she knew medicine was the next step.
We caught up with Cinera to talk about her time at Dal, and what mentorship means to her.
What was it that made you want to study medicine?
It started when I met my pediatrician, a female physician of African descent. This was my first encounter with a science professional who looked like me, and the first time I imagined myself in a career in medicine.
My work with ILA – a science and math enrichment program for African heritage students in grades 7-12 – also played a role in my decision to pursue a career in medicine. As a mentor, I'm trying to help increase African Canadian enrollment in university to address the lack of cultural and racial diversity in undergraduate programs.
Affecting positive change in young minds, like that pediatrician once did for me, is what keeps me moving toward my goals.  
Explain a bit more about your role ILA.
In September 2008, I started visiting students in junior high schools and running science and math activities. I was a coordinator for the after-school program, as well as junior program officer. I've been active in the management, planning and implementation of programming for the program's students.
I continue to volunteer with ILA, although my role has significantly decreased being busy with school. I'll always be involved with ILA--mentorship should be a lifetime commitment, not a temporary appointment.
How did you decide on studying at Dalhousie Medical School?
Why not Dalhousie is the real question. Dalhousie has been my home now for six years. Even after graduating with my bachelor degree, I couldn't part ways with Dalhousie. I took a year off from school only to come back and continue working for ILA.
How has your time as a mentor changed you?
The systemic barriers these students are facing are more apparent after seeing the education system through their eyes. This insight will help me moving forward in medicine. It's made me a more responsible, understanding, and stronger individual knowing that I'm setting an example for others.
Personally, being a mentor has improved my communication skills, self-confidence, and given me the opportunity to be a positive role model to ILA students. It's provided motivation to pursue my goals, even when I believed I couldn't achieve them.
Who are your mentors now?
I believe mentorship is so important in a young person's life. My mentor is my cousin, Dr. Chadwick Williams, a past graduate of Dalhousie Medical School. There are very few medical professionals in our family, let alone our community, so watching Chad succeed the way he has inspires me to keep working towards my goal.
I know that he is always there if I ever need advice or support. He has been where I am now and got through it, so I know I can too.
Any thoughts about residency yet?
It's too early to say where CaRMS will take me, but I'm confident that I'll have the knowledge and experience to make a good decision. I'll say, though, that I have a strong interest in continuing to work in my community in a medical and mentorship role, and that family medicine and psychiatry are at the top of my radar.