Our Learners
Students and residents of Dalhousie Medical School

Q&A with Nadim Joukhadar, second-year medical student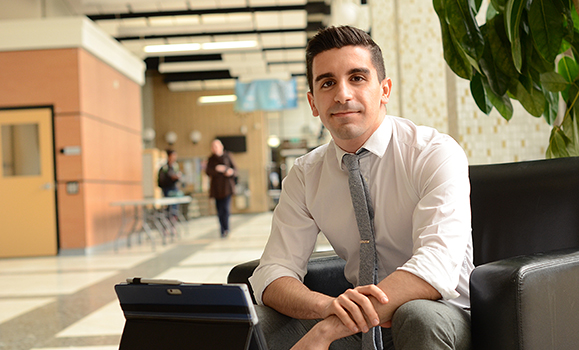 A second-year student at Dalhousie Medical School is stitching together ways to improve the patient experience. After a recent elective, Nadim Joukhadar has become involved in a number of projects in the Division of Plastic & Reconstructive Surgery: he's creating instructional videos for emergency medicine physicians, improving coordination and care of breast cancer patients and evaluating surgery residency programs.
We caught up with Nadim to talk about the projects.
You recently started filming hand repair procedures with the Division of Plastic & Reconstructive Surgery. Why did you start these?
When a patient presents to the emergency department with a hand injury, plastic surgery is the usual consult. But not all rural health centres have a plastic surgeon available on-site—calls are often made to plastic surgeons in other centres, or patients have to travel to these centres if the rural physician isn't comfortable handling the case alone.
A needs assessment by Dr. Jason Williams in the division found the most common cases for which consult calls are made. We utilized these cases and recorded instructional videos for the procedures. Along with serving this physician population, we hope that the videos also serve as a quick, informative resource for medical students.
What was your role in the project?
Dr. Williams had created most of the videos, but he found that they weren't easily accessible. I suggested hosting them on a YouTube channel. We discussed what videos would be best to add, started filming them and had the page in operation shortly after.
Currently, we have videos to explain hand anatomy and trauma examination, how to prepare various hand and wrist splints, administer digital blocks and how to perform a closed reduction of a fifth metacarpal fracture. We also have plans for videos detailing extensor tendon repair, skier's thumb examination, revision digital amputation, nasal fracture reduction and a slideshow detailing burn management.
What's the feedback been like from physicians and your peers?
We just recently launched the channel, but responses from emergency medicine residents have been very positive. We're planning on sending the channel out to the department chiefs of rural emergency medicine centres soon.
We've also shown it to patients in the clinic and they were very interested. One patient wanted to view the digital block how-to video while the procedure was performed on her. She actually found this comforting.
Dr. Williams and I also wrote an article detailing the video project for Doctors Nova Scotia's magazine. We wrote an article for another project as well: a breast reconstruction guidebook.
What can you tell us about the guidebook?
After seeing a few breast reconstruction patients in follow-up appointments, I began to further understand how a patient could be confused by what their previous treatment included, and how important communication between a whole health care team is.
The idea for a guidebook came from Dr. Williams; he had hoped to create a personalized passport for breast cancer patients to bring to all of their appointments. I arranged meetings with the IWK Breast Health Centre and Dr. Williams to collect information that should be included in the guidebook.
From those meetings, we created a draft of the guidebook. The next step is to evaluate patient and health care professional opinion on its efficacy. We've already shown it to general and plastic surgeons to get their thoughts, and we'll officially be piloting the guidebook this summer now that we have ethics approval.
How do you see the guidebook impacting patient care?
Breast cancer patients often have prognostic fears, and worry about invasive investigations, mastectomy procedures, financial worries and extended hospital stays. As well, the process post-reconstruction involves multiple procedures, appointments at different sites with a variety of health care professionals and regular follow-up appointments.
Coordination and communication amongst these various centres and the patient's family physician is essential to a patient's optimal care. Remembering specifics of pathologic reports, hormone receptor results and details of reconstruction flaps and implants would be difficult for a health professional, let alone someone who isn't familiar with the terminology. With the guidebook, patient-specific information is captured by each treating health professional. This type of personalized and consolidated medical record for patients to bring to their appointments is a novel strategy.
Besides these two projects, what else have you become involved in?
I've been working with Dr. David Tang to evaluate and modify the surgical foundations boot camp for incoming residents. The boot camp was one of the first of its kind in Canada, and was designed to foster medical competence, empower junior physicians, and ultimately, improve patient safety. The broad curriculum covers critical topics in surgery—from patient positioning in the OR, to vascular access, transfusion medicine and suturing skills labs.
I am also helping Dr. Tang create and integrate Stenosing Tenosynovitis—commonly known as trigger finger—group consult sessions in local plastic surgery offices. We hope the sessions will help patients to be assessed and treated in an efficient, thoughtful manner and relieve wait times.
Visit the Division of Plastic & Reconstructive Surgery's YouTube channel.