Our Learners
Students and residents of Dalhousie Medical School

Q&A with Tara Riddell, second-year medical student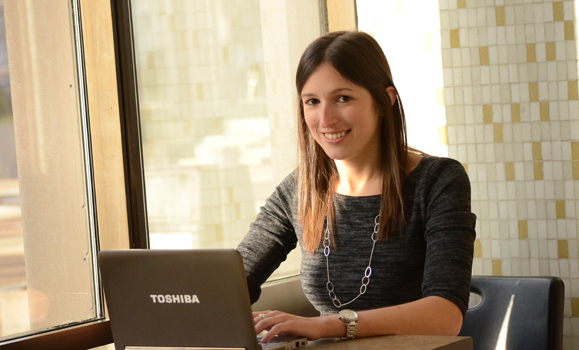 In her second year of medical school, Tara Riddell took her interest in psychiatry online, developing a Facebook page devoted to improving education around mental health as part of a class project.
The project, Beyond The Body, is now celebrating its first year of operation. As Tara says, it's helping to replace fear and stigmatizing attitudes around mental illness with understanding and empathy.
Why did you start the Beyond The Body project?
Beyond The Body began as a project for one of my second-year medicine classes. I became aware of how mental health issues were, and still are, a growing concern and topic of interest in our society. Though we know mental illness affects one in five individuals, and is a leading cause of disability and major contributor of suicide, many people with mental illness go undiagnosed and untreated.
While a considerable barrier to care is related to stigma, research shows that physicians and medical students also contribute to low levels of mental health care. Part of the problem is a lack of education in psychiatry for students despite the high prevalence of these conditions. Medical students may possess the stigmatizing attitudes and beliefs about mental illness, reducing their ability to identify mental health concerns among their patients. This can lead to less empathy and understanding, as well as poor illness management and support for these individuals.
I saw a need for further education in mental health and psychiatry for medical students to better address some of these issues. This is where Beyond The Body came in.
What have been some of the milestones around the project?
Beyond The Body just celebrated its first anniversary of being in operation. One of the main goals is to reach as many people as possible--reaching over 150 followers on Facebook and over 300 on Twitter was huge news. Early last year, the Canadian Federation of Medical Students promoted the project on their social media sites. It was great to have support from a national student-run organization.  
I also presented the project to a number of faculty members on the undergraduate education committee for the Department of Psychiatry. The feedback I received was incredibly positive, and together we developed plans to promote the project through the department, to psychiatry residents, post the project on the department's website, and include it as a resource during the psychiatry unit for second-year medical students.
What's been the response from your peers/physicians?
The project has been well received by the medical school community. My classmates have been some of the project's biggest supporters. From providing feedback and suggestions when I was first drafting the idea, to following the project and engaging in discussions, to providing me with ideas and mental health news for future posts, they've helped shape Beyond The Body.
I couldn't have continued to run the project without the help of a fantastic group of medical students from the Class of 2018. A number of them are now online contributors, devoting quite a bit of time and effort into helping the project maintain a social media presence. I can only hope future MD classes have the same degree of interest and enthusiasm.
In what way do you hope the project impacts health professionals?
I hope the project continues to be an educational resource for students, residents, physicians, and the public. The project can act as a space to discuss issues and topics around mental health—especially for health professionals. It also helps to address students' fear or stigmatizing attitudes of psychiatric patients by increasing their knowledge, insight, and understanding of mental health and psychiatric disorders. Most of all, it can increase students' sense of comfort and familiarity with mental health concerns and in interacting with mental health patients.
Having insight into mental health and a greater understanding of psychiatric disorders is crucial for health professionals. It improves their ability to interact, understand, assess, diagnose, and treat or support these patients. It can help us to be more well-rounded and prepared physicians and specialists, and has the potential to improve our own mental well-being simply by increasing our awareness and helping us be more attuned to emotional and psychological health.
How could this project improve the care of mental health patients?
By targeting and enhancing students' and health professionals' knowledge of psychiatric disorders and mental health, they'll come to be more skilled and adept at recognizing mental illness and emotional stress. Like so many mental illnesses, the earlier patients are diagnosed the better. This leads to earlier treatment and access to community services, which in turn leads to improved outcomes.
By helping others to better understand and appreciate these patients, the stigma and fear that patients often anticipate will decrease, and more patients will feel comfortable seeking help and receiving care.
Ultimately, a good, therapeutic physician-patient relationship is one that is based on trust and respect. If Beyond The Body can help to increase provider understanding, it may also help to foster our empathy and regard for those with mental illness, leading to improved care and a more positive and valuable experience for the patient.
What's the plan for the future?
The goal is to continue to spread the word about the project and to have it be utilized by other medical students across Canada and even globally. The project is designed so it can be accessed and used by those outside the field of medicine. I would love to see it reach other health care professionals as well.   
There have also been discussions of using Beyond The Body to conduct further research into the use of social media in education, and to explore the impact of such a resource on students' knowledge, skills and attitudes towards psychiatry and patients with mental health concerns.
Finally, as this project continues to be a student-led initiative, I would love to see more student contributions, whether that be with helping run the social media pages, or by submitting artwork, research, stories, or articles related to mental health.