Government of Canada Supports Physical Activity, Healthy Eating, and Wellbeing for Students across Nova Scotia
News
»
Go to news main
Government of Canada Supports Physical Activity, Healthy Eating, and Wellbeing for Students across Nova Scotia
Posted by Jason Bremner with files from the Public Health Agency of Canada on May 14, 2019
On May 10th, 2019, the Honourable Ginette Petitpas Taylor, Minister of Health, announced that the Public Health Agency of Canada will be investing up to $5 million in UpLift - an initiative to promote physical activity, healthy eating, and wellbeing among students across Nova Scotia. The Minister made the announcement while visiting West Highlands Elementary School in Amherst, Nova Scotia, to participate in activities with students as part of the initiative.
UpLift will be led by Dalhousie University in collaboration with the Nova Scotia Health Authority along with the provincial Department of Education and Early Childhood Development, the Department of Health and Wellness, the Dalhousie Medical Research Foundation, the QEII Foundation, and other partners from across the province.
Over the next five years, UpLift will reach up to 90,000 students at up to 360 schools across the seven English regional centres for education, the Francophone provincial school board, and schools within the 'Mi'kmaw Kina'matnewey school system.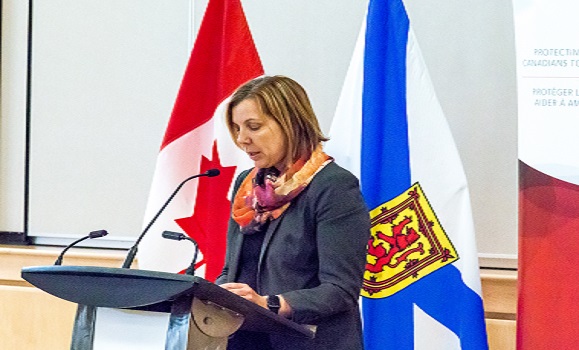 "Our children deserve to live healthy lives, and to be unburdened by chronic disease," said Dr. Sara Kirk, UpLift co-lead, and Professor of Health Promotion in the Faculty of Health at Dalhousie University. "Not only that, they deserve to have the opportunities to achieve their full potential, in their lives and careers, and be part of a brighter future for this province."
Using Nova Scotia's Health Promoting Schools model, schools will continue to explore new policies and practices that improve students' wellbeing, encourage physically active school communities, and promote healthy food environments. A key component of UpLift will be supporting students to become change agents among their peers, leading by example, identifying solutions, and helping to implement actions that will contribute to healthy, vibrant, connected, safe, and empowering school communities.
"We know that when children are nourished and active, they learn better, perform better, and behave better," said Dr. Camille Hancock Friesen, Dalhousie Faculty of Medicine and UpLift co-lead. "Understanding that schools represent a critical setting where lifelong healthy habits can be formed, UpLift will focus heavily in the school setting, and will emphasize student leadership as an integral part of the process."