Photo essay: Volunteers key contributors to med school training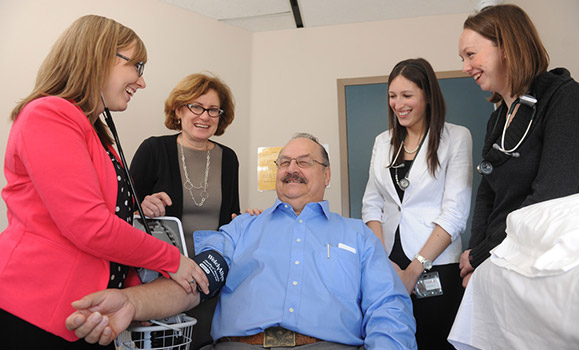 Dr. Joanna Zed (second from left) and her students take Henry Ziabek's blood pressure. Ziabek started volunteering with the VPP three years ago.
This year, more than 100 community members in Halifax and Saint John gave their time to the medical school's Volunteer Patient Program (VPP). The VPP gives first-year med students the opportunity to practise their interviewing and examination skills in a simulated health care setting.
"Students are able to get a gentle and relatively non-threatening introduction to the skills essential to clinical practice. The VPP provides both a basic introduction to communication and physical examination skills, and the opportunity to practise those skills in a controlled and monitored environment. Students are also given the opportunity to relate closely to a practising clinician. This latter benefit is perhaps the most impressive of the program." – Dr. Ron Stewart, professor emeritus, medical education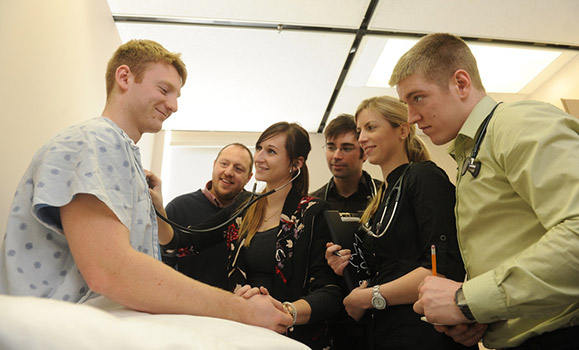 Dr. Karl Logan's (second from left) students learn how to take a medical history by talking with volunteer patient Adam Bent.
The VPP was introduced in 2010, as part of the medical school's curriculum revamp, to expose medical students to practical learning experiences much sooner in their course of study. Before the VPP existed, students had to wait until second year to gain some of the skills that they're now aquiring early on with the help of volunteer patients.
"This service has changed the educational model. Students are able to practise in a safe environment, without fear of embarrassment or harm to the patient. The volunteer patients understand what we are looking for and are able to provide effective feedback." – Dr. Joanna Zed, Family Medicine
"By having volunteers from the community allow us to practise these skills, we become more comfortable performing clinical history and physical examinations. These individuals are generally healthy, so the stress of causing additional discomfort to an already ill patient is removed. The volunteers also tend to give students feedback on how they felt things progressed and what can be improved. This is extremely beneficial as it allows us to continuously improve our abilities within the clinic and shapes how we will address patient concerns when we move into clerkship, and then practice." - Leo Fares, first-year medical student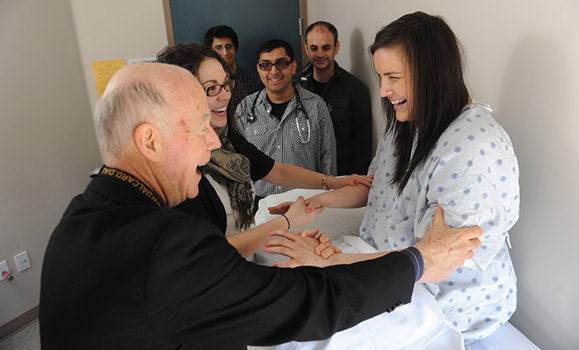 Dr. Ron Stewart and his clinical skills group share a laugh with volunteer patient Meghan Dooks.
The VPP runs throughout the academic year, and with each new unit in the curriculum, students learn to conduct the relevant physical examinations. The exams are non-invasive, and learning takes place under the direction of physician tutors.
"As the program progressed, we tended to build on the skills that we had developed in the previous weeks. We became more comfortable taking histories and performing system-specific physical exams. At the end of the year, we integrated these skills and performed a complete history and physical examination with a simulated patient." – Leo Fares, first-year medical student
"The program offers the tutor methods of demonstrating clinical skills without risking any inconvenience, or worse, to a real patient. And as is true of medical education in general, tutors learn from volunteer patient feedback how better to teach, and what aspects of their own clinical skills they themselves might need to improve." – Dr. Ron Stewart, professor emeritus, medical education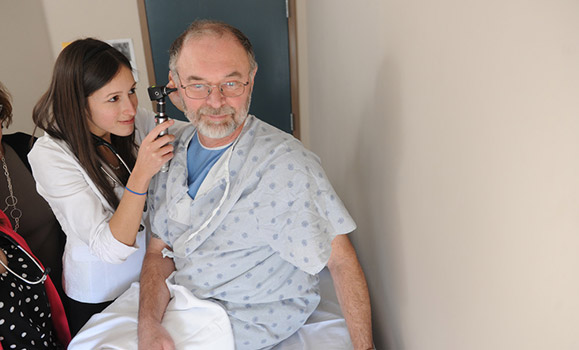 First-year medical student Tara Riddell practises an ear exam on volunteer patient Jim Hilsendegar.
By practising with volunteers, medical students are better equipped to interact with the patients they see in real-life clinic and hospital environments.
"I noticed personally that as I became more comfortable with the exams, I was faster and more efficient in performing them. I think this early exposure is one of the greatest strengths of our program. We will continue to expand on our clinical skills next year in Med 2, and this is something I'm really looking forward to." – Leo Fares, first-year medical student
"The Volunteer Patient Program offers a consistent and safe experience when learners need the most support in developing their clinical and communication skills. The VPP provides the ability to slow down and practise aspects of the history and physical examination; this is something that you simply can't expect real patients to do." – Dr. Joanna Zed, Family Medicine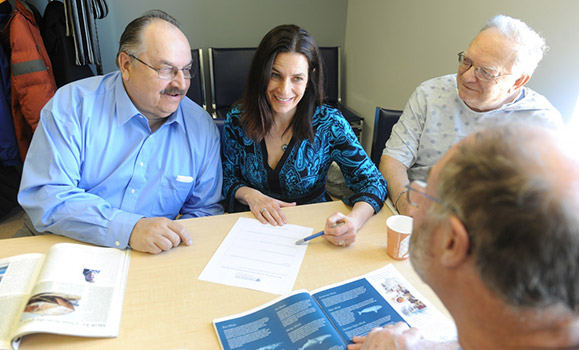 Angela Vermeir, coordinator of the VPP, discusses the day's schedule with volunteer patients Henry Ziabek, Bob Brooks, and Jim Hilsendegar. All three men started volunteering with the VPP in 2010.
Volunteer patients are of all ages and backgrounds. Young people interested in medical school often volunteer to get an inside look at how med school works. Seniors who have an interest in contributing to the education of future doctors are another large segment of the VPP. And some people take part to give back to the medical system after they, or someone they know, received a diagnosis of some kind.
"Our dedicated volunteers represented a wonderful slice of the Nova Scotia population. Our age demographic was 18 to 82. People from all walks of life and many different cultural backgrounds gave their time and energy week after week." – Angela Vermeir, coordinator, VPP
"The use of volunteer patients greatly enhances the teaching of clinical skills to first-year medical students. By using their own stories and medical histories in the practise setting, the patient experience remains at the centre of our teaching." – Dr. Marie Matte, associate dean, Undergraduate Medical Education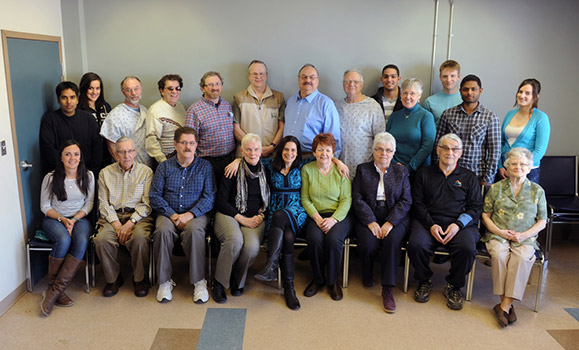 Some of the Halifax-based volunteer patients.
Recruitment for the VPP begins in late summer. The program runs from October to April. For more information, email vppinfo@dal.ca.
"The volunteers are all amazing people who give their time to help our students learn about patient-centred care. It's a program that I am convinced will contribute to making our students better doctors and communicators." – Angela Vermeir, coordinator, VPP