Alasdair
Syme
Assistant Professor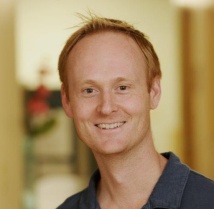 Email:
Alasdair.Syme@nshealth.ca
Phone:
902-473-6191
Fax:
902-473-6120
Mailing Address:
Department of Medical Physics
QEII Health Sciences Centre
Rm 3028, Dickson Building
5820 University Avenue
Halifax, B3H 1V7

Education
BSc (McMaster University) - Honours Medical and Health Physics
PhD (University of Alberta) - Physics (Medical Physcis specialization)
Research Interests
Novel radiation detectors
This research is focused on the design, fabrication and evaluation of radiation detection and dosimetry systems.  Areas of interest include organic electronic devices and scintillation detectors (organic and inorganic).
4-Pi radiotherapy
Developer Mode on the Varian TrueBeam linear accelerator platform is being used to explore trajectory-based radiotherapy in which the couch, gantry and collimator of the system can be dynamically moved to affect highly compact, conformal dose distributions.
Radionuclide Therapy
We are studying the effects of the composition and size of radiolabeled microspheres used for transarterial radioembolization on the radiation dosimetry of these procedures.  We are developing a framework for fast, accurate, patient-specific dose calculations.
Recent publications
Parsons D, Church C, Syme A. (2019) Toward a pre-clinical irradiator using clinical infrastructure. Phys Med 58: 21 – 31.
MacDonald RL, Thomas CG, Ward L, Syme A. (2018) Intra-arc binary collimation algorithm for the optimization of stereotactic radiotherapy treatment of multiple metastases with multiple prescriptions. Med Phys 45: 5597 – 5607.
Hupman MA, Hill IG and Syme A. (2018). Preliminary characterization of the response of an organic field effect transistor to ionizing radiation. Radiation Measurements. 118: 31 – 35.
MacDonald L, Thomas C, Syme A. (2018). Dynamic Collimator Trajectory Algorithm for Multiple Metastases Treatment Planning. Med Phys 45: 5 – 17
Church C*, Mawko G, Archambault JP, Lewandowski R, Liu D, Kehoe S, Boyd D, Abraham R, Syme A. (2018). Dose kernel and self-shielding calculations for a novel radiopaque glass microsphere for transarterial radioembolization. Med Phys 45: 934 – 942


Hilmi K, Jangal M, Marques M, Zhao T, Saad A, Zhang C, Luo V, Syme A, Rejon C, Yu Z, Asiev K, Fabian M, Richard S, Alaoui-Jamali M, Orthwein A, McCaffrey L and Witcher M (2017) CTCF facilitates DNA double-strand break repair by enhancing homologous recombination repair. Science Advances 3: e1601898
Mullins J, DeBlois F and Syme A (2016) Experimental characterization of the dosimetric leaf gap. Biomed Phys Eng Express 2:  065013
Maria O, Shalaby M, Syme A, Eliopoulos N and Muanza T (2016) Adipose mesenchymal stromal cells minimize and repair radiation-induced oral mucositis. Cytotherapy 18: 1129 – 1145
Maria O, Syme A, Eliopoulos N, Muanza T (2016) Single dose radiation-induced oral mucositis mouse model. Front Oncol 6: Article 154
Maria O, Kumala S, Heravi M, Syme A, Eliopoulos N, Muanza T (2016) Adipose mesenchymal stromal cells response to ionizing radiation. Cytotherapy 18: 384 – 401
Zismanov V, Chichkov V, Colangelo V, Jamet S, Wang S, Syme A, Koromilas A and Crist C (2016) Phosphorylation of eIF2a is a translational control mechanism regulating muscle stem cell quiescence and self-renewal. Cell Stem Cell 18: 79 – 90
Joseph K, Nijjar Y, Warkentin H, Schiller D, Tankel K, Usmani N, Severin D, Ghosh S, Syme A, Nijjar T, Mulder K, Doll C, Wong C and Field C (2015) Prospective phase II study of tomotherapy based chemoradiation treatment for locally advanced anal cancer. Radiother Oncol 117: 234 – 239
Asgharizadeh S, Bekerat H, Syme A, Asdelaijan S, DeBlois F, Vuong T, Evans M, Seuntjens J and Devic S (2015) Radiochromic film-based quality assurance for CT-based high-dose-rate brachytherapy. Brachytherapy 14: 578 – 585
Other interests and achievements
Director, Halifax Radiation Oncology Physics Residency Program - CAMPEP accredited
Deputy Chief Examiner, Canadian College of Physicists in Medicine