David
Bowes
Associate Professor & Assistant Dean, Postgraduate Medical Education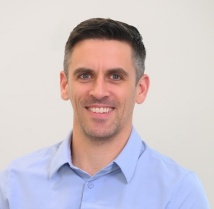 Email:
Kim.Bear@nshealth.ca
Fax:
902-473-7205
Mailing Address:
Department of Radiation Oncology
Dalhousie University
Rm 2200, Main Floor, NSCC
5820 University Avenue
Halifax, B3H 1V7

Clinical sites
Genitourinary and Gynecologic cancers 
Education
BSc (Mount Allison University)
MD (Dalhousie University)
FRCPC (Dalhousie University)
Fellowship in Brachytherapy  (British Columbia Cancer Agency)
Academic & Research interests
Program director, Radiation Oncology residency training program
Research in residency education
Brachytherapy  

Awards and honours
Dalhousie Program Director of the Year award for Innovations in Postgraduate Education, 2016-2017.
Teacher of the Year, Department of Radiation Oncology, 2012 and 2015
Highest rate of accruals to clinical trials, Department of Radiation Oncology, 2012, 2013, and 2015
Recent publications
Dahn H, Best L, Bowes D.  Attitudes towards research during residency training: a survey of Canadian Radiation Oncology residents and program directors.  Journal of Cancer Education, Epub ahead of print.
Leung E, D'Souza D, Bachand F, Han K, Alfieri J, Huang F, Vigneault E, Barkati M, Wiebe E, Foster W, Fortin I, Velker V, Bowes D, Barnes E, Patil N, Banerjee R, Barbera L, Ravi A.  MRI-based interstitial brachytherapy for vaginal tumors: a multi-institutional study on practice patterns, contouring, and consensus definitions of target volumes.  Brachytherapy, Epub ahead of print.
Dahn H, Oliver P, Allen S, Cherpak A, Syme A, Patil N, Bowes D.  Individualized dose-escalation of HDR prostate brachytherapy implant to decrease required external beam radiation dose:  a retrospective feasibility study.  Advances in Radiation Oncology 2019;4(4):641-648.
Dahn H, McGibbon A, Bowes D.  Burnout and resiliency in Canadian oncology residents: a nationwide resident and program director survey.  Practical Radiation Oncology 9(1):e118-125,2019. 
Zhao Y, Castonguay M, Wilke D, Xu Z, Plourde M, Mulory L, MacNeil M, Bowes D.  Treatment outcomes and incidence of brain metastases in pulmonary large cell neuroendocrine carcinoma.  Current Problems in Cancer 43(1):54-65,2019.
Moran K, Sinclair L, Freire S, Peters L, Bowes D, Best L, Cherpak A, Darling M, Day T, Trask J, Ilie G.  Describing a process for creating a patient visible quality educational display to increase patient engagement in Radiation Oncology throughout the Maritime provinces.  J Cancer Educ 2019;34(5):973-999.
Dahn H, Watts K, Best L, Bowes D.  Transition to practice: creation of a transitional rotation for Radiation Oncology residents.  Canadian Medical Education Journal 2018;9(3)e89-96.