James
Robar
Professor & Chief of Medical Physics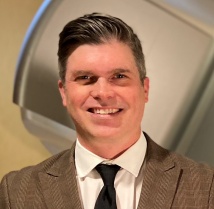 Email:
james.robar@nshealth.ca
Phone:
902-473-6017
Fax:
902-473-6120
Mailing Address:
Department of Radiation Oncology
Dalhousie University
Rm 3001, Dickson Building
5820 University Avenue
Halifax, B3H 1V7

Education
BSc (McGill)
MSc (McGill)
PhD (UBC)
Residency in oncology medical physics (BC Cancer Agency, Vancouver Centre)
Research interests
Image guided radiation therapy
Novel beams produced by linear accelerators
Fluence Modulated Cone Beam CT
3D printing applications in radiation therapy
Dose enhancement with gold nanoparticles
Administrative roles
Associate Head, Medical Physics
Program Director
MSc and PhD in Medical Physics
Department of Physics and Atmospheric Science
Chief, Department of Medical Physics, Nova Scotia Health Authority 
Academic interests
Computational methods in oncology and imaging physics
Awards and honours
2019 Faculty of Medicine Excellence in Education Award, Dalhousie University
2018 Innovation Grant, Canadian Cancer Society, $200k, Dose enhancement combining nanoparticles with a low-Z target x-ray beam using a zebrafish model, with Drs. Jason Berman and Michael Ha.
2017 Atlantic Canada Opportunities Agency – Atlantic Innovation Fund and Brainlab AG (industrial partner), $3.64M, Novel technologies for treatment of cancer with precision radiotherapy, co-PI with Drs. Mike Sattarivand, Alasdair Syme and Christopher Thomas.
2017 Springboard Atlantic IM-Industry Engagement award, $7,800 (including matching funds). Co-investigator with Dr. Christopher Thomas.
2016 Professional of Distinction, Discovery Awards for Science and Technology, Nova Scotia
2016 Research Grant, collaboration with Varian Medical, Inc., in support of project: Low-Z targets in the TrueBeam radiation therapy platform, US$157,750 (+ software and hardware resources)
Recent publications
N. Lynch, T. Monajemi, J. L. Robar, Characterization of novel 3D printed plastic scintillation dosimeters submitted to Phys Med Biol, March 2020, under review.
G. Struik, J. Godart, T. Klem, T. Monajemi, J. L. Robar, J. P. Pignol, Radiochromic film in vivo dosimetry predicts early the risk of acute skin toxicity for brachytherapy partial breast irradiation, Phys Med Biol, accepted March, 2020.
M. Rooney, D. Rosenberg, S. Braunstein, A. Cunha, A. Damato, E. Ehler, T. Pawlicki, J. L. Robar, K. Tatebe, D. Golden, Three-dimensional printing in radiation oncology: a systematic review of the literature, JACMP, accepted February, 2020.
O. Semeniuk, P. Sadeghi, J. Farah, K. Moran, J. L. Robar, Performance optimization of Capacitive Motion Sensing (CMS) system for intra-fraction motion detection during stereotactic radiosurgery, BPEX, accepted November, 2019.
J. Lincoln, D. Parsons, S.E. Clarke, S. Cwajna, J. L. Robar, Technical note: evaluation of kV CBCT enhancement using a liver-specific contrast agent for stereotactic body radiation therapy image guidance, Med Phys, 46(3), 1175-1181, 2019.
P. Sadeghi, J. Lincoln, E. Ruiz, J. L. Robar, A novel intra-fraction motion monitoring system for stereotactic radiosurgery: proof of concept, Phys Med Biol, 63(16), 2018.
J. L. Robar, K. Moran, J. Allan, J. Clancey, T. Joseph, K. Chytyk-Praznik, R.L. Macdonald, J. Lincoln, P. Sadeghi, R. Rutledge, Intra-patient study comparing 3D printed bolus versus standard vinyl gel sheet bolus for postmastectomy chest wall radiation therapy, Practical Radiation Oncology, doi:10.1016/j.prro.2017.12.008, 2017.
S. Atrchian, P. Sadeghi, W. Cwajna, L. Helyer, D. Rheaume, M. Nolan, P. Sadeghi and J.L. Robar, Improvement in delineating breast lumpectomy cavity using surgical clips, Journal of Surgical Research, 221, 30-24, 2017.
M. Tynan Stevens, D. Parsons and J. L. Robar, Patient specific methods for room-mounted x-ray imagers for monoscopic/stereoscopic prostate motion monitoring, JACMP 2017 May 4.
Other interests and achievements
Vice President, Board of Directors, Commission on Accreditation of Medical Physics Educational Programs (CAMPEP)
Program reviewer, Graduate Program Education Program Review Committee, CAMPEP
Co-founder, Adaptiiv
Founding Senior Associate Editor, Advances in Radiation Oncology
Reviewer, Medical Physics, Physics in Medicine and Biology, International Journal of Radiation Oncology Biology Physics