Congratulations to Dr. Ayoub Dakson who has been awarded the CNSS KG McKenzie Memorial Prize for Clinical Research
Dr. Ayoub Dakson has been awarded the CNSS (Canadian Neurosurgical Society) KG McKenzie Memorial Prize for Clinical Research, 2nd Prize, for his research, "a nation-wide prospective multi-centre study of external ventricular drainage accuracy, safety and related complications". Dr. Dakson will be presenting his work at the upcoming 54th Canadian Neurological Sciences Federation Congress meeting in Montreal, Quebec.  
Congratulations to the award winners of Clinical Neuroscience Resident Research Day, held at the Dalhousie University Faculty Club on March 13, 2019!
The winners for this year's event are:
Dr. William Stevenson Award – Dr. David Brandman
Top Overall Presentation – Dr. David Brandman
Top Neurology Resident Award – Dr. Sherry Hu
Top Neurosurgery Resident Award – Dr. Mark MacLean
Top Student Award – Chad MacLeod
Award of Merit – Eugenie Girouard
A special thank you to our judges, Drs. Vivek Mehta, Leah Cahill and Murray Hong.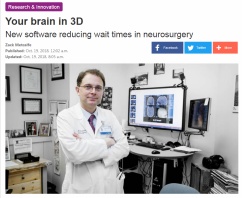 Research and Innovation
Dr. David Clarke, head of the Division of Neurosurgery at the QEII, stands in front of the StealthStation. This new technology enables neurosurgeons to carry out surgery more effectively, efficiently and in a way which is ultimately safer for the patient. (DARREN HUBLEY)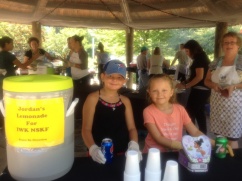 IWK Neurosurgery Kids Fund
Lemonade Stand and BBQ
On August 30, Jordan Bignell, Super Hero, set up a lemonade stand and, with the help of Jayda Slaunwhite, drew crowds of people from University Avenue to the IWK Health Centre Neurosurgery Kids Fund BBQ! Funds raised exceeded $2,250! Well done!! A warm thank you to everyone who helped out with this initiative.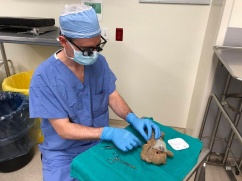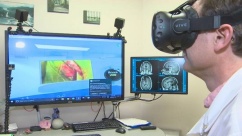 Purple Day
Happy Purple Day in support of Epilepsy Awareness, March 26, 2018!
Welcome Drs. Jae Ho Han and Mark Maclean our new Post Graduate Year 1 (PGY1) residents in neurosurgery.
We welcome Drs. Jae Ho Han and Mark Maclean who join the Division of Neurosurgery in July, 2018 as our new Post Graduate Year 1 (PGY1) residents in neurosurgery.
Dr. Jae Ho Han is completing his medical degree at Dalhousie University.  He has completed many electives within the Division of Neurosurgery, including adult and pediatric clinical and OR time.  He has been involved in clinical research with our Halifax Neuropituitary Program.
Dr. Mark Maclean also joins us from Dalhousie Medical School and has completed his Masters of Science at Dalhousie.  Dr. Maclean has spent time with our Division during clinical electives. He has published several articles to date.        
We are delighted to welcome aboard Drs. Ho Han and Maclean!
Congratulations to the Neurosurgery Spine Team
In late November, our Spinal Cord Injury Acute Services Team - the first to be accredited in Canada - again received full national accreditation.  Highlights of the Accreditation Report include:
Clinical leadership – there is a strong interdisciplinary team with recent expansion of beds to accommodate demand;
Competency – patients and families have access to the interdisciplinary team and staff are supported through education and training for ongoing professional development;
Episode of Care – staff spoke of supportive environment and opportunities for professional development.  There is a defined pathway and criteria for admission to the unit for traumatic spinal cord injury patients.  Goals of care are established amongst staff and family;
Decision support – Patient records are complete and accessible with continuity of care.  The Unit is supported by Nurse Practitioners; and,
Impact on outcomes – there is a strong focus on quality improvement and safety.
Congratulations to all on the spine team, led by Dr. Sean Christie!
CaRMS (Canadian Resident Matching Service)
The Division of Neurosurgery is delighted to announce that we will be accepting one resident per year through CaRMS (Canadian Resident Matching Service).  This important decision supports Neurosurgery's goal of providing neurosurgical care that meets the needs of the region and further strengthens our Atlantic Neurosurgery Training Program!