Kishore
Pasumarthi
Professor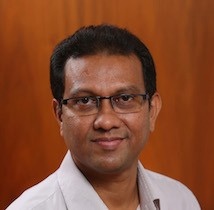 Email:
kpasumar@dal.ca
Phone:
902-494-2681
Mailing Address:
Room 6F, Tupper Medical Building, Dalhousie University, 5850 College Street, PO Box 15000, Halifax, Nova Scotia, Canada B3H 4R2

Research Topics:
Myocardial repair
Cell transplantation and drug interactions
Cell cycle regulation
Cardiac fibrosis and remodeling
Stem and progenitor cell biology
Education
BVSc & AH (SV Veterinary University)
MVSc  (Indian Veterinary Research Institute)
PhD (University of Manitoba)
PDF (Indiana University School of Medicine)
Research interests
Dr. Pasumarthi's research is mainly focused on developing cell based strategies for myocardial repair. Findings from his laboratory suggest that cardiac progenitor cells may be beneficial to replace dead cells after myocardial injury. His laboratory is also developing genetic and pharmacological interventions to promote tissue repair in a diseased heart.
Selected publications
Zhang F, Feridooni T, Hotchkiss A and Pasumarthi KB (2014). Divergent cell cycle kinetics of mid-gestation ventricular cells entail a higher engraftment efficiency after cell transplantation. Am. J. Physiol. Cell Physiol. (In Press).
Hotchkiss A, Feridooni T, Zhang F and Pasumarthi KB (2014). The effects of calcium channel blockade on proliferation and differentiation of cardiac progenitor cells. Cell Calcium, 55(5):238-51.
Gaspard GJ, MacLean J, Rioux D and Pasumarthi KB (2014). A novel β adrenergic response element regulates both basal and agonist induced expression of cyclin dependent kinase 1 gene in cardiac fibroblasts. Am. J. Physiol. Cell Physiol. 306(6):C540-50.
Wafa K, Zhang F, MacLean J and Pasumarthi KB (2013). Characterization of growth suppressive functions of a splice variant of cyclin D2. PLoS ONE 8(1):e53503.
Feridooni T, Hotchkiss A, Remley-Carr S, Saga Y and Pasumarthi KB (2011). Cardiomyocyte specific ablation of p53 is not sufficient to block doxorubicin induced cardiac fibrosis and associated cytoskeletal changes.  PLoS One 6(7):e22801.
Selected awards and honours
Dr. Greg Ferrier Award, Heart and Stroke Foundation of Nova Scotia
Margaret Becklake Feature Symposium Award, ICRH-CIHR
Heart and Stroke Foundation of Canada New Investigator Award
Dalhousie Medical Research Foundation New Investigator Award
American Heart Association Postdoctoral Fellowship
E. L. Drewry Memorial Award
Memberships
International Society for Heart Research
The American Physiological Society
Teaching
Course coordinator and instructor, DENT 1117 and PHAC 5626.03
Instructor, PHAC 5405, OCCU 6130 and DENQ 3000
Service and activity
Graduate coordinator, Department of Pharmacology
Reviewer, Canadian Institutes of Health Research
Scientific Review Committee, Heart and Stroke Foundation of Canada