Steering Committee
Dr. Jason McDougall
Prof. McDougall was born in South Shields and educated in Scotland. He received his PhD in Joint Physiology from the University of Glasgow and subsequently undertook postdoctoral training in Canada, Germany and Spain. Prof. McDougall was awarded postdoctoral fellowships from the Alberta Heritage Foundation for Medical Research (AHFMR), the Medical Research Council of Canada and was the recipient of the Ernst & Young Joint Injury & Arthritis Research Fellowship. In 2001 he joined the Faculty of Medicine at the University of Calgary where he held an AHFMR Senior Scholarship as well as an Arthritis Society Investigator award. He transferred to Dalhousie University in 2011 where he is currently a Professor of Pharmacology and Anaesthesia.
Prof. McDougall's research focuses on the neurobiology of pain and inflammation in the development of arthritis. His research is currently examining the role of cannabinoids and proteinases in the control of arthritis pain and inflammation. His research goal is to identify novel drug targets and develop new treatments which will help alleviate chronic pain and resolve joint inflammation. He currently receives project funding from CIHR, The Arthritis Society of Canada, and The Nova Scotia Health Research Foundation. He is the Chief Scientific Officer for GenCanBio and has been a consultant for Antibe Pharmaceuticals (Canada), AstraZeneca (UK), Eli Lilly & Company (USA) and Pfizer (UK). Prof. McDougall is an editor for Inflammation Research and BMC Anaesthesiology as well as the Chair of the Scientific Advisory Committee at the Arthritis Society. He has also won numerous awards for his homebrewed beers which have subsequently been commercially produced.
Tel: (902) 494-4066
Fax: (902) 494-1388
Email: Jason.McDougall@Dal.Ca
Twitter: @JasonJMcDougall
Web: myweb.dal.ca/js265778
Dr. Ronald B. George
Dr. George is an Associate Professor and Associate Medical Director of Research with the Department of Anesthesia, Pain Management, and Perioperative Medicine at Dalhousie University. He completed a research/clinical fellowship in Women's Anesthesia at Duke University Medical Center in 2006. His areas of clinical and research interest include
labour & postoperative analgesia, and spinal anesthesia hemodynamics. Dr. George has peer reviewed research grants from the Nova Scotia Health Research Foundation and Canadian Anesthesiologists' Society for the study of women's pain. He was awarded the CAS Career Scientist Award for the project "Enhancing analgesia and anesthesia for women and high-risk pregnancies". He plays an active role in the Faculty of Medicine as Vice-Chair of the Research Advisory Committee and Chair of the Research in Medicine Unit of the undergraduate medical curriculum. Dr. George is currently the Past-Chair of the CAS Obstetric Anesthesia Section. He is currently on the Board of Directors for Kybele, a nonprofit humanitarian organization dedicated to improving childbirth safety worldwide through educational partnerships.
Tel: 902.470.6627
Cell: 902.880.6495
Fax: 902.470.6626
Email: rbgeorge@dal.ca
Twitter: @Ron_George
Dr. Katherine Harman
In addition to her professional degree, she completed an M.Sc. (Anatomy / Neuroscience) and a Ph.D. (Psychology / Neuroscience). The multiple perspectives that this background offers has influenced her research program where she uses both qualitative and quantitative methods and has a focus on improving pain-related therapeutic interactions between patients and their health care provider. Currently she has a particular interest in exploring how the health care providers can be effective in facilitating patient self-management in low back pain.
Office: Rm 406, Forrest Bldg
Tel: (902) 494-8820
Email: k.harman@dal.ca

Dr. Peter Stilwell
Dr. Peter Stilwell is a Dalhousie Pain Network trainee representative. He completed degrees in Kinesiology (BKin), Chiropractic (DC), and Rehabilitation Research (MSc). He is currently a practicing chiropractor who emphasizes exercise, pain education, and patient self-management. He is also in the PhD (Health) program at Dalhousie. His research is assessing clinicians' barriers and facilitators to evidence-based low back pain care. He is also exploring how innovative knowledge translation strategies can be used to increase clinicians' knowledge and use of clinical practice guidelines.

Email: peterstilwell@dal.ca
Twitter: @Peter_Stilwell

Dr. Ian Weaver
Dr. Ian Weaver graduated with his BSc in Molecular Biology from Aberdeen University (Scotland) and earned his MSc in Molecular Neuroscience at Bristol University (England) and PhD in Neuroscience and Neurosurgery at McGill University (Montreal, Canada). Dr. Weaver completed his post-doctoral training in Developmental Stem Cell Biology at The Hospital for Sick Children and in Human (Epi)Genomics at the Centre for Addiction and Mental Health (Toronto, Canada). In 2012, he began a position as an Assistant Professor in Developmental Molecular (Epi)Genetics in the Departments of Psychology and Neuroscience, and Psychiatry at Dalhousie University (Halifax, Canada). He has over 18 years of experience investigating the neurobiological processes underlying stress and anxiety-related phenotypes, with a particular interest in behavioral neuroendocrinology, nutrition, metabolism and molecular (epi)genetics. He has contributed substantially to the understanding of how the genome integrates intrinsic and environmental signals and regulates neural gene expression in early brain development, normal brain function as well as in neurodegenerative and neuropsychiatric disease. Dr. Weaver is the Atlantic Canada Chapter lead of The Canadian Developmental Origins of Health and Disease Network (www.dohad.ca), a multidisciplinary group that provides national expertise ranging from clinical psychology to (epi)genomics. His research group is well positioned to gain a better understanding of the impact of environmental hazards and lifestyle factors on epigenetic modifications of DNA relevant to human health, ranging from stress resilience to pain susceptibility to metabolic syndrome and cancer risk.
Dr. Marsha Campbell-Yeo
Dr. Marsha Campbell-Yeo is a certified neonatal nurse practitioner, an Associate Professor at Dalhousie University School of Nursing, and a Clinician Scientist at the IWK Heath Centre with cross appointments to the Departments of Pediatrics, and Psychology and Neuroscience. She maintains .2 in the NICU in the role of a neonatal nurse practitioner. Her research lab, primarily funded by the Canadian Institute of Health Research and Canadian Foundation of Innovation Grant, entitled "Mechanisms, Outcomes, and Mobilization of maternally-Led Interventions for Newborn Care" (MOM-LINC), provides an interdisciplinary research environment for the development of innovative and non-invasive healthcare interventions that engage mothers and families in the management and care of neonates.
She currently holds a Canadian Institute of Health Research (CIHR) New Investigator Award (2017-2021), an Career Development Award from the Canadian Child Health Clinician Scientist Program Award (2015-2019) and she has been the recipient of the Canadian Pain Society Early Career Award (2015), Excellence in Nursing Research Award (2014);, College of Registered Nurses of Nova Scotia (2014); Global Health REAL Award (2013); and CIHR fellowship (2008-2012). She is a mentor in the Pain in Child Health (PICH) training program.
Dr. Campbell-Yeo is the Secretary on the Board of Directors for the Canadian Pain Society (2014-2017), and is an elected Council Member for the IASP Special Interest Group on Pain in Childhood (2015-2020). Dr. Campbell-Yeo is a Mayday Pain and Society Fellow.
Email: marsha.campbell-yeo@dal.ca
Twitter: @DrMCampbellYeo
Dr. Javeria Hashmi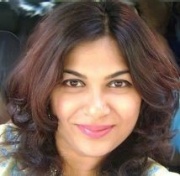 After training in brain imaging and pain research for over a decade in some of the world's leading institutions, including the University of Toronto, Northwestern and Harvard Medical School, Dr. Hashmi has joined Dalhousie University as a Canada Research Chair Tier II and Assistant Professor in the Department of Anesthesia, Pain Management & Perioperative Medicine. Dr. Hashmi's research focuses on applying computational methods firstly, to understand the brain mechanisms behind chronic pain and secondly to generate tools from brain imaging that can impact clinical management of chronic pain. Dr. Hashmi has adapted novel techniques such as graph theory, signal processing and machine learning to solve the complex and urgent topics related to functional brain imaging of pain and cognition including pain adaptation, sex differences, chronic pain etiology, placebo analgesia, anesthesia and development of brain networks. To observe brain function, Dr. Hashmi uses the complementary approaches of functional MRI and magnetoencephalography that allow navigation through complex properties of brain networks with high spatial and temporal resolution respectively. In upcoming research, Dr. Hashmi will build upon recent findings on predicting treatment outcomes with brain 'connectomics' and machine learning, and will apply this knowledge towards improving the lives of people suffering with chronic pain.

Twitter: @netphys1
Website: www.netphyslab.com
Dr. Karim Mukhida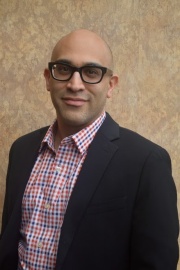 Dr. Mukhida is an Assistant Professor in the Department of Anesthesiology, Pain Management and Perioperative Medicine at Dalhousie University with a clinical practice focused on acute and chronic pain management and neuroanesthesia.
Originally from Halifax, he completed his MD and PhD at Dalhousie University. He was a Visiting Fellow at Harvard University and a resident in Neurosurgery and Anesthesia at the University of Toronto and Dalhousie. He joined the Faculty of Medicine after doing chronic pain fellowship training in Toronto and Halifax with the support of a Killam Post-graduate Scholarship.
In addition to his clinical work, Dr. Mukhida pursues research in pain management and the medical humanities. His research interests include those related to basic science (the use of stem cell therapies in the spinal cord to address pain conditions), medical education (the use of literature, art and film to teach medical students and residents), and work-wellness issues related to chronic pain (as developed during his MBA training in the Sobey School of Business at Saint Mary's University).
His interest in medical education has led him to spend time in Nepal, Vietnam, and Rwanda participating in teaching initiatives with the Foundation for International Education in Neurological Surgery and the Canadian Anesthesiologists' Society International Education Foundation.
Twitter: @kmukhida
Email: kmukhida@dal.ca