Balpreet

Singh

,

MBBS, MD
Division of Neonatal-Perinatal Medicine, Associate Professor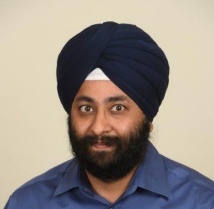 Email:
balpreet.singh@iwk.nshealth.ca
Phone:
902-470-7055
Fax:
902-470-6469
Mailing Address:
Division of Neonatal-Perinatal Medicine, Department of Pediatrics
IWK Health Centre
Room G2174, 5850/5980 University Avenue
P.O. Box 9700
Halifax, NS B3K 6R8

Research Topics:
Neonatology
Neonatal feeding and nutrition
Neonatal respirology
Bronchopulmonary dysplasia
Neonatal abstinence syndrome
Neonatal hemodynamics and functional echocardiography

Education
MSc (McMaster University)
Fellowship in Neonatal-Perinatal Medicine (McMaster University)
MD (Safdarjung Hospital, Delhi University, India)
Compulsory Rotatory Internship (SP Medical College, Bikaner, India)
MBBS (Sardar Patel Medical College, Bikaner, India)
Teaching interests
NRP instructor
Simulation

Basic research methodology

Publications
Mukerji A, Singh B, El Helou S et al. Use of Noninvasive High-Frequency Ventilation in the Neonatal Intensive Care Unit: A Retrospective Review. Am J Perinatol. 2014 Jun 10. [Epub ahead of print] PubMed PMID: 24915560.
Shanthanna H, Singh B, Guyatt G. A Systematic Review and Meta-Analysis of Caudal Block as Compared to Noncaudal Regional Techniques for Inguinal Surgeries in Children. Biomed Res Int. 2014; 2014:890626. Epub 2014 Aug 5. Review. PubMed PMID: 25162033; PubMed Central PMCID: PMC4139076.
Dutta S, Singh B, Chessell L, Wilson J, Janes M, McDonald K, Shahid S, Gardner VA, Hjartarson A, Purcha M, Watson J, de Boer C, Gaal B, Fusch C. Guidelines for Feeding Very Low Birth Weight Infants. Nutrients. 2015 Jan 8;7(1):423-442.