Jehier

Afifi

,

MB BCh, MSc
Division of Neonatal-Perinatal Medicine, Assistant Professor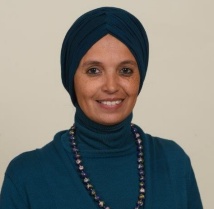 Email:
jehier.afifi@iwk.nshealth.ca
Phone:
902-470-7426
Fax:
902-470-6469
Mailing Address:
Division of Neonatal-Perinatal Medicine
IWK Health Centre, Room G2174
5850/5980 University Avenue
P.O. Box 9700
Halifax, NS B3K 6R8

Education
MB BCh (Ain Shams University, Egypt)
MSc (Ain Shams University, Egypt)
Fellow, Neonatal Perinatal Fellowship Program (University of Manitoba, Canada)
In progress: MSc, Community Health & Epidemiology (Dalhousie University, Canada)
Employment
Assistant professor, Department of Pediatrics, Dalhousie University
Neonatologist, Division of Neonatal-Perinatal Medicine, IWK Health Centre
Neonatologist, Nova Scotia Provincial Perinatal Follow-up Program, IWK Health Centre
Research interests
Dr. Afifi's research interests include newborn health and development and improving quality of care. Her research area focuses on brain imaging and the neurodevelopmental outcome of preterm infants but extends to involve nutrition and clinical interventions of prematurity. Her clinical research is interdisciplinary, collaborating with perinatology, radiology, neurology and pediatric development services and geared both to contribute to the academic literature and to improve the outcome of preterm infants.
Selected publications
Selected awards and honours
Award for "The Best Neonatal Presentation" at 21st Annual Western Perinatal Research Meeting, University of Alberta, Canada, 2013
Certificate of Appreciation from Manitoba Institute of Child Health for presenting the Neonatal Department at the 24th Annual Local Pediatric Fellows Research Competition, University of Manitoba, Canada, 2012
Certificate of Appreciation from Gulf Medical College for contribution in teaching medical students, United Arab Emirates, 2010
Certificate of Appreciation from Abu Dhabi Health Authority for contribution in Continuous Medical Education for Pediatricians and lecture presentations at Emirates Neonatal and Perinatal Society meetings, United Arab Emirates, 2007
Service & activity
Site investigator of the Canadian Neonatal Network (CNN); Halifax, 2014
Chair of the Canadian Evidence-based Practice for Improving Quality (EPIQ III); Halifax, 2014
Founding member of Canadian Brain Platform Group, 2014
Member of IWK Neonatal Quality Improvement Leadership Team, 2014
Member of IWK Neonatal Surgery Quality Improvement Committee, 2014
Member of IWK Neonatal Task Force Committee, 2014
Member of the IWK Perinatal Follow Up Program Advisory Group, 2014
Member of the IWK Perinatal Follow Up Database, 2014
Member of Neonatal-Perinatal Medicine Division Mortality Committee, 2013
Member of Neonatal-Perinatal Medicine Division Mortality and Morbidity Group, 2013
Teaching
Neonatal-perinatal medicine fellows
Normal and Abnormal Adaptation: Update on Neonatal Resuscitation, January 2014
Acquired Diseases of the Respiratory System in the Term Infant, March 2014
White Matter Brain Injury, January 2015
Intraventricular Hemorrhage in Newborn Infants, January 2015
Pediatric residents and undergraduate teaching
Pediatric Resident Academic Half Day Seminar: "Respiratory distress in the full term newborn infant": June 2013
Pediatric Med 3 Seminar: Introduction to Newborn Health, January 2014, February 2015
Med 2 Students Clinical Skills: Physical Exam of the Newborn. 2014 (Feb, April), 2015 (Jan, Feb)
Registration & memberships
Royal College of Physician and Surgeons of Nova Scotia
Royal College of Physician and Surgeons of Manitoba
Canadian Medical Association
Canadian Pediatric Society (CPS), Neonatal-Perinatal Medicine Section
Canadian Medical Protective Association (CMPA)
Doctors Nova Scotia
Canadian Neonatal Network (CNN)
Egyptian Medical Syndicate
Egyptian Neonatal Society and Egyptian Society for Maternal and Child Health