Suzanne

Ramsey

,

MD
Division Head Pediatric Rheumatology, Associate Professor, Associate Chair of Faculty Resources (Pediatrics)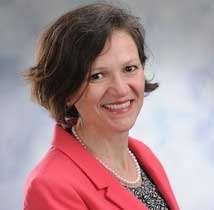 Email:
suzanne.ramsey@iwk.nshealth.ca
Phone:
902-470-8827
Fax:
902-470-7217
Mailing Address:
Division of Pediatric Rheumatology
IWK Health Centre
PO Box 9700
5850-5980 University Ave.
Halifax, NS B3K 6R8

Research Topics:
Juvenile idiopathic arthritis
Pediatric rheumatic diseases (Kawasaki disease, vasculitis, SLE, juvenile dermatomyositis)
Rare disorders of inflammation
Biography:
Dr. Ramsey is a pediatric rheumatologist, head of pediatric rheumatology, and associate professor of pediatrics with cross-appointment in Medicine (Rheumatology). Her interests include all aspects of pediatric rheumatology including transition of care. She is a member of the Rheumatology Post-Graduate Training Committee.
Education:
BSc Biology (University of New Brunswick)
MD (University of Ottawa)
FRCPC Pediatrics (Dalhousie University and University of British Columbia)
FRCPC Rheumatology (University of British Columbia)
Selected publications:
Pier Diane Glaude MD, Adam Huber MD, Timothy Mailman MD, Suzanne Ramsey MD, Bianca Lang MD, Elizabeth Stringer MD. Clinical characteristics, treatment and outcome of children with Lyme arthritis in Nova Scotia. Paediatr Child Health. 2015 Oct; 20(7):377-80.
Stringer E, Scott R, Mosher D, MacNeill I,  Huber A, Ramsey S, Lang B.  Evaluation of a Rheumatology Transition Clinic.  Pediatr Rheumatol Online J. 2015 Jun 11;13:22
*Yin Liu, M.D. Ph.D, *Adriana A. Jesus, M.D. PhD, *Bernadette Marrero, Ph.D., Dan Yang, M.D., Ph.D., Suzanne E. Ramsey M.D., Gina A. Montealegre Sanchez, M.D., M.S., Klaus Tenbrock, M.D., Helmut Wittkowski, M.D., Olcay Y. Jones, M.D., Hye Sun Kuehn, Ph.D., Chyi-Chia R. Lee, M.D., Ph.D, Michael A. DiMattia, Ph.D., Edward W. Cowen, M.D., Ira Palmer Ph.D., John J. Digiovanna, M.D., Angelique Biancotto, Ph.D., Hanna Kim, M.D., Wanxia L. Tsai, Anna Trier, Yan Huang, M.D., Deborah L. Stone M.D.,  Suvimol Hill, M.D., H. Jeffery Kim, M.D., Cynthia St. Hilaire, B.S., Shakuntala Gurprasad, M.T.,  Nicole Plass R.N., Dawn Chapelle, R.N., Iren Horkay, M.D., Dirk Foell, M.D., Fabio Candotti M.D.,Ph.D., Steven M. Holland, M.D., Jason D. Hughes Ph.D, Huseyin Mehmet Ph.D., Andrew C. Issekutz M.D., Mark Raffeld, M.D., Joshua McElwee Ph.D., Susan Moir Ph.D., Daniel L. Kastner, M.D., Ph.D., Massimo Gadina Ph.D., Alasdair C. Steven, Ph.D., Paul T. Wingfield, Ph.D., Stephen R. Brooks Ph.D., Sergio D. Rosenzweig M.D. Ph.D., Thomas A. Fleisher M.D., *Zuoming Deng Ph.D., *Manfred Boehm M.D., Ph.D., *Amy S. Paller, M.D, and Raphaela Goldbach-Mansky M.D. De Novo Gain of Function Mutations in TMEM173 Cause a Vasculopathy and Pulmonary Syndrome, New England Journal of Medicine. 2014, Vol.371(6), pp.507-518
Simon W.M. Eng, Trang T. Duong, Alan M. Rosenberg, Quaid Morris, and Rae S.M.Yeung, on behalf of the REACCH OUT and BBOP Research Consortia. The Biological Basis for Clinical Heterogeneity in Childhood Arthritis. Arthritis and Rheumatology. 2014 Dec; 66(12):3463-75. doi: 10.1002/art.38875
Ramsey S. Invited Article. Vaccination in Juvenile Rheumatic Diseases. Journal of the Canadian Rheumatology Association Spring 2014 Online. 24: (1)
Employment:
Staff Pediatric Rheumatologist IWK Health Centre (1999-present)
Head, Division of Pediatric Rheumatology, IWK Health Centre (2016-present)

Associate Head, Division of Pediatric Rheumatology, IWK Health Centre (2015-2016)
Interim Head, Division of Pediatric Rheumatology, IWK Health Centre (2014- 1 year term)
Associate Professor Pediatrics and Medicine, Dalhousie University (2008-present)
Memberships:
Canadian Medical Association (CMA)
Canadian Rheumatology Association (CRA)
Childhood Arthritis and Rheumatology Research Alliance (CARRA)
Canadian Association of Pediatric Rheumatology Investigators (CAPRI)
American College of Rheumatology (ACR)
Services and activities:
Finance Management Committee, Department of Pediatrics (2000-present)
Bill Reid Award, Volunteer of the Year, Halifax Junior Bengal Lancers (2014)
Chair, Board of Directors, Amethyst Scottish Dancers (2013-2015)
Member, Board of Directors, Amethyst Scottish Dancers (2011-2013)
Member Medical Advisory Committee Brigadoon Children's Village (2014-present)
Member, Divisional Advisory Board Nova Scotia, The Arthritis Society (2013-present)
Related information:
http://www.iwk.nshealth.ca/childrens-health/services/#/childrens-health/services/rheumatology