Victoria

Price

,

MBChB, MSc, FRCPC
Division Head of Pediatric Hematology/Oncology, Professor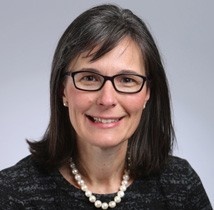 Email:
vicky.price@iwk.nshealth.ca
Phone:
902-470-6839
Fax:
902-470-7216
Mailing Address:
IWK Health Centre
Room K7122, 7th Floor Children's Site
5850/5980 University Ave
Halifax NS B3K 6R8

Research Topics:
Pediatric hemostasis and thrombosis
Women's issues in hemostasis
Vascular anomalies
Quality of life
Quality improvement
Cost evaluation
Financing healthcare

Education
MSc Health Economics, Policy and Management (The London School of Economics, London, England)
Pediatric Hemostasis Fellowship, Hospital for Sick Children, Toronto, Canada
MMed Pediatrics (University of Pretoria, South Africa)
MBChB (University of Pretoria, South Africa)
Employment
Professor, Department of Pediatrics, Dalhousie University
Pediatric hematologist/oncologist, IWK Health Centre
Research interests
Dr. Price's research interests include health outcomes and cost evaluation of bleeding disorders in women and children, supportive care in pediatric hematology/oncology and management of vascular anomalies in children.
Selected publications       

Young G, Lensing AWA, Monagle P, Male C, Thelen K, Willmann S, Palumbo JS, Kumar R, Nurmeev I, Hege K, Bajolle F, Connor P, Hooimeijer HL, Torres M, Chan AKC, Kenet G, Holzhauer S, Santamaría A, Amedro P, Beyer-Westendorf J, Martinelli I, Patricia Massicotte M, Smith WT, Berkowitz SD, Schmidt S, Price V, Prins MH, Kubitza D; EINSTEIN-Jr. Rivaroxaban for treatment of pediatric venous thromboembolism. An Einstein-Jr Phase 3 dose-exposure-response evaluation. Phase 3 Investigators.J Thromb Haemost. 2020 Apr 4.
Tole S, Price V, Pope E, Powell J, david M, Zwicker K, Kendrick V, Malic C, John PR, Somers GR, Dubois J, Brandao LR. Abnormal hemostasis in children with vascular anomalies, part l: Thrombocytopenias among different vascular anomalies. Thromb Res. 2019 Jun 13.
Usuba K, Price VE, Blanchette V, Abad A, Altisent C, Buchner- daley L, carneiro JDA, Feldman BM, Fischer K, Grainger J, Holzhauer S, Luke KH, Meunier s, Ozelo M, Tang L, Antunes SV, Villaca P, Wakefield C, Wharfe G, Wu R, Young NL. Impact of prophylaxis on health-related quality of life of boys with hemophilia: An analysis of pooled data from 9 countries. Res pract Thromb Haemost. 2019 Apr 23; 3(3).
Moorehead, PC, Chan AKC, Lemyre B, Winikoff R, Scott H, Hawes SA, Shroff M, Thomas A, Price VE.  A Practical Guide to the Management of the Fetus and Newborn with Hemophilia.  Clin Appl Thromb Hemost.  2018 Oct 29.
Price VE, Hawes SA, Bouchard A, Vaughan A, Jarock C, Kuhle S. Unmeasured costs of haemophilia: the economic burden on families with children with haemophilia. Haemophilia.  2015 Jul;21(4):e294-9.
Price VE, Ledingham DL, Krumpel A, Chan AK.  Diagnosis and management of neonatal purpura fulminans.  Semin Fetal Neonatal Med.  2011;16:318-22.