David P.
Morris
Associate Professor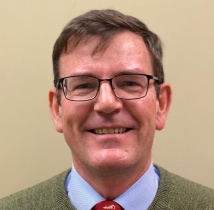 Email:
dp.morris@dal.ca
Phone:
902-473-1986
Mailing Address:
Room 3037, 3rd Floor Dickson Building
5820 University Avenue
Halifax, Nova Scotia, Canada B3H 1V7

Education
BSc (Hons.) Pharmacology, Med College of St. Bartholomew's Hospital
MBBS, Med College of St. Bartholomew's Hospital
Residency, North-west of England Rotation, UK
MD (Doctoral Thesis), University of London, UK
Fellowship Otology/Neurotology, Dalhousie University
Dr. Morris joined the Dalhousie Division of Otolaryngology in 2003 following a fellowship there in Otology, Neurotology and Lateral Skull-base Surgery. He enjoys a busy tertiary adult and pediatric practice covering the breadth of otology and neurotology for the Maritime Provinces. Dr. Morris is a member of the Otologic Implant and Lateral Skull-base programmes and coordinates the Otology Fellowship. His doctoral thesis examined coupling interfaces in middle ear reconstruction, while current interests include functional microanatomy of the middle ear space, mastoid obliteration techniques, performance assessment of bone conduction hearing devices, communication skills training and the development of new surgical tools.
Research interests
Dr. Morris's research interests include performance of bone conduction hearing devices, middle ear sound transmission, informed consent in otologic surgery and the design of novel surgical tools. He was funded by the Clinical Research Scholar Programme at Dalhousie University (2006-2011), holds a Canadian Foundation for Innovation, Leaders' Opportunity Fund Award and is a co-researcher in the Ear and Auditory Research Laboratory (EARLab). 
Selected publications
Can audiometric results predict qualitative hearing improvements in bone-anchored hearing aid recipients? McNeil ML, Gulliver M, Morris DP, Makki FM, Bance M. J Laryngol Otol. 2014 Jan;128(1):35-42. 
The importance of an extended preoperative trial of BAHA in unilateral sensorineural hearing loss: a prospective cohort study. Pennings RJ, Gulliver M, Morris DP. Clin Otolaryngol. 2011 Oct;36(5):442-9.
Quality of Life improvement for BAHA users and their partners. McNeil ML, Gulliver M, Morris DP, Bance M. J Laryngol Otol. 2011 Mar 29:1-7.
Natural history of hearing deterioration in intracanalicular vestibular schwannoma. Pennings RJ., Morris D.P., Clarke L., Allen S, Walling S., Bance ML. Neurosurgery. 2011 Jan;68(1):68-77.
Cholesteatoma in three dimensions: a teaching tool and an aid to improved pre-operative consent. Morris DP, Van Wijhe RG. J Laryngol Otol. 2010 Feb; 124(2):126 - 31
Selected awards and honours
The Knott Surgery Prize and Medal (1989), The Medical College of St. Bartholomew's Hospital, London
The George Seed Memorial Prize (Residents Award) (2000), North of England Otolaryngological Society
The Royal Society of Medicine "Gold Medal" (2001), awarded to the highest scoring candidate in the Intercollegiate Fellowship Examination in Otolaryngology, College of Surgeons, Dublin, Eire
Top Medical Student Research Presentation (2011), Division of Otolaryngology Annual Resident Research Day
3rd Prize – Student Presentation, Department of Surgery Resident Research Day
Supervisor for award winner Damien Yohn (The effect of graded temporal bone resections on BAHA performance in dry skulls and surgically fixed cadaveric heads)
Nova Scotia Productivity & Innovation Voucher Programme Tier 1 (2013)
Development of a novel surgical tray for middle ear operations
Memberships
Board of Directors, Nova Scotia Hearing & Speech Clinics, member
Canadian Otology Special Interest Group, co-chair
College of Physicians & Surgeons of Nova Scotia – specialist in otolaryngology
Canadian Society of Otolaryngology, Head & Neck Surgery - member
Royal College of Surgeons of England - fellow
ENT UK / British Society of Otology - member
Politzer Society - member
Teaching
Dr. Morris has a full teaching portfolio at all levels. He is an experienced tutor at the undergraduate, postgraduate and residency level (ALOBA process, workshop hosting) and contributes to CME, the hospital outreach program at Dalhousie and allied health professional programs. He is cross-appointed to the Department of Medical Education and works most often with the Communication Skills division.
Dr. Morris is a regular invited speaker at the national and international level on surgical topics, has presented his research widely and has contributed as faculty to numerous temporal courses around the world. He coordinates and has co-supervised the Dalhousie Otology Neurotology Fellowship since 2003.