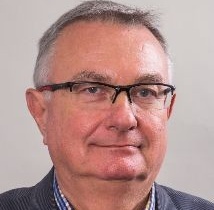 Department of Urology
Email:
jgajew@dal.ca
Phone:
902-425-3940 ext 4
Fax:
902-422-0033
Mailing Address:
Urology Consultants
620-5991 Spring Garden Rd
Halifax, NS, B3H 1Y6

Research & Clinical Interests:
Functional urology
Incontinence
Overactive bladder
Erectile dysfunction
Voiding dysfunction
Bladder pain syndrome
Neuromodulation
Education
MD (Poznan, Poland)
Residency in Urology (Poland)
Residency in Urology (Dalhousie University)

Fellowship in Neurourology and Urodynamics (Dalhousie University)
Designations
FRCSC
Director of Functional Urology Program (Dalhousie University)
Awards
2014 - CUA Award, lifetime achievement award
2009 - 2014 - "Guest Professor" Central South University, Changsha Hunan, China
2001 - Honorary Membership of Polish Urological Association
1984 - First Prize, Laboratory Research, American Urological Association
Biography
Dr. Jerzy B. Gajewski  graduated from Medical school in Poznan, Poland (1973) and pursued his urological training in Poland, Germany and Canada, before completing a fellowship in Neurourology and Urodynamics in Dalhousie University.  Dr. Gajewski is a past-Chair of the Canadian Male Sexual Council and past-President of the Canadian Academy of Urological Surgeons. He is a Secretary of the Canadian Society for the Study of the Aging Male. He is a very active member of the Canadian Urological Association and was its Treasurer for several years and President in 2009-2010. He was a Chair of the Publication and Communication Committee (2006-2013) and the Trustee of the International Continence Society (2008-2011). He was a founding member of the Bethune Society; Canadian-Chinese Urological Society. He is now the President of the Northeastern Section of the American Urological Association. Dr. Gajewski's main clinical and research interests include voiding dysfunction, neurogenic bladder, incontinence, neuromodulation, interstitial cystitis and erectile dysfunction.