Dal Med NB celebrates graduating class with traditions both old and new
»
Go to news main
Dal Med NB celebrates graduating class with traditions both old and new
Posted by Alexandra Fournier on June 6, 2019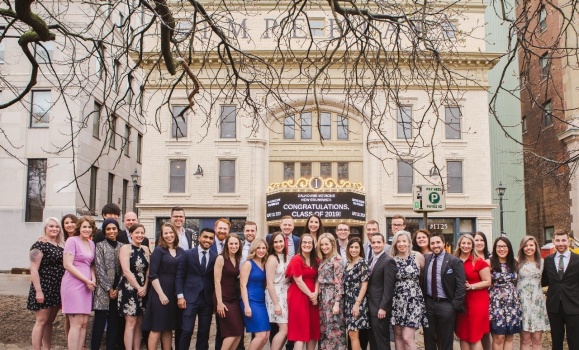 Since 2014, Dalhousie Medicine New Brunswick (DMNB) has celebrated the completion of each graduating class's four years of undergraduate medical education in their home province with the annual Launch Ceremony.
A New Brunswick-based event that began six years ago to mark the graduation of DMNB's inaugural class, the Launch Ceremony invites the graduating class's family and friends as well as all New Brunswick-based faculty, staff, and volunteers to come together to recognize the class's successes with an afternoon of speeches, certificates, and awards.
This event acts as a bookend to the First Light Ceremony, which welcomes all incoming DMNB classes to the study of medicine in New Brunswick every September. As such, the ceremonial DMNB torch that leads each new class into the First Light Ceremony also leads them into the Launch Ceremony at the end of their four-year journey with Dalhousie Medicine New Brunswick.
Of course, DMNB's graduating students attend all convocation activities in Halifax with the rest of their Halifax-based classmates; however, the Launch Ceremony takes place before this and acts as a symbolic launch into the next phase of their careers.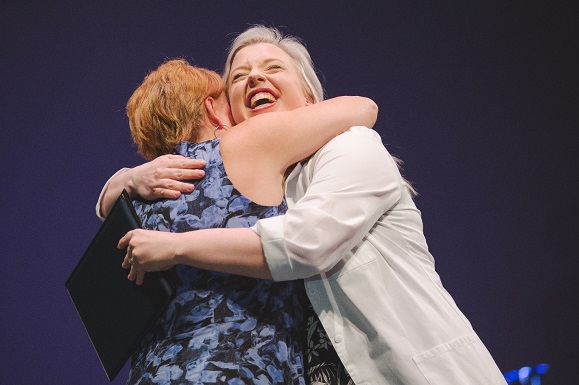 Fiona Milne (right) receiving her DMNB Class of 2019 pin from DMNB Student & Resident Affairs Coordinator, Pam Murphy (left). (Photo: Jordan Mattie)
In addition to the Launch Ceremony this year, DMNB partnered with the Dalhousie Medical Alumni Association (DMAA) to host the first ever Annual DMAA Reception in Saint John, New Brunswick in a dual celebration of the Class of 2019 as well as the fifth anniversary of the Class of 2014 – the inaugural DMNB graduating class. To mark the occasion, Dean Anderson, Dr. Peggy Leighton (DMAA President), Dr. Jennifer Hall (Associate Dean, DMNB), and Dr. Will Stymiest (DMNB Class of 2014) all said a few words to the staff, faculty, special guests, alumni, and soon-to-be alumni in attendance.
As this year's Launch Ceremony guest speaker, Dr. Stymiest also addressed the graduating class at the ceremony the next day in an inspiring call to action. "My challenge to you, the Class of 2019, is – over the next six months – seek out or say yes to an opportunity to lead," Dr. Stymiest encouraged, "Push the boundaries of your comfort zone. Influence change. Set an example."
The Class of 2019 student speaker, Robert Dunfield, also addressed the crowd at the Launch Ceremony with a moving speech. "My classmates, as a community here before you today, represent the best of the best," Dunfield declared proudly, "They are advocates, they are well-spoken, they are intelligent, and most importantly, they care. I've witnessed their advocacy for environmental issues, shine a light on poverty here in [Saint John], promote reconciliation with our First Nations communities, and fiercely normalize and represent mental health, to name a few examples. Their passion for representing the vulnerable in our society is the best example of their fitness to become doctors. A community including these people is a community in which I'd like to live."
Dalhousie Medicine New Brunswick agrees wholeheartedly with Dr. Dunfield and looks forward to hearing about all of the DMNB Class of 2019's future accomplishments.