2019 Resident Research Awards
»
Go to news main
2019 Resident Research Awards
Posted by Jason Bremner on June 19, 2019
The 2019 Faculty of Medicine Resident Research Awards were held at the Dalhousie Art Gallery on June 5, 2019 in recognition of Dalhousie's best resident researchers. 
Each department submited their nominee based on the Best Resident Research project winner(s) from their departmental research days, with the abstracts then being reviewed by a panel of expert researchers to determine award winners. 28 residents were nominated across all disciplines and departments.  
This year, Dr. Kiel Luhning won Best Overall Award for his research on the potential benefit of medical termination of pregnancy in Halifax.
"I hope that this research may in some small way contribute to improved access to care services for women in Nova Scotia, and that with evidenced-based medicine, women will be empowered to make autonomous decisions about their own reproductive health care," says Dr. Luhning. "In terms of winning, it was incredible to feel recognized for the hours of research done in an attempt to show the benefit of medical termination in Halifax. Hopefully my research will provide the starting point for ongoing evidence of the lasting financial benefit and equitable care that good access to abortion care provides."   
Congratulations to all of the 2019 award recipients.

2019 Resident Research Award Recipients

Best Overall Award- Sponsor: CSCI/CIHR
Dr. Kiel Luhning (OB/GYN)
Potential benefit of medical termination of pregnancy in Halifax.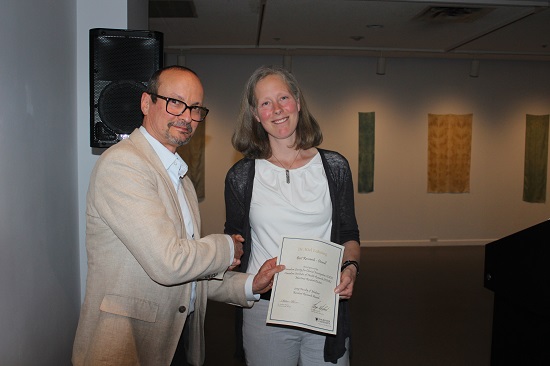 (Dr. Christy Woolcott accepting on behalf of Dr. Kiel Luhning, and Dr. Roger McLeod,
Associate Dean, Research)
Best Work in Clinical Research- Sponsor: Dalhousie Medical Alumni Association
Dr. Alex Legge (Rheumatology)
The Systemic Lupus International Collaborating Clinics Frailty Index (SLICC-FI) as a Predictor of Organ Damage Accrual and Hospitalizations in System Lupus Erythematosus (SLE)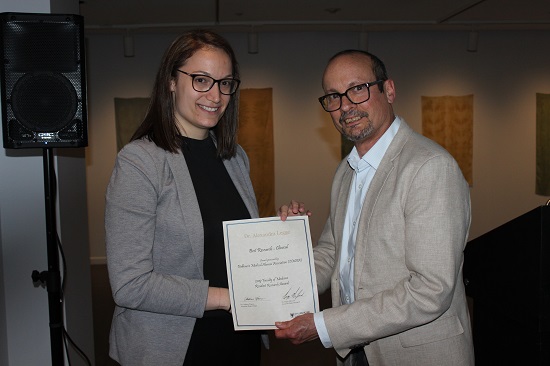 (Dr. Alex Legge and Dr. Roger McLeod, Associate Dean, Research)

Best Research Award for a junior resident (PGY1 or PGY2) who has incorporated research into their primary training program- Sponsor: Dalhousie Medical Research Foundation
Dr. Daniel Dalcin (Family Medicine)
Evaluation of clinical and laboratory features among individuals with cerebrospinal fluid sent for herpes simplex virus PCR: A retrospective analysis at a 381-bed hospital in Atlantic Canada, 2008-2018.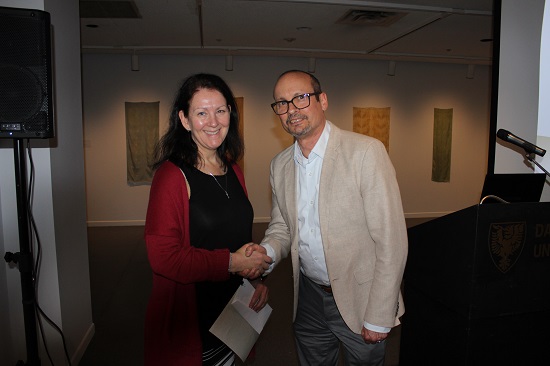 (Dr. Karlyne Dufour accepting on behalf of Dr. Daniel Dalcin, and Dr. Roger McLeod, Associate Dean, Research)

Best Research Award for a senior resident (PGY3 or PGY4+) who has incorporated research into their primary training program- Sponsor:  Dalhousie Medical Research Foundation
Dr. Andrew Caddell (Cardiology)
A Novel and Simplified Echocardiographic Measurement is Associated with Clinical and Echocardiographic Response to Resynchronization Therapy
Best Research Award for a senior resident (PGY3 or PGY4+) who has incorporated research into their primary training program- Sponsor: Dalhousie Medical Alumni Association
Dr. Dan Belliveau (Cardiology)
Cardioembolic and Bleeding Outcomes of Patients Treated for Left Ventricular Thrombus Following Primary Percutaneous Intervention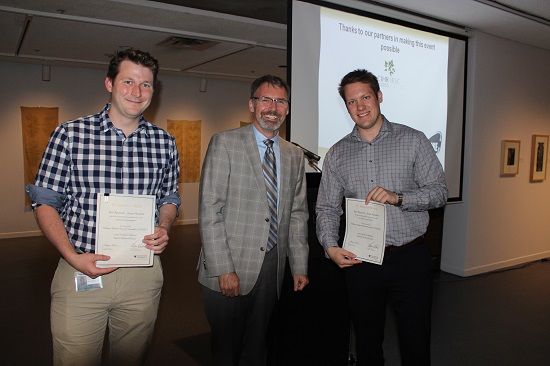 (Left to right: Dr. Andrew Cadelle, Dr. Andrew Warren, Associate Dean, Postgraduate Medical Education, and Dr. Daniel Belliveau)