First ever Faculty of Medicine community volunteer day
»
Go to news main
First ever Faculty of Medicine community volunteer day
Posted by Jason Bremner on June 25, 2019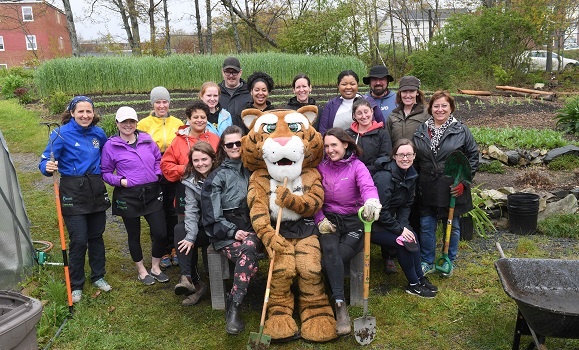 Building walls, digging trenches, and clearing out weeds - Serving and Engaging Society to improve health outcomes in the Maritimes can often take different forms.
On June 5, 2019 , the first ever Faculty of Medicine Community Volunteer Day took place at the Dartmouth North Community Food Centre. Although re-scheduled due to inclement weather, 19 dedicated Faculty of Medicine staff and faculty (including the Dal tiger) put on their boots and got to work.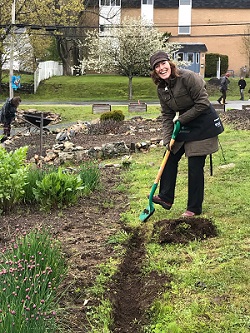 "We did a lot of hard labour that day," says Sarah Peddle, Program Manager of the Service Learning Program in the Global Health Office, and chair of the planning committee. "We weren't just doing busy work, they had us doing work that mattered and they explained to us why it mattered."
Established in 2015, and a project of the Dartmouth Family Centre, the Dartmouth North Community Food Centre helps low-income families to access healthy food, while proving that food can be a transformative force in our communities. It does this through a variety of programs such as Community Meals, an affordable weekly produce market, and their urban farm.
The urban farm is where the Faculty of Medicine team was put through their paces by Farm Coordinator, Rob MacNelsh. "Despite the rain, the group was in high spirits and was determined to get some work done," says Rob. "By the end of the day they had put in a ton of work and I couldn't help but think of how our space, no matter who you are, helps to build connections and foster community."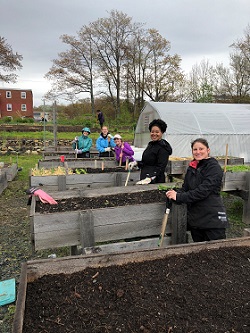 The hashtag for the day, #GettingGrounded, couldn't have been more appropriate, as everyone involved was able to roll up their sleeves, learn some useful skills and get first-hand experience of the dignified approach to food security used by the Dartmouth North Community Food Centre – one member of the team has already been back.
It truly was a privilege to partner with the Dartmouth North Community Food Centre, and for those of you who would like to re-live the day, or see some of the great pictures for the first time, you can join the Global Health Office on July 9th at 12:00 in CHEB 264 & 266, which will be followed by a special screening of Six Primrose, a feature-length documentary on the Dartmouth North Community Food Centre by local film makers, TRUEFAUX.
If that wasn't enough, an evaluation survey has been set up looking for your input, even if you weren't able to attend, to build-upon and improve future events.
Special thank you to the Dean's Office, all of the hard working volunteers, the Food Centre for hosting, and the Volunteer Day Planning Committee: Sarah Peddle, Wendy MacIntyre, John Kyle, Lynsay McGuigan, Caroline Ploem, Amanda Porter, Sara Lavender, Gillian Reid and Hannah Ching.