Dr. Jean Gray inducted into Canadian Medical Hall of Fame
»
Go to news main
Dr. Jean Gray inducted into Canadian Medical Hall of Fame
Posted by Jason Bremner, with files from CMHF on October 10, 2019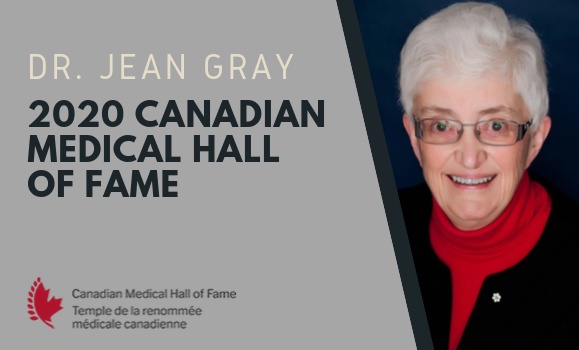 Dr. Jean Gray, Professor Emeritus of Medical Education, Medicine and Pharmacology at Dalhousie University, has been named a 2020 inductee into the Canadian Medical Hall of Fame.
The Canadian Medical Hall of Fame (CMHF) celebrates Canadian heroes whose work advances health in Canada and the world and fosters future generations of health professionals through the delivery of local and national youth education programs, scholarships and awards. This enduring tribute to our country's rich medical achievement and history is showcased on their virtual hall at www.cdnmedhall.org.
Dr. Gray has championed rigorous studies of drug safety and effectiveness to improve prescribing practice, and her reputation as a skillful and courageous leader has extended her influence widely and durably.
Praised and admired for her wide-ranging knowledge of pharmacotherapeutics, her devotion to evidence-informed practice, and her tireless service on numerous committees and editorial boards, Dr. Gray has also served as a powerful advocate of women's mentoring in medicine having begun her career at a time when so few women were in medicine, persevering under difficult conditions and working to change them.
 In the early 1990s, Dr. Gray began working with the Canadian Pharmacists Association to develop Therapeutic Choices, a comprehensive handbook for practising primary care physicians designed to support therapeutic decision-making. In the many dimensions of her career, she has provided informed guidance in the development of public health policy. Dr. Gray has served as a role model and mentor for an entire generation of students who have gone on to study and practice medicine throughout Canada and has helped to promote equity and excellence in health care for all Canadians.