Alumni Making a Difference
Advancing healthcare
Every year, the contributions of our alumni make an impact—from promoting health in disadvantaged communities to advocating for patients, health research and policy. Here are just a few ways you've helped make a difference:
Changing futures
When Dr. Anna Stratis'07 received a DMAA Entrance Scholarship, it helped her make a big change in her career path by giving her the ability to take her first global experience after her first year of medicine.
After graduating from Dalhousie Medical School in 2007 and completing a family medicine residency from UBC, she moved to New Delhi, India, where she works as the chief medical officer of a non-profit organization in New Delhi called World Health Partners.
"I dream of being part of a movement toward permanent positive change in healthcare in this country. My training at Dalhousie laid the foundation for life-long learning and effective patient-centered practice. Perhaps the single most valuable skill I took away from my medical and research training was a proficiency for evidence-based medicine. In global health program implementation, there is a huge demand for operational research skills and competency in evidence-based practice."

Rural Bihar

Graham Crouch (grahamcrouch.com)

Graham Crouch (grahamcrouch.com)
Providing hands-on experience
Dr. Ken Lin Tai'08 appreciated the hands-on opportunities she experienced at Dal, and she hopes to use what she's learned to help transform Malaysian health care.
"I'm a faculty member at a local medical school located just outside Kuala Lumpur. I've been involved heavily in the faculty's medical curriculum development and implementation process. Because I've benefitted immensely from Dalhousie's hands-on approach to medical education, I've pushed for the same approach to be used with my medical students."

Dr. Ken Lin Tai '08 with second-year medical students in Malaysia
Bringing help home
Dr. Michael Perley'08 was the first First Nations person to graduate from Dalhousie Medical School. Since he graduated, he's been providing clinical services to the people of his home community, Tobique. His clinic, the Negotkuk Wellness Center, now employs two nurses, a full-time psychologist, a nurse practitioner, a dietitian, community health workers, home care workers, diabetes educators and clerical support staff.
"Aboriginal health issues have been foremost on my mind for years as I work on two First Nation communities. I now realize that looking at the determinants of health for communities is the way to make health outcome change. My message to new graduates is to make prevention a priority and that 'laughter' is the best medicine!"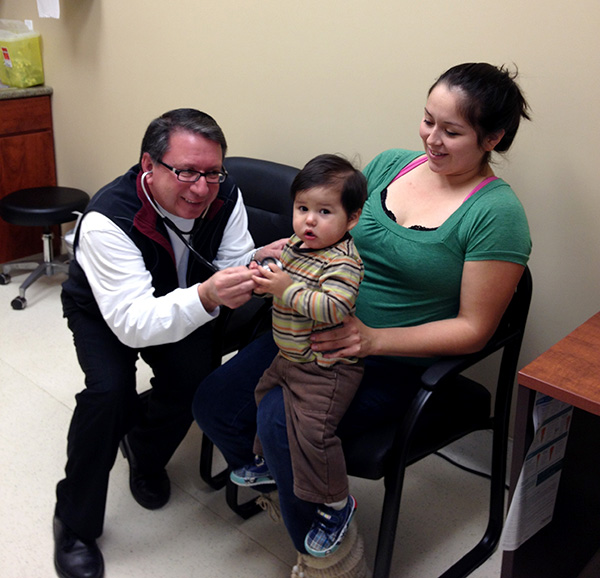 Leading the way by example
Dr. Miriam Nicholson'91 celebrated her 50th birthday by becoming the first Canadian woman to complete the Norseman, a Norwegian ironman that's been described as the toughest ironman on earth. Dr. Nicholson works hard to pass that sense of perseverance and motivation on to her patients.
"In my role as a family physician, 80 per cent of my daily 'work' involves counselling patients with regards to making better choices of food intake and daily exercise. There are very few diseases that can't be improved, if not outright reversed, with a nutritious diet and regular physical activity. They are the cornerstones of good health.
My most effective asset as a health 'advisor', I believe, is credibility. I live what I 'preach'. As well, I have struggled with many of the issues that they may presently be battling, such as smoking cessation or weight loss issues. And I have been successful in overcoming these addictions and turning my life in a health conscious direction."


On the run course - the first 25 km

Building hope
Dr. Raghu Venugopal'01 is working in the Maisisi region of north Kivu, an area of the Democratic Republic of Congo that's rife with conflict and instability. As a Médecins Sans Frontières (Doctors without Borders) physician, he's dedicated to challenging assumptions that HIV cannot be treated in Africa—and especially not in areas of conflict. Over the past few months, his team has been proceeding carefully and deliberately. They're now collaborating with the country's Ministry of Health and not only have they succeeded in providing antiretroviral drugs to their first patient, but they've already made arrangements to treat many more.
"It might take weeks to months to improve the health of these patients such that they can leave hospital. Word might pass to the community that HIV+ patients don't need to die, and that there are options. And that maybe there is hope."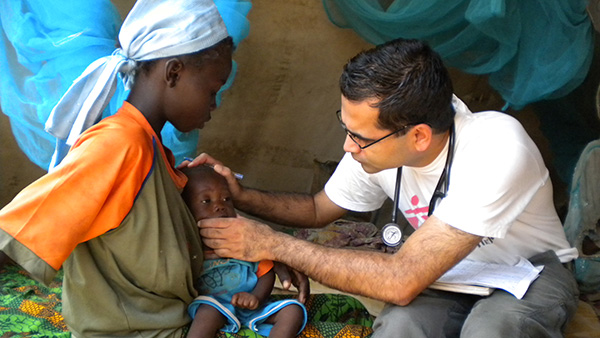 Medicins Sans Frontieres
Keeping promises
When Dr. Sarah Giles'05 applied to Dalhousie Medical School, she promised that when she graduated, she would work to end disparity in care in rural, underserviced communities. With deep roots in the north, Dr. Giles spent time in Colville Lake, Northwest Territories before attending medical school. She's spent time in rural communities in the Northwest Territories and northwestern Ontario and she currently works in western Australia.
"I love the challenge of trying to provide world class health care in settings with scarce resources. Providing care for underserviced communities, especially Aboriginal populations, has become a true passion for me. I can honestly say that I love my job and I'm very thankful that Dalhousie gave me the opportunity to become a doctor."

With the official Royal Flying Doctors teddy bear having just delivered a patient to the air strip in Australia
Embracing communities
Dr. Sarah Jane Cook'05 decided to work in the north of Canada because she and her husband both wanted to explore and learn more about northern culture, its population and the challenges faced by its remote communities. When she arrived, she discovered a variety of issues, from substance use to lack of affordable housing—but she also discovered tight-knit communities and a strong sense of collegiality among the physicians working there.
"It is crucial to have good support, both clinically and socially, to embrace the challenges and rewards of living and working in a remote community. I am surrounded by people who are driven to change and improve the healthcare system, and perhaps because this is a small and connected place, there is a sense of collegiality and empowerment that allows meaningful changes to be made."