Babar

Haroon

,

MD, FRCP(C), Dip (Clin Epi), MEd
Associate professor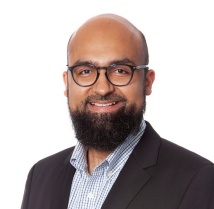 Email:
bharoon@dal.ca
Phone:
902-473-4455
Mailing Address:
Suite 377, Bethune Bldg
Halifax, Nova Scotia B3H 2Y9

Research Topics:
Medical Education
Simulation based medical education
End of life care in ICU
Frailty in the ICU
Education
MEd (Acadia University)
Critical Care Fellowship (Dalhousie University)
Diploma in Clinical Epidemiology (Memorial University)
Internal Medicine Residency (Memorial University)
MD (Memorial University)
BSc (University of New Brunswick)
Professional Appointments

Education Director, Department of Critical Care, Dalhousie University
Education Director, Canadian Critical Care Society Board of Directors
Surveyor, Accreditation Committee, Royal College of Physicians and Surgeons of Canada
Member, Canadian Society of Internal Medicine Education Committe
Eastern Region Rep, Canadian Society of Internal Medicine Council
Member, Internal Medicine Exam Board, Royal College of Physicians and Surgeons of Canada
Member, Canadian Internal Medicine Ultrasound (CIMUS) group
Professional interests
Dr. Haroon's main interest lies in medical education. Locally, he is the former Program Director of the Adult Critical Care Subspecialty Training Program and remains integrally involved in education within the department as the new Director of Education. He is involved in simulation education in the Departments of Critical Care and Medicine, having developed the simulation program in the Department of Medicine. He is an instructor of the Dalhousie Simulation Leaders Instructor Course (SLIC), as well as, a PoCUS instructor in the Department of Medicine. Dr. Haroon serves national education roles in both of his specialties, as the Chair of Education of the Canadian Critical Care Society (CCCS) and a member of the Education Committee in the Canadian Society of Internal Medicine (CSIM). He is on the Internal Medicine Royal College Exam Board and is a Royal College surveyor for PGME accreditation.
Dr. Haroon has won numerous teaching awards at both the undergraduate and post-graduate levels in both Internal Medicine and Critical Care. Notably he is the recipient of the 2018 Silver Shovel Award, a recognition by the graduating medical school class to the professor with the most influence over the first three years of their medical career. He also received the inaugural 2015 Outstanding Faculty - Resident Choice award in the Department of Medicine and has received the Educator of the Year award in the Department of Critical Care multiple times. He was a nominee of the 2019 Mahesh Raju Award for Mentorship through CSIM and CCCS's 2019 Frank S. Rutledge award.
Publications
Accepted for publication: Hamodat, H., Haroon, B., 2020. Primary Care Physicians' Knowledge, Perceptions and Comfort Level in Managing Patients Fasting in Ramadan; Journal of Primary Care and Community Health.
Ma, I.W., Somayaji, R., Rennert-May, E., Minardi, J., Walsh, M.H., Wiskar, K., Smyth, L.M., Burgoyne, S., Chan, B., Haroon, B. and Desy, J., 2020. Canadian Internal Medicine Ultrasound (CIMUS) Recommendations Regarding Internal Medicine Point-of-Care Ultrasound (POCUS) use during Coronavirus (COVID-19) Pandemic. Canadian Journal of General Internal Medicine, 15(2).
Balan M., Haroon B. (2018) Evaluation of Abdominal Pain. In: Nelson B., Topol E., Bhagra A., Mulvagh S., Narula J. (eds) Atlas of Handheld Ultrasound. Springer, Cham
Mulvagh S.L., Balan M., Haroon B. (2018) Evaluation of Chest Pain. In: Nelson B., Topol E., Bhagra A., Mulvagh S., Narula J. (eds) Atlas of Handheld Ultrasound. Springer, Cham
Jeffery, R.A., Walsh, S. and Haroon, B., 2018. Q Fever Endocarditis: A Diagnostic Dilemma. Canadian Journal of General Internal Medicine, 13(1).
Rafiq, F., Jarrar, A., Hamodat, H., Ali, M., Syed, S. and Haroon, B., 2018. Cultural competencies and tips to keep in mind when interacting with Muslim patients. DALHOUSIE MEDICAL JOURNAL, 45(1).
Bader, M.S., Yi, Y., Abouchehade, K., Haroon, B., Bishop, L.D. and Hawboldt, J., 2016. Community-Acquired Pneumonia in Patients With Diabetes Mellitus: Predictors of Complications and Length of Hospital Stay. The American journal of the medical sciences, 352(1), pp.30-35.
Bader, M.S., Yi, Y., Abouchehade, K., Haroon, B., Bishop, L.D. and Hawboldt, J., 2015. Community-Acquired Pneumonia in Elderly Patients With Diabetes Mellitus: Outcomes and Time to First Dose of Appropriate Antibiotic Therapy. Infectious Diseases in Clinical Practice, 23(6), pp.294-300.
Roberts, D.J., Haroon, B. and Hall, R.I., 2012. Sedation for critically ill or injured adults in the intensive care unit. Drugs, 72(14), pp.1881-1916.
Bader, M.S., Abouchehade, K.A., Yi, Y., Haroon, B., Bishop, L.D. and Hawboldt, J., 2011. Antibiotic administration longer than eight hours after triage and mortality of community-acquired pneumonia in patients with diabetes mellitus. European journal of clinical microbiology & infectious diseases, 30(7), pp.881-886.
Bader, M.S., Haroon, B., Trahey, J., Al-Musawi, A. and Hawboldt, J., 2011. Disseminated intravascular coagulation and venous thromboembolism due to acute Epstein-Barr virus infection. Infectious Diseases in Clinical Practice, 19(4), pp.284-285
Selected research presentations
Podium presentation - Scoping Review on Behaviour Remediation in Postgraduate Medical Trainees. Rafiq F & Haroon B. [accepted abstract]. 2019 Canadian Conference on Medical Education (CCME), Niagara Falls, ONT, Canada
Podium presentation - A Scoping Review on Competency Based Medical Education and Behaviour Remediation in Postgraduate Medical Trainees. Rafiq F & Haroon B. 2018 Atlantic Provinces Chapter, American College of Physicians, Halifax, NS, Canada
Poster presentation - Navigating the Curriculum Map. Acuna J & Haroon B. International Conference on Residency Education (ICRE), Halifax, NS, Canada
Podium case presentation - Anaplastic Large Cell Lymphoma Diagnosed in a Patient on Extracorporeal Membrane Oxygenation. Arseneau I, Petropolis H, Blackman R, Fraser H, Epstein I, Anderson D, & Haroon, B. 2018 Society of Critical Care Medicine (SCCM), Hawaii, USA
Podium presentation - Assessing Adherence to ACLS Protocols in Residents at a Canadian Teaching Hospital during Cardiac Arrest: A Simulation Based Study. Kennedy R, Sharma S, Bulter M, Haroon B, & Witter T. European Society of Intensive Care Medicine (ESICM), Berlin, Germany
Selected awards/honours
2018 Silver Shovel Award, Faculty of Medicine, Dalhousie University
2017 Award of Excellence in Education, Faculty of Medicine, Dalhousie University
2016 Educator of the Year, Department of Critical Care, Dalhousie University
2016 Excellence in Medical Education, Department of Medicine, Dalhousie University
2015 Outstanding Faculty, Resident Choice Award, Department of Medicine, Dalhousie University
2014 CIHR Health Professional Student Research Award
2013 Dean's Medical Education 'Living Laboratory' Research Fund, Dalhousie University