Mid‑20th Century
Building our department

Dr. R.L. de C.H. Saunders
In 1949, Dr. Richard Lorraine de Chasteney Holbourne Saunders became the next head of the Department of Anatomy, after working as an assistant professor with professor Maitland. He spent the next 35 years in the Department of Anatomy.
When Dr. Saunders assumed the headship, he began work in a department that he described as "a small dissecting room, a store room in which specimen crocks stood on wooden trestles, an office for the professor and another for his assistant. The assistant's room was quite bare, and there was no equipment worth mentioning, other than the department head's microscope."
In 1937, with only $20 in the anatomy research budget, lectures were illustrated with diagrams and pictures torn from old textbook, the department had no tools and bodies were transported on wooden stretchers. Professor and Mrs. Raymond Bean, who had sufficient microscopes and slides for a class of sixty, separately taught histology and embryology.
According to Dr. Saunders, conditions improved near the war's end in 1945. The oiled wooden floors were covered with linoleum, the walls had received as fresh coat of turquoise paint, and carpentry and plumbing were provided.
A time of growth
In the 1950s, we expanded the department, adding a living anatomy lab, examination couches, x-ray boxes and electromyography equipment. A larger histology laboratory was built, with a photographic darkroom and animal operating room. The histology, embryology and neuroanatomy courses were updated, and the department started producing comprehensive teaching slides that students of histology and neuroanatomy still use today.
Dr. Saunders used a National Research Council grant to purchase a x-ray research microscope. It was used for microcirculatory studies of the blood supply of muscle and connective tissues, and led to a number of publications in international journals.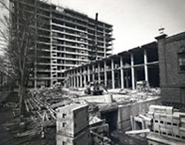 Tupper Building under construction in 1967
In October 1967, the Anatomy Department moved to the new Sir Charles Tupper Building, where it still resides. At the time, the department taught 475 students in the Faculties of Medicine, Dentistry and Health Sciences.
When Dr. Saunders retired five years later, an interim head, Dr. Forrest W. Fyfe, succeeded him for one year. Dr. Fyfe's textbook, "Anatomy of the Human Body" (1959) by R.D. Lockhart, G.F. Hamilton and F.W. Fyfe, was an internationally successful text in gross anatomy for medical students.