Allen

Tran

,

MD, FRCPC
Interim co-division head, Assistant professor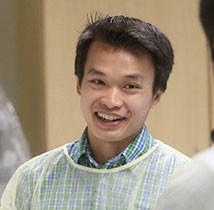 Phone:
902-473-3961
Fax:
902-473-8430
Mailing Address:
Division of General Internal Medicine
QEII - Bethune Building
Suite 406 Bethune Building
1276 South Park Street
Halifax, NS B3H 2Y9

Biography
Dr. Allen Tran is a general internist with interests in thrombosis, point-of-care ultrasound, and medical education. He is originally from Alberta and completed medical school at the University of Alberta in Edmonton. Subsequently, he completed his core internal medicine training and his general internal medicine subspecialty training at Dalhousie University in Halifax. Currently, he is completing a Diploma in Medical Education through Dundee University.
Since January 2019, he has been the program director for the general internal medicine subspecialty training program at Dalhousie University. In addition, he is a point-of-care ultrasound and simulation instructor for the core internal medicine training program in Halifax.
Simulation Program
Positions
Courses completed