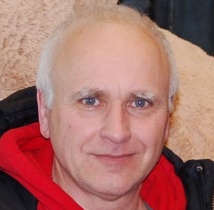 Email:
andrew.stadnyk@dal.ca
Phone:
902-470-8509
Fax:
902-470-7812
Mailing Address:
Mucosal Immunology Research
IWK Health Centre, 8W
5850 University Avenue
Halifax, Nova Scotia, Canada B3K 6R8

Research Topics:
Immunology
Inflammation
Cancer Biology
Cytokines
Epithelial Cell
Colitis
Complement
Anaphylatoxin
Education
BSc Honors, University of Manitoba
PhD, McMaster University
Postdoctoral Training, Seattle Biomedical Research Institute
Research interests
Professor Stadnyk's interests include mucosal inflammatory diseases, particularly of the digestive system.  He has contributed to understanding the processes underlying the inflammatory bowel diseases.  In the past few years his work has focused on the complement system and colitis, specifically how complement affects the interactions between epithelial cells and the microbes colonizing the intestines. More recently, he has added research into understanding the inflammation behind chemotherapy-induced mucositis, with a goal of mitigating this painful, debilitating side effect of cancer treatments.
Research Topics
Mucosal Immunology

Inflammation
Colon cancer Biology
Cytokines
Epithelial Cell
Colitis
Anaphylatoxin
Microbiome
Mucositis
Selected publications
For a complete list of Dr. Stadnyk's publications, click here.  
·    George, M., Rahman, M., Connors, J., Stadnyk, A.W. Opinion: Are organoids the end of model evolution for studying host intestinal epithelium/microbe interactions? Microorganisms 7:406, 2019. https://doi.org/10.3390/microorganisms7100406
·    Fertan, E., Rodrigues, G., Wheeler, R., Goguen, D., Wong A.A., James, H., Stadnyk, A.W., Brown, R.E., Weaver, I.C.G. Cognitive decline and pro-inflammatory cytokine production are associated with cerebral-spleen tryptophan metabolism and epigenetic regulation of the Txnip gene in the 3xTg-AD mouse model. American Journal of Pathology 189:1435-1450, 2019. doi: 10.1016/j.ajpath.2019.03.006
·    Finlayson-Trick, E., Connors, J., Stadnyk, A. and Van Limbergen, J. Regulation of antimicrobial pathways by endogenous Heat Shock Proteins. Gastrointestinal Disorders 1:39–56, 2018.  doi:10.3390/gidisord1010005 http://www.mdpi.com/2624-5647/1/1/5/pdf
·    McCarthy, J., Cao, Q., Winsor, N.J., Van Limbergen, J. and Stadnyk, A.W. The anaphylatoxin C3a primes model colonic epithelial cells for expression of inflammatory mediators through Gαi. Molecular Immunology 103:125–132, 2018. doi: 10.1016/j.molimm.2018.09.008
·    Runte, C.S., Jain, U., Getz, L.J., Secord, S., Kuwae, A., Abe, A., LeBlanc, J.J., Stadnyk, A.W., Kaper, J.B., Hansen, A.-M., Thomas, N.A. Tandem tyrosine phosphosites in the enteropathogenic Escherichia coli chaperone CesT are required for differential type III effector translocation and virulence. Molecular Microbiology 108:536–550, 2018. http://dx.doi.org/10.1111/mmi.13948
Selected awards and honours
IWK Health Centre Board of Directors: IWK Research Award 2013
Crohn's and Colitis Foundation of Canada: Research Leadership Award 2010
Other interests and achievements
actively engages the lay public in discussions of science and scientific achievements

recognized in 2014 as a finalist in Halifax's Discovery Centre "Science Champion" competition
local collaborations: mucositis in pediatric cancer treatments, asparaginase treatment in pediatric ALL, oral bacteria/epithelial interactions in cancer treatments, prebiotic and probiotic use to control colitis and colon cancer
national collaboration: International oversight committee member of the Michael J. Howorth Inflammatory Bowel Disease (IBD) Genetic, Environmental, and Microbial (GEM) Project: http://www.gemproject.ca
international collaborations: Dr. Cordula Stover, University of Leicester, properdin and colitis; Dr. Trent Woodruff, University of Queensland, C5a and colitis