Jeanette
Boudreau
Associate Professor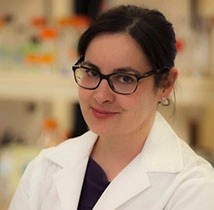 Email:
Jeanette.Boudreau@dal.ca
Phone:
902-494-4536
Mailing Address:
Department of Microbiology and Immunology
Dalhousie University
Sir Charles Tupper Medical Building, Room 15-F2,
5850 College Street
PO Box 15000
Halifax, Nova Scotia, Canada B3H 4R2

Research Topics:
Host defense
Natural killer cell biology
Cancer
Immunogenetics
Inflammation
Immunoregulation
Spatial biology
Humanized animal models
Education
BSc: University of Waterloo
PhD: McMaster University
Postdoctoral Training: Memorial Sloan Kettering Cancer Center
Research interests
We investigate how human natural killer cell immunogenetics program immune responsiveness to cancer and infectious diseases. We use bioinformatics, humanized in vivo models, cell-signal analysis, and highly-parametric flow cytometry to understand how genetic variation creates diversity in human immune potentials. Our interdisciplinary and collaborative work aims to translate research findings into precision therapies.
Selected publications
For a full list of Dr. Boudreau's publications, click here.
Westhaver LP, Nersesian S, Nelson A, MacLean LK, Carter EB, Rowter D, Wang J, Gala-Lopez BL, Stadnyk AW, Johnston B, Boudreau JE. Mitochondrial damage-associated molecular patterns trigger arginase-dependent lymphocyte immunoregulation. Cell Rep. 2022 May 24;39(8):110847.

Pugh-Toole M, Nicolela AP, Nersesian S, Leung BM, Boudreau JE. Natural killer cells: The missing link in effective treatment for high-grade serous ovarian carcinoma. Curr Treat Options Oncol 2022 Feb;23(2):210-226.

Nersesian S, Lee SN, Grantham S, Meunier L, Communal L, Arnason T, Arnold D, Nelson BH, Mes-Messon AM, Boudreau JE. CD16ahigh NK cell infiltration and spatial relationships with T cells and macrophages can predict improved progression-free survival in high grade ovarian cancer. Medrxiv, preprint.

Nersesian S, Schwartz SL, Grantham SR, MacLean LK, Lee SN, Pugh-Toole M, Boudreau JE. NK cell infiltration is assocaited with improved overall survival in solid cancers: A systematic review and meta-analysis. Translational Oncology 2021 Jan;14(1):100930.

Hargreaves BKV, Roberts S, Derfalvi B, Boudreau JE. Highly Efficient Serum-Free Manipulation of miRNA in Human NK Cells Without Loss of Viability or Phenotypic Alterations Is Accomplished With TransIT-TKO. Plos ONE 2020 Apr 17;15(4):e0231664.

Savoy SKA, Boudreau JE. The evolutionary arms race between virus and NK cells: diversity enables population-level virus control. Viruses, 2019 17;11(10) pii. E959.
Nersesian S, Glazebrook H, Toulany J, Grantham S, Boudreau JE. Naturally killing the silent killer: NK cell-based immunotherapy for ovarian cancer. Frontiers in Immunology. 2019 9;10:1782.

Boudreau JE, Giglio F, Gooley TA, Stevenson PA, Le Luduec JB, Rajalinam R, Hou L, Katovich Hurley C, Lebedeva T, Noreen H, Reed EF, Yu N, Vierra-Green C, Haagenson MD, Malkki M, Petersdorf EW, Spellman S, Hsu KC. Donor KIR3DL1 and HLA-B subtype combinations predict acute myelogenous leukemia control after HLA-compatible hematopoietic cell transplantation. J Clin Oncol, 2017 Jul 10;35(20):2268-2278.

Boudreau JE, Liu XR, Zhao, Z. Shang A, Shultz LD, Greiner DL, Dupont B, Hsu KC. Cell-Extrinsic MHC Class I Molecule Engagement Augments Human NK Cell Education Programmed by Cell-Intrinsic MHC Class I. Immunity. 2016 Aug 16;45(2):280-91. doi: 10.10.16/j.immuni.2016.07.005.
Boudreau JE, Mulrooney TJ, Le Luduec JB, Barker E, Hsu KC. KIR3DL1 and HLA-B Density and Binding Calibrate NK Education and Response to HIV. J Immunol. 2016 Apr 15;196(8):3398-410. doi: 10.4049/jimmunol.1502469.
Forlenza, CJ, Boudreau JE, Zheng J, Le Luduec JB, Chamberlain E, Heller G, Cheung NK, Hsu KC. KIR3DL1 Allelic Polymorphism and HLA-B Epitopes Modulate Response to Anti-GD2 Monoclonal Antibody in Patients With Neuroblastoma. J Clin Oncol . 2016 Jul 20;34(21):2443-51. doi: 10.1200/JCO.2015.64.9558.

Boudreau JE, Le Luduec JB, Hsu KC.  Development of a novel multiplex PCR assay to detect functional subtypes of KIR3DL1 alleles. PLoS One. 2014 Jun 11;9(6):e99543. PMID: 24919192; Also: http://www.google.com/patents/CA2907068A1?cl=en
Boudreau JE, Stephenson KB, Wang F, Ashkar AA, Mossman KL, Lenz LL, Rosenthal KL, Bramson JL, Lichty BD, Wan Y. IL-15 and type I interferon are required for activation of tumoricidal NK cells by virus-infected dendritic cells. Cancer Res. 2011 Apr 1;71(7):2497-506PMID:21307131
Selected awards and honours
2021 Dalhousie University President's Award - Emerging Investigator

2020 Faculty of Medicine Award for Basic Science Research

2019 Canadian Society for Immunology New Investigator Travel Award
2019 Terry Fox New Investigator Award

2016 Dalhousie Medical Research Foundation Cameron Cancer Scientist
2016 Banting Discovery Award Recipient

2015 Society for Natural Immunity Abstract Award
2013 American Society of Hematology Achievement Award
Teaching
MICI3115: Immunology (Course Co-ordinator)
MICI5016/5036: Topics in Advanced Immunology