Paola
Marcato
Associate Professor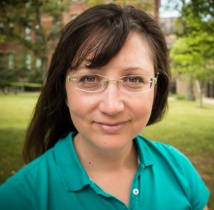 Currently recruiting graduate students and PDFs
Email:
paola.marcato@dal.ca
Phone:
902-494-4239
Fax:
902-494-2519
Mailing Address:
Department of Pathology
Dalhousie University
Sir Charles Tupper Medical Building, Room 11C1
5850 College Street
PO Box 15000
Halifax Nova Scotia Canada B3H 4R2

Research Topics:
Cell Biology
Cancer Biology
Breast Cancer
Cancer Stem Cells
Education
BA/BSc, University of Alberta
PhD, University of Alberta
Postdoctoral Training, Dalhousie University
Research interests
My laboratory has two main research focuses both related to breast cancer progression. First, we are trying to understand the role that cancer stem cells (CSCs) play in breast cancer metastasis. Second, we are investigating the role of the retinoic acid signaling pathway in CSC biology and breast cancer progression.
Selected publications
For a complete list of Dr. Marcato's publications, click here.

1.    Sultan M, Vidovic D, Paine AS, Huynh TT, Coyle KM, Thomas ML, Cruickshank BM, Dean CA, Clements DR, Kim Y, Lee K, Gujar SA, Weaver IC, Marcato P (2018) Epigenetic silencing of TAP1 in Aldefluor+ breast cancer cells contributes to their enhanced immune evasion. Stem Cells doi: 10.1002/stem.2780
2.    Coyle KM, Maxwell S, Thomas ML, Marcato P (2017) Profiling of the transcriptional response to all-trans retinoic acid in breast cancer cells reveals RARE-independent mechanisms of gene expression. Sci. Rep. 10.1038/s41598-017-16687-6.
3.    Thomas ML, De Antueno R, Coyle KM, Sultan M, Cruickshank B, Giacomantonio M, Giacomantonio CA, Duncan R, Marcato P. (2016) Citral reduces breast tumour growth by inhibiting cancer stem cell marker ALDH1A3. Mol. Oncol.10(9):1485-1496
4.    Coyle KM, Murphy P, Vidovic D, Dean CA, Sultan M, Clements D, Wallace M, Vaghar-Kashani A, Thomas ML, Giacomantonio CA, Helyer L, Gujar S, Lee PWK, Weaver I, Marcato P. (2016) Breast cancer subtype dictates DNA methylation and ALDH1A3-mediated expression of tumor suppressor RARRES1. Oncotarget. 7(28):44096-112.Blandino G, Pass H, Cioce MA (2015) STAT3-NFkB/DDIT3/CEBPβ axis modulates ALDH1A3 expression in chemoresistant cell subpopulations. Oncotarget. 6(14):12637-53.
5.    Marcato P*, Dean CA, Liu R-Z, Coyle KM, Bydoun M, Wallace M, Clements D, Turner C, Mathenge E, Gujar SA, Giacomantonio CA, Mackey JR, Godbout R, Lee PWK* (2015) Aldehyde dehydrogenase 1A3 influences breast cancer growth rate via differential retinoic acid signaling. Mol. Oncol. 9(1):17-31.
6.  Marcato P, Dean CA, Pan D, Araslanova R, Gillis ME, Joshi M, Helyer L, Pan L, Leidal A, Gujar S, Giacomantonio CA, Lee PWK (2011) Aldehyde dehydrogenase activity of breast cancer stem cells is primarily due to isoform ALDH1A3 and its expression is predictive of metastasis. Stem Cells. 29(1):32-45.View additional publications on PubMed