Annual memorial and interment service for Dalhousie University's Human Body Donation Program honours those that contributed to medical education
»
Go to news main
Annual memorial and interment service for Dalhousie University's Human Body Donation Program honours those that contributed to medical education
Posted by Nicole Marie LeBlanc, Allie Fournier, Jason Bremner on July 3, 2019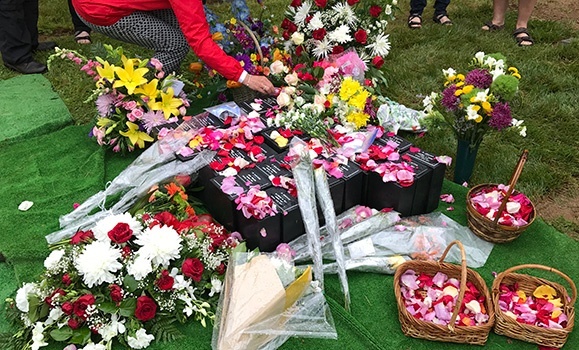 "If you are here honouring a parent, please stand," asks Dr. Joanne Langley, representing the Dalhousie Multifaith Centre at Saint Benedict Parish. "A spouse, please stand. A sibling, please stand. A friend, please stand. Any other loved one, please stand. If anybody is supporting the academics in any way, please stand."

Following these words, every individual in a room of 700 is standing. The memorial's ambiance offers a feeling of inclusiveness, of shared respect and gratitude for the departed who can't be present.

Loss brings despair. But on this day in late June, it brought hope.

The occasion was the annual memorial and interment service for Dalhousie University's Human Body Donation Program. The event pays respect to the more than 150 donors and families who, at some point in the past three years, chose to make the ultimate contribution to medical education and research by agreeing to donate one's remains to benefit the medical science.

Family and friends felt solace as they sat among those who had shared similar journeys on the way to closure and support.
Silent mentors
Hosted by the Department of Medical Neuroscience, the emotional yet inspirational service provides an opportunity for Dalhousie students from many health disciplines who work in the anatomical laboratory to express their gratitude for the gift of knowledge bestowed by the donors and their families. One by one, 10 students approached the mic to read the names of the deceased, followed by messages of appreciation from four health students and residents.
The departed, who are now the silent mentors to many Dalhousie students, are individually unique; they differ in their life experiences, relationships and genetic makeup. Collectively, they share certain beliefs and personality traits that led to their decision to give the ultimate gift to medicine.
Donors from all walks of life
Brenda Armstrong, coordinator of the Human Body Donation Program, first attended the service in 1987. She is the first point of contact for families interested in the donation process and organizes the two annual services.

"For a lot of families, it's a matter of tradition," she said. "Their grandparents or parents made the decision to donate. The generosity of our Maritime donors is unbelievable. The service gives families closure. They can pay tribute to their loved one."

Donors may share a connection to Dalhousie, often as former students, staff or faculty. Some have devoted their lives to a career in health care — former physicians, nurses, or dentists who realized first-hand the importance and value of cadavers through their own educational experience.

Another reason for donating is to give back to the health care system. "Some donors have had various hospitalizations throughout their life, and want to help those with a similar condition," said Armstrong.
A medical legacy
Guests at the ceremony receive flower seeds of forget-me-nots, their package adorned with a small dedication: "In memory and tribute to those who donated their bodies to the furtherance of medical sciences and have given of themselves so that others may learn."

Aspiring doctors, dentists, occupational therapists and nurses who learn about basic anatomy in the anatomical lab are mindful of this unique privilege they are granted by the donations.  Working with a human body offers an irreplaceable experience and fundamental knowledge for students. It makes their training more practical, leading to superior skills that extend to their ability to treat their patients when they become physicians.
The memorial site to honour donors.
2019 Annual New Brunswick Memorial Service
Every year since Dalhousie Medicine New Brunswick (DMNB) opened its doors in 2010, an annual memorial service in tribute to those who so generously donated their bodies for the benefit of medical education and research has taken place in New Brunswick.
This year, the memorial service was held on Friday, April 26 at the Quispamsis United Church, bringing DMNB students, staff, and faculty together with the families of those whose loved ones were honoured at this year's service. A meaningful tradition in the DMNB community, this event encourages first- and second-year medical students to actively participate in the service by singing with the choir, sharing a testimonial, reciting a poem, or reading the names of the donors.
"The DMNB Memorial Service is a special annual event that provides closure for many families of donors," explains Dr. Wendy Stewart, Director of Humanities at DMNB and lead organizer of this event. "It is a non-denominational service to honour individuals who have donated their bodies for education and research. The involvement of many of the Med 1 and 2 students at DMNB made it particularly meaningful for families and highlighted the important gift donors have given."
In addition to a moving reflection by Reverend Dr. Elizabeth Stevenson, representatives from the DMNB Med 1 and 2 classes shared some thoughts on the impact the individuals who chose to donate their bodies for the benefit of medical education have had on them and their peers. "There is a quotation that is written on the whiteboard in our anatomy lab that reads, 'Even in death do we serve life,'" said Naythrah Thevathasan, a first-year DMNB student, "That quotation humbles me, it grounds me, and it reminds me that the privilege of our learning could only be granted by the gift of our donors' lives."
"When I consider what has been given, I am touched by the way the people you care about decided to include us in their stories," expressed Natalie Goodine, a second-year DMNB student, in a speech written by classmate Grace Dao that addressed the families gathered in the Quispamsis United Church that day, "I know I speak not only for myself, but also for all of the Med 2 class, when I say that it is truly an honour to join with you today in remembering them."
When asked about this year's service, Dr. Stewart could not have been happier with the outcome. "Families traveled from around the Maritimes to attend and took the opportunity to spend time with students at the reception after the event," she shares, "It was well-attended, and many families spoke to me about the service, some seeking to donate their bodies for education and research. They found the service meaningful and welcoming for all in attendance."