News & Events
News
Dr. Michael Schmidt researches anesthesia and cognitive decline in older adults (October 24, 2017)
Anesthesia is very safe but as people age, it adds risks of post-operative mental decline. Researchers at the QEII are trying to find out what causes it and how they can reduce the risk. Dr. Michael Schmidt, an anesthesiologist in the Department of Anesthesia, Pain Management & Perioperative Medicine and Dr. Gail Eskes are leading the research.
Full Story: QEII Times, October 2017
Dr. Mary Lynch - two-time recipient for excellence in pain management award (June 1, 2017)
On May 27, Dr. Mary Lynch, Professor Anesthesiology, Pain Medicine and Perioperative Care at Dalhousie University received the Dr. Helen Hays Award for Excellence in Pain Management from the Chronic Pain Association of Canada.
This is the second-time Dr. Lynch has received the award. The national award is presented to a doctor in Canada who best exemplifies their work in caring for people who suffer with chronic pain and best reflect the dedication, empathy and understanding for patients suffering with pain.
"We feel Dr. Lynch carries each and every one of these attributes through every part of her practice," said Terry Bremner, President of the Chronic Pain Association of Canada. "Dr. Lynch is definitely one of those physicians who put the care of her patients at the forefront of her practice and advocates tirelessly for them."
Dr. Lynch is considered a leader in the field of pain management and a champion for all people with pain. She is the driving force in establishing better methods of treating and managing pain in Canada.
The Chronic Pain Association of Canada is the largest network of pain patient support groups in Canada. It is a not-for-profit association whose goals are to create timely, effective treatment for those who suffer with pain; to provide support for those suffering; and to improve the area of education and understanding in pain medicine.

$1 million in CIHR grants support Department researchers (June 1, 2017)
Three Department of Anesthesia, Pain and Perioperative Medicine researchers are working on projects that have received more than $1-million from the Fall 2016 Canadian Institutes of Health Research (CIHR) grant awards.
Principal Investigator Jason McDougall received $761,175 for his research in arthritis pain. The funding is over a five-year term.
Co-investigators Jill Chorney and Ron George received $256,274 for their research on postpartum genito-pelvic pain. The project is a three-year term. Natalie Rosen, PhD, with Department of Psychology and Neuroscience is the Principal Investigator.
CIHR awarded 475 research grants, with only nine being awarded in Nova Scotia, all at Dalhousie. There were 2,884 applications submitted across Canada.
The Department continues to demonstrate a strong and productive research portfolio. Last year, Department researchers – principal and co-investigators - had 60 projects funded totaling over $10.5 million, with 50 new research projects initiated.
Research Projects:
Project Title: Contribution of Proteases and Protease Activated Receptors to Join Neuropathy and Arthritis Pain
Principle Investigator: Jason McDougall
CIHR Contribution: $761,175
Term: 5 years
Abstract: At present, there are 4.6 million Canadians living with the pain of arthritis for which there are inadequate drug treatments. Current medications provide only limited pain relief and most drugs have significant negative side-effects. Thus, there is an urgent need to discover novel, more effective analgesics with low toxicity. During arthritis, enzymes are released into the joint which cause damage to the cartilage, bone and ligaments. In addition to the digesting effects of these enzymes, they can also signal pain and inflammation by acting on specific targets called PARs. We have shown that these PARs are present on nerves in the joint and we believe that one mechanism by which enzymes signal pain is by stimulating these PARs. We hypothesise that PAR activation can lead to nerve damage and consequently arthritis pain. In this project, we plan to identify the enzymes responsible for joint nerve injury and pain. We will also test drugs that block PARs to see if we can protect joint nerves from further damage and uncover a new way of alleviating arthritis pain.
Project Title: Biopsychosocial predictors of postpartum genito-pelvic pain: A two-year follow-up
Principal Investigator(s): Natalie Rosen
Co-Investigators: Chorney, Jill E; George, Ronald B; Lee-Baggley, Dayna L; Pukall, Caroline F; Snelgrove-Clarke, Erna E
CIHR Contribution: $256,274
Term: 3 years
Abstract: During pregnancy and after childbirth, many women experience pains that can significantly interfere with their lives. Pain in the genital or pelvic region ("genito-pelvic") is particularly poorly understood, often misdiagnosed or ignored, and viewed as shameful by the women who experience it. Yet this pain may be very common, with average estimates of 27% at 3 months, 24% at 6 months, and 16% at 1 year postpartum. It can negatively affect women's sexuality, psychological wellbeing, and relationships. There is a critical lack of research describing the symptoms and persistence of genito-pelvic pain after childbirth, as well as the potential predictors that may help identify women who are at risk. The goal of this study is to examine the prevalence and biopsychosocial predictors of women's genito-pelvic pain and couples' psychological and sexual wellbeing from mid-pregnancy to 24 months postpartum. We will follow our established cohort of women (assessed at 20 and 32 weeks gestation, 2 weeks, 3- and 6-months postpartum) to 12 and 24 months postpartum and involve partners. We expect that breastfeeding and labour characteristics (e.g., tearing) will be associated with greater pain and sexual and psychological problems in the first year after birth, but their impact will decrease by the second year. We also expect that certain psychological and social variables in pregnancy, such as a greater fear of pain, will be associated with more pain and problems after childbirth. Finally, we expect that greater empathy in the postpartum period will be associated with women's lower pain and both partners' greater sexual and psychological wellbeing. Findings will improve our understanding of how postpartum genito-pelvic pain develops and why it persists for some women. Results will also aid in identifying novel intervention targets, as well as the most critical time points for best preventing and treating genito-pelvic pain and its consequences.
Javeria Hashmi named new Canada Research Chair (May 16, 2017)
Dalhousie is home to four new Canada Research Chairs, including Javeria Hashmi – Assistant Professor, Department of Anesthesia, Pain Management and Perioperative Medicine for her work in improving and understanding chronic pain.

The Canada Research Chairs Program supports and attracts the world's best researchers in the fields of engineering and the natural sciences, health sciences, humanities, and social sciences. Over 142 new and renewed Canada Research Chairs were announced in May by the Honourable Kirsty Duncan, Minister of Science.
https://www.dal.ca/news/2017/05/12/attracting-the-best-and-brightest--government-of-canada-announce.html
Dr. André Bernard: Medical professionalism and physician leadership - the time for action is now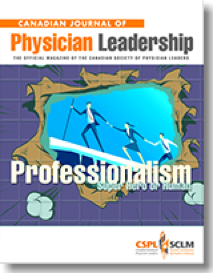 Department Member, Dr. André Bernard's co-authored paper: Medical professionalism and physician leadership: the time for action is now was published in the Canadian Journal of Physician Leadership in March 2017.
The paper explores the changing expectations of physicians and the medical profession. It suggests this may provide a unique opportunity for physician leaders to play a role in addressing issues at the system level: by unifying the profession, improving relations between physicians, and ensuring greater focus on patient-centred care. It calls for action to ensure physicians reclaim their role as health system leaders and contribute to a system that provides high-quality care for patients and a rewarding career for physicians.
The journal is published by the Canadian Society of Physician Leaders.
Paper authors: Jenny Buckley, MA, MSc; André Bernard, MD; Emily Gruenwoldt, MHA; Cécile M. Bensimon, PhD; Jeff Blackmer, MD, MHSc
Dr. Bernard is the Department Cabinet Chair, Medical Director of the Preop Clinics, Dalhousie University Assistant Professor and Chair of Doctors Nova Scotia's Board of Directors.