Doug Hogue Award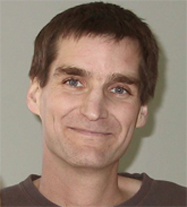 Dr. Douglas Hogue bequeathed funds to the department to establish an award to be presented each year. One graduate student is recognized for exceptional dedication and achievement in research and intradepartmental student activity.
Born in 1962, Doug completed his diploma in chemical engineering at NAIT in Edmonton. He followed this with a PhD in Biochemistry from the University of Alberta. Postdoctoral positions found him in Madison, Wisconsin and in Vancouver, B.C.
Although brief, Doug's life was full of exploration and accomplishment. From an early age, he excelled in athletics. Ice hockey was his first love, culminating in an offer from the Montreal Canadiens. He also counted football, squash, skiing, snowboarding, and fly-fishing among his other athletic enthusiasms.
Doug's love of the natural world as well as his insatiable curiosity led him to many diverse and unusual destinations. His interest in photography, music, gardening, hiking, wine, food, and conversation was fueled by these many journeys. He had a great enthusiasm for life, a love of science and a keen sense of adventure. His irrepressible humour, generosity of spirit, and valuation of friendship truly distinguished him.
Join us in celebrating the accomplishments of our top students.
| Year | Student |
| --- | --- |
| 2022 | Kathleen Vergunst |
| 2020 | Jeffrey Simmons |
| 2019 | Shannon Sibbald |
| 2018 | Sergio Muñoz-Gómez |
| 2015 | Sarah Aboushawareb |
| 2014 | Rafaela Andrade-Vieira |
| 2013 | Barry Kennedy |
| 2012 | Courtney Stairs |
| 2011 | David Langelaan |
| 2010 | Peter Murphy |
| 2009 | Gerrit Volkmann |
| 2008 | Patricia Mitchell |
| 2007 | Faylene Lunn |
| 2006 | Amin Majdalawieh |
| 2005 | Anathea Flaman |
| 2004 | Charles Bullerwell |
| 2003 | Ryan Perry |