Optic nerve head anatomy
The following optic nerve head images are from patients followed in the Eye Care Centre, Queen Elizabeth Health Sciences Centre, Halifax, Nova Scotia, Canada.

Each optic nerve head has been imaged with stereo optic disc photography and spectral domain optical coherence tomography (SD-OCT, Spectralis, Heidelberg Engineering GmbH, Heidelberg, Germany) with 24 radial B-scans centred on the optic nerve head.

For each optic nerve head, optic disc photograph (A) co-localised with the infrared (IR) image of SD-OCT (B) is shown as well as each of the 24 radial B-scans (C) in movie format.  Simultaneously, for Bruch's membrane opening (BMO) determined from the B-scan (F) and projected to the IR image (D) and co-localised to the disc photograph (E) is shown.  The clinical disc margin determined from the disc photograph (E), co-localised to the IR image and projected to the B-scan (F) is also shown.  Finally, the segmented internal limiting membrane (ILM) and the Bruch's membrane opening minimum rim width (BMO-MRW) are indicated in the B-scan (F).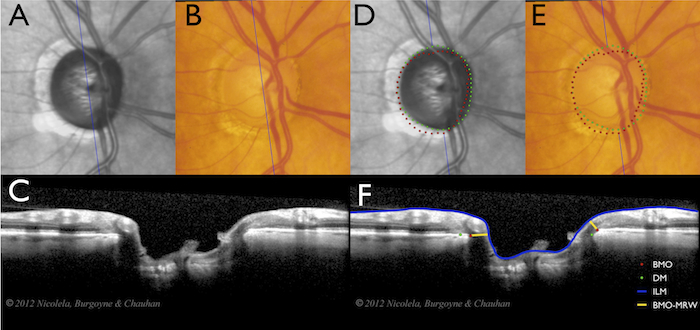 Click to access the images for 30 glaucoma patients (10 each with focal, diffuse and sclerotic optic nerve head damage) and 10 age-matched healthy controls.
Further details are provided in the following publications:

Reis ASC, Sharpe GP, Yang H, Nicolela MT, Burgoyne CF and Chauhan BC. Optic disc margin anatomy in glaucoma patients and normal controls with spectral domain optical coherence tomography. Ophthalmology. 119:738-747, 2012.

Reis ASC, O'Leary N, Yang H, Sharpe GP, Nicolela MT, Burgoyne CF and Chauhan BC. Influence of clinically invisible, but optical coherence tomography detected, optic disc margin anatomy on neuroretinal rim evaluation. Invest. Ophthalmol. Vis. Sci. 53:1852-1860, 2012.




Balwantray C. Chauhan, Ph.D.
Halifax, 2012