News & Events
Stay up-to-date
In a field like ophthalmology (where things are always changing) and a school like Dalhousie (where there's always something happening), it's easy to get out of the loop. Make sure you're aware of everything that's going on by checking back often.
News
The Mathers Endowment

Thanks to a generous $9 million donation, we were able to create:
******
2018 Mathers Scholarship Recipients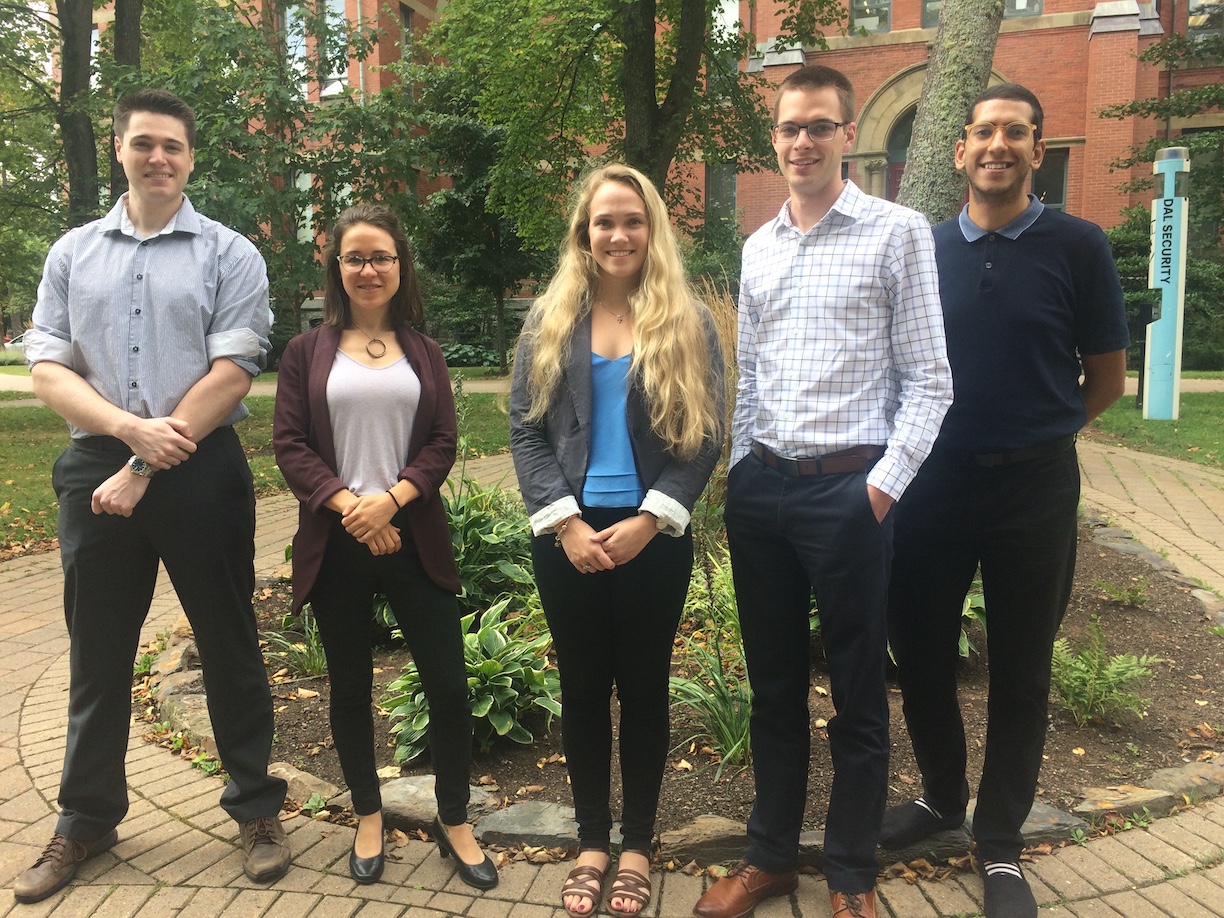 Michael Craig, Danielle Cadieux, Delaney Henderson, Corey Smith, Tareq Yousef and Jonah Brodeur (missing) are the recipients of the 2018 Dr. R. Evatt and Rita Mathers Trainee Scholarships.
Dr. Corey Smith is the recipient of the Research Fellowship in Ophthalmology and Visual Sciences. He will continue his research with his supervisor Dr. Balwantray Chauhan that will investigate optical coherence tomography angiography (OCT-A) in the retina. His research will determine the amount of short and long-term variability in blood flow to understand if this technique is reproducible and reliable in healthy subjects. He is aiming to develop a three-dimensional (3D) image reconstruction of the retinal vascular network in healthy subjects and compare these models to those of glaucoma patients. He hopes that this research will lead to a new imaging method for glaucoma patients with the goal of providing eye doctors with more information for preventing, diagnosing and treating glaucoma and other eye diseases.
The PhD in Vision Science scholarship is awarded to Tareq Yousef, who under the supervision of Dr. William Baldridge, is investigating whether a light-sensitive protein, melanopsin, contributes to the process of retinal neuron light-adaptation in a fish retina model.  He will investigate the possible novel connections that melanopsin make within the retina itself, and what changes they impose on retinal signaling mediated by the important chemical messenger, dopamine. Melanopsin's contribution to light-adaptation may prove imperative for the development of visual prostheses and reversing visual-impairment in the future.
The recipient of the Masters of Vision Science scholarship is Delaney Henderson. Delaney will be supervised by Dr. Balwantray Chauhan and will investigate how a gene delivery technique may be used to deliver fluorescent molecules that allow visualization of cells in the retina. This potential diagnostic tool may allow clinicians to monitor retinal ganglion cell death caused by glaucoma and increase our understanding of the properties of cellular loss of function.
The Masters of Clinical Vision Science scholarship is awarded to Michael Craig, who under the supervision of Dr. Francois Tremblay, is studying the phenomenon of binocular inhibition, wherein eyes with cataracts, optic neuritis, strabismus and amblyopia perform worse on electrophysiological vision testing using both eyes together then when tested individually. This phenomenon is thought to occur in the visual parts of the brain. The goal of the study is to use MEG (magnetoencephalography) and EEG (electroencephalography) which are complementary forms of brain imaging to attempt to locate the parts of the brain where this process takes place and to differentiate how each of these techniques captures this phenomenon.
Dr. Danielle Cadieux is the recipient of the Concurrent Masters and Ophthalmology Residency scholarship. Her research is being carried out under the direction of Drs. Mark Goldszmidt and Anuradha Mishra.  Dr. Cadieux will study how surgical residents take initiative to independently identify learning needs, implement learning strategies, and evaluate learning outcomes in the context of the operating room to achieve the required competencies throughout their residency programs. Understanding these practices will benefit postgraduate students and educators by providing a framework to assess current practice, provide feedback, and address future needs.
The Undergraduate scholarship is awarded to Jonah Brodeur, who under the direction of Dr. Francois Tremblay, is investigating the effect that diseases such as age-related macular degeneration (AMD) and retinitis pigmentosa (RP) have on the retinal neurons at various stages of the disease using electrophysiological recording techniques in animal models. He hopes that this research will facilitate the development of treatment options in order to reduce vision loss in patients with AMD or RP in the future.