News & Events
Stay up-to-date
In a field like ophthalmology (where things are always changing) and a school like Dalhousie (where there's always something happening), it's easy to get out of the loop. Make sure you're aware of everything that's going on by checking back often.
News
The Mathers Endowment

Thanks to a generous $9 million donation, we were able to create:
******
2020 Mathers Scholarship Recipients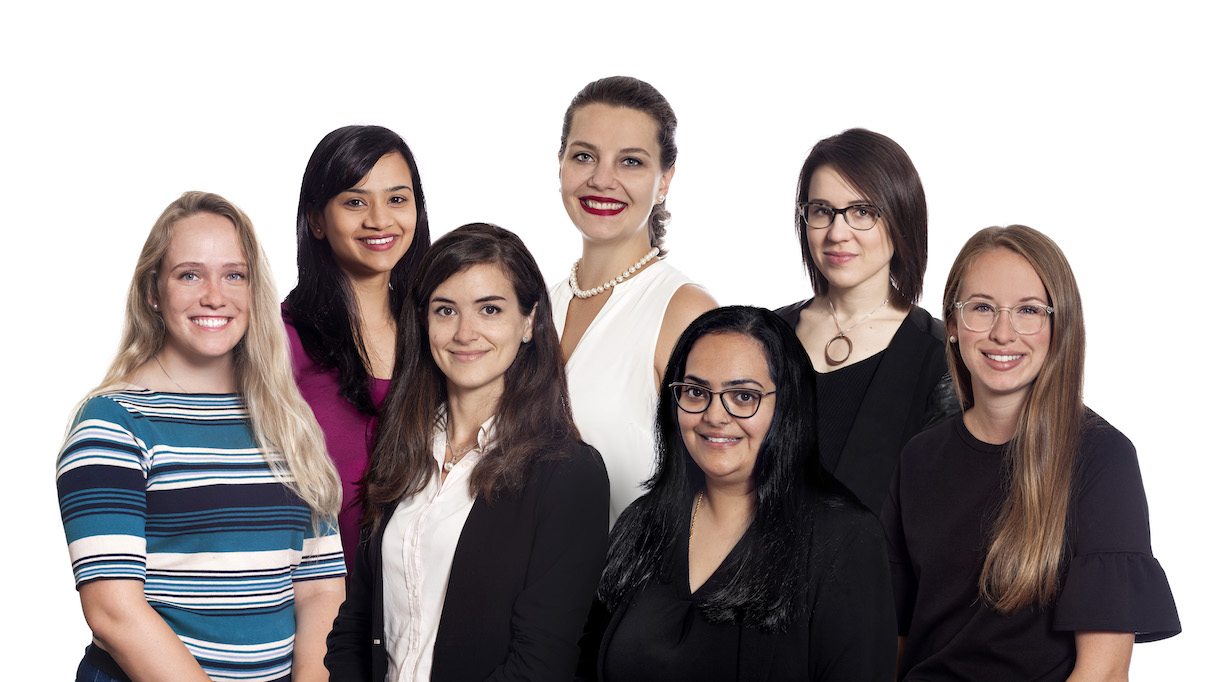 Delaney Henderson, Aishwarya Sundaram, Sara Giammaria, Sara van der Ende, Aruna Krishnamurthy, Dani Cadieux, and Hilary Pearson are the recipients of the 2020 Dr. R. Evatt and Rita Mathers Trainee Scholarships.
Dr. Sara Giammaria is the recipient of the Research Fellowship in Ophthalmology and Visual Sciences. She is working under the direction of Dr. Balwantray Chauhan to study the structure-function relationships in the macula area of the retina in healthy subjects and characterize how those relations change in glaucomatous patients across the severity of the disease. She will use software to directly combine OCT, conventional perimetry and the new Compass fundus perimeter technology. These tools, used together, will allow her to obtain a precise correspondence between retinal sensitivity and thickness. Since clinical utility of diagnostic tests depends on stage of disease, understanding the nature of structure-function relationships will help clinicians to target tests more accurately in the different stages of glaucoma.
The PhD in Vision Science scholarship is awarded to Sara van der Ende and Delaney Henderson.
Sara van der Ende, who under the supervision of Drs. Christopher McMaster and Johane Robitaille, is performing genetic testing using new technologies on Familial Exudative Vitreoretinopathy (FEVR) patients without a mutation in a known FEVR gene. She has identified new potential FEVR genes and is performing functional analyses to confirm that the mutations in these new genes cause FEVR. By expanding the list of FEVR-causing genes, more patients will receive a diagnosis earlier, leading to earlier treatment and prevention of vision loss.
Delaney Henderson, who is under the supervision of Dr. Balwantray Chauhan, is studying how to use gene delivery to deliver fluorescent molecules to the cells of the retina in animal models. The fluorescent molecules allow for visualization of cells in the retina and act as an imaging tool to monitor cell function in models of glaucoma. She is characterizing the immune response which occurs when delivering genes in the eye and ways to prevent this response. The aim of this study is to increase our understanding of the properties of cellular loss of function and the safety of this technique so that it can be used as a clinical diagnostic tool in the future.
The Masters of Clinical Vision Science scholarship is awarded to Hilary Pearson and Aruna Krishnamurthy.
Hilary Pearson will be supervised by Dr. David Westwood and will investigate a particular aspect of attention known as inhibitory control, which is the ability to choose whether to respond to various external stimuli. She will work to characterize this specific aspect of attention in a cohort of Canadians that has suffered mild brain injuries due to a shared but unknown pathology using eye-tracking technology.  Eye movements will be measured in response to targets presented alongside distracting or conflicting information and compared to a matched group of participants with no neurological abnormalities. This project will allow the characterization of a specific aspect of function in a novel and poorly understood syndrome using a theoretical validated task and cutting-edge eye-tracking technology.
Aruna Krishnamurthy will work with Dr. Diane Mackenzie to use a novel mobile eye-tracking device to test cognitive processing in patients with mild traumatic brain injury (mTBI) and control subjects. The eye-tracking device allows for unrestricted interaction with the environment while performing a real-world task. This provides an innovative solution for assessing eye movements linked to attention. The results of this study will highlight differences in the observed points between the two groups and if these differences can be used to develop an attentional screening tool for mTBI.
Drs. Danielle Cadieux and Aishwarya Sundaram are the recipients of the Concurrent Masters in Science and Ophthalmology Residency scholarship.
Dr. Danielle Cadieux's research is being carried out under the direction of Drs. Mark Goldszmidt and Anuradha Mishra. She continues to study how surgical trainees are acquiring the knowledge and skills to achieve the required competencies throughout their residency programs. Self-directed learning (SDL) is an essential form of learning whereby residents must take initiative to independently identify learning needs, implement learning strategies, and evaluate learning outcomes. Using qualitative research methods, she will explore the SDL variation of surgical residents in an OR context. Understanding SDL practices will benefit post-graduate students and educators by providing a framework to assess current practice, give feedback, and address future needs.
Dr. Aishwarya Sundaram is working with Drs. Marcelo Nicolela and Jayme Vianna to develop an educational curriculum that equips optometrists with the knowledge and skills required to collaboratively manage the needs of all Nova Scotians suffering from glaucoma. Dr. Sundaram will survey optometrists and ophthalmologists throughout Nova Scotia to identify their perceived learning needs; to collect practical advice on implementation; and to determine optometrists' collective preferred learning methods to inform the development of the curriculum and interprofessional care model.