Research Day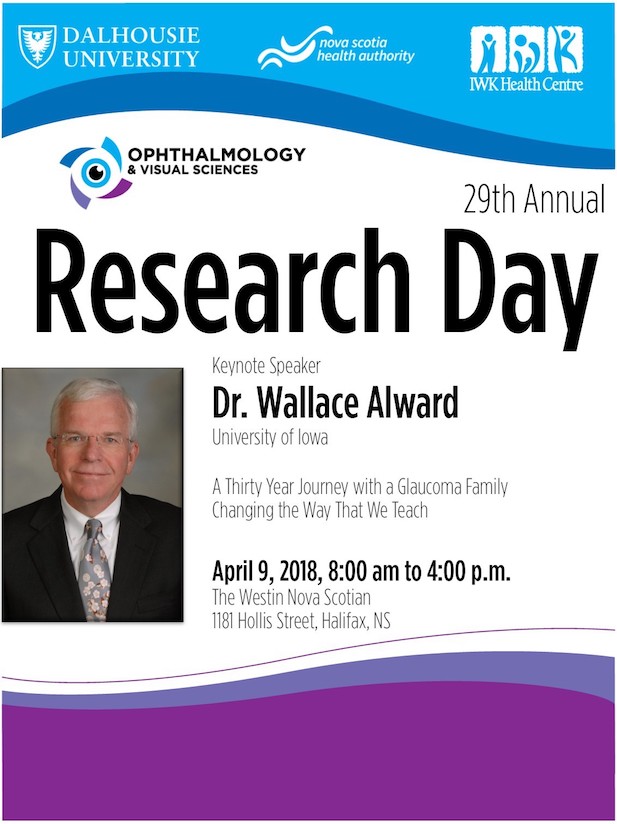 29th Annual Research Day
On April 9, 2018, faculty and students attended the 29th Annual Department of Ophthalmology and Visual Sciences Research Day, a full-day symposium at the Westin Nova Scotian. This event showcased the current basic science and clinical research carried out in our department and in collaboration with departments both within and outside Dalhousie.
The Keynote Lecturer, Dr. Wallace Alward, from the University of Iowa, delivered two excellent presentations entitled "A Thirty Year Journey with a Glaucoma Family" and "Changing the Way We Teach".
Congratulations to the 2018 Research Day Award winners:
Resident Category
1st Prize: Dr. Harald Gjerde "The utility of a fzd4-/- zebrafish model in the screening of novel treatments for familial exudative vitreoretinopathy (FEVR)"
2nd Prize: Dr. William Best "Dalhousie medicine – Undergraduate ophthalmology education – Targeted needs assessment"
Junior Trainee Category
1st Prize: Delaney Henderson "Characterizing longitudinal in vivo changes of RGC in a model of experimental glaucoma"
Senior Trainee Category
1st Prize: Brennan Eadie "Optical coherence tomography parameters distinguishing post-acute phase ischemic and glaucomatous optic neuropathies"
---
Previous Research Day Information
2016