Gregory

Fairn

,

PhD
Professor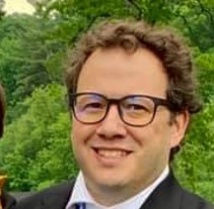 Laboratory Location:
Room N103, Life Sciences Research Institute
1344 Summer St.
Halifax, Nova Scotia, Canada. B3H 0A8


Email:
gfairn@dal.ca
Phone:
902-221-3719
Mailing Address:
Sir Charles Tupper Building, Room 11B 5850 College Street PO Box 15000 Halifax, Nova Scotia Canada B3H 4R2

Research Topics:
Cellular basis of innate immunity
Host pathogen interactions
Endocytosis and endomembrane traffic
Protein lipidation in Crohn's and fatty liver disease
Formation and dissolution of phagosomes
Lipid metabolism, signaling and post translational modifications
Live-cell and super-resolution microscopy
Lipidomics and Proteomics
Biography
Dr. Gregory Fairn completed his B.Sc. in Biochemistry & Molecular Biology and Microbiology & Immunology with Co-op placements along the way at Novartis and Merck.
Dr. Fairn's PhD was completed at Dalhousie University in the lab of Dr. Chris McMaster studying yeast genetics, vesicular transport, and lipid metabolism. Next, Dr. Fairn moved to Toronto for postdoctoral studies in the lab of Dr. Sergio Grinstein at the Hospital for Sick Children. Continued studying vesicular transport and organelle function and further extended the research into innate immunity and host-pathogen interactions.
In the summer of 2012, started own lab at St. Michaels Hospital (Toronto) and continued to study a variety of aspects related to vesicular and non-vesicular transport of lipids, membrane dynamics, innate immunity, and cell biology.
In May 2021, he relocated to Dalhousie University in the Department of Pathology.   
Selected Publications
Macrophage Biology/Host-Pathogen Interactions:
Phosphatidylinositol 3-kinase-independent synthesis of PtdIns(3,4)P2 by a phosphotransferase Glenn F. W. Walpole, Jonathan Pacheco, Neha Chauhan, Yazan M. Abbas, Fernando Montaño-Rendón, Zetao Liu, Hongxian Zhu, John H. Brumell, Alexander Deiters, Gerald R.V. Hammond, Sergio Grinstein, Gregory D. Fairn*  bioRxiv (2021) 2021.05.25.445663; doi: https://doi.org/10.1101/2021.05.25.445663
Examining the Underappreciated Role of S-Acylated Proteins as Critical Regulators of Phagocytosis and Phagosome Maturation in Macrophages. Dixon CL, Mekhail K, Fairn GD*. Frontiers in Immunology. (2021) Apr 1;12:659533. doi: 10.3389/fimmu.2021.659533.
Phagolysosome resolution requires contacts with the endoplasmic reticulum and phosphatidylinositol-4-phosphate signalling. Levin-Konigsberg R, Montaño-Rendón F, Keren-Kaplan T, Li R, Ego B, Mylvaganam S, DiCiccio JE, Trimble WS, Bassik MC, Bonifacino JS, Fairn GD*, Grinstein S*. Nature Cell Biology. (2019) Oct;21(10):1234-1247. doi: 10.1038/s41556-019-0394-2.
Dynamic Podosome-Like Structures in Nascent Phagosomes Are Coordinated by Phosphoinositides. Ostrowski PP, Freeman SA, Fairn G, Grinstein S. Developmental Cell. (2019) Aug 19;50(4):397-410.e3. doi: 10.1016/j.devcel.2019.05.028. Epub 2019 Jun 20.
Protein Lipidation:
S-palmitoylation of NOD2 controls its localization to the plasma membrane. Dixon CL, Fairn GD*. Journal of Lipid Research. (2021) Jul 20;62:100097. doi: 10.1016/j.jlr.2021.100097.
Fatty Acid Synthase inhibition prevents palmitoylation of SARS-CoV2 Spike Protein and improves survival of mice infected with murine hepatitis virus. Minhyoung Lee, Michael Sugiyama, Katrina Mekhail, Elyse Latreille, Negar Khosraviani, Kuiru Wei, Warren L. Lee, Costin Antonescu, Gregory D. Fairn*. bioRxiv (2021). https://doi.org/10.1101/2020.12.20.423603
Palmitoylation of NOD1 and NOD2 is required for bacterial sensing. Lu Y, Zheng Y, Coyaud É, Zhang C, Selvabaskaran A, Yu Y, Xu Z, Weng X, Chen JS, Meng Y, Warner N, Cheng X, Liu Y, Yao B, Hu H, Xia Z, Muise AM, Klip A, Brumell JH, Girardin SE, Ying S, Fairn GD*, Raught B*, Sun Q*, Neculai D*. Science. (2019) Oct 25;366(6464):460-467. doi: 10.1126/science.aau6391.
Cancer Biology:
PPAR-delta modulates membrane cholesterol and cytokine signaling in malignant B cells. Sun L, Shi Y, Wang G, Wang X, Zeng S, Dunn SE, Fairn GD, Spaner DE. Leukemia. (2018) Jan;32(1):184-193. doi: 10.1038/leu.2017.162.
Phosphatidylinositol transfer protein-α in platelets is inconsequential for thrombosis yet is utilized for tumor metastasis. Zhao L, Thorsheim CL, Suzuki A, Stalker TJ, Min SH, Lian L, Fairn GD, Cockcroft S, Durham A, Krishnaswamy S, Abrams CS. Nature Communications. (2017) Oct 31;8(1):1216. doi: 10.1038/s41467-017-01181-4.
Staurosporines decrease ORMDL proteins and enhance sphingomyelin synthesis resulting in depletion of plasmalemmal phosphatidylserine. Maekawa M, Lee M, Wei K, Ridgway ND, Fairn GD*. Scientific Reports. (2016) Nov 2;6:35762. doi: 10.1038/srep35762.
Inhibition of Acid Sphingomyelinase Depletes Cellular Phosphatidylserine and Mislocalizes K-Ras from the Plasma Membrane. Cho KJ, van der Hoeven D, Zhou Y, Maekawa M, Ma X, Chen W, Fairn GD*, Hancock JF*. Molecular and Cellular Biology. (2015) Nov 16;36(2):363-74. doi: 10.1128/MCB.00719-15.
Cell Biology of Lipids:
Anisotropy of plasmalemmal sterols and cell mating require StARkin domain proteins Ysp2 and Lam4 Neha Chauhan, Gregory D. Fairn* bioRxiv (2021) 2021.09.30.462584; doi: https://doi.org/10.1101/2021.09.30.462584
Membrane curvature induced by proximity of anionic phospholipids can initiate endocytosis. Hirama T, Lu SM, Kay JG, Maekawa M, Kozlov MM, Grinstein S, Fairn GD. Nature Communications. (2017) Nov 9;8(1):1393. doi: 10.1038/s41467-017-01554-9.
SR-BI Mediated Transcytosis of HDL in Brain Microvascular Endothelial Cells Is Independent of Caveolin, Clathrin, and PDZK1. Fung KY, Wang C, Nyegaard S, Heit B, Fairn GD*, Lee WL*. Frontiers in Physiology. (2017) Oct 30;8:841. doi: 10.3389/fphys.2017.00841.
Phosphatidylserine dictates the assembly and dynamics of caveolae in the plasma membrane. Hirama T, Das R, Yang Y, Ferguson C, Won A, Yip CM, Kay JG, Grinstein S, Parton RG, Fairn GD*. Journal of Biological Chemistry. (2017) Aug 25;292(34):14292-14307. doi: 10.1074/jbc.M117.791400.