Paola
Marcato
Associate Professor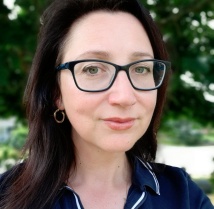 Email:
paola.marcato@dal.ca
Phone:
902-494-4239, 902-494-4241 (lab)
Mailing Address:
Dalhousie University
Sir Charles Tupper Medical Building, 11-C1
5850 College Street
PO Box 15000
Halifax, Nova Scotia, Canada B3H 4R2

Note: Currently recruiting graduate students and post-doctoral fellows.
Research interests
The research projects in my laboratory have the long-term goal of developing improved therapeutic strategies for breast cancer based on a precision medicine approach. We use transcriptome and genome-wide functional assays, cell lines, patient-derived xenografts (PDXs), mouse tumor models, and analysis of published patient datasets to identify biomarkers, study breast cancer stem cells (CSCs) and understand factors important in breast cancer progression. These factors include epigenetic modifications such as DNA methylation and long non-coding RNA.
People
Cheryl Dean (research assistant/lab manager)
Nadia Farbstein (research assistant)
Krysta Coyle (graduate student)
Margaret Thomas (graduate student)
Mohammad Sultan (graduate student)
Dejan Vidovic (graduate student)
Thomas Huynh (graduate student)
Brianne Cruickshank (graduate student)
Ainsleigh Jackson (undergraduate student)
Hailey Wyatt (undergraduate student)
Publications (since 2011)
Sultan M, Vidovic D, Paine AS, Huynh TT, Coyle KM, Thomas ML, Cruickshank BM, Dean CA, Clements DR, Kim Y, Lee K, Gujar SA, Weaver IC, Marcato P (2018) Epigenetic silencing of TAP1 in Aldefluor+ breast cancer cells contributes to their enhanced immune evasion. Stem Cells. doi: 10.1002/stem.2780
Coyle KM, Maxwell S, Thomas ML, Marcato P (2017) Profiling of the transcriptional response to all-trans retinoic acid in breast cancer cells reveals RARE-independent mechanisms of gene expression. Sci. Rep. 10.1038/s41598-017-16687-6.
Coyle KM, Boudreau J, Marcato P (2017) Genetic mutations and epigenetic modifications: Driving cancer and informing precision medicine. Biomed Res. Int. 2017:9620870. doi: 10.1155/2017/9620870.
Sultan M, Coyle KM, Vidovic D, Thomas, ML, Gujar S, Marcato P. (2017) Hide-and-seek: the interplay between cancer stem cells and the immune system. Carcinogenesis. 38(2):107-118.
Thomas ML, De Antueno R, Coyle KM, Sultan M, Cruickshank B, Giacomantonio M, Giacomantonio CA, Duncan R, Marcato P. (2016) Citral reduces breast tumour growth by inhibiting cancer stem cell marker ALDH1A3. Mol. Oncol.10(9):1485-1496
Coyle KM, Murphy P, Vidovic D, Dean CA, Sultan M, Clements D, Wallace M, Vaghar-Kashani A, Thomas ML, Giacomantonio CA, Helyer L, Gujar S, Lee PWK, Weaver I, Marcato P. (2016) Breast cancer subtype dictates DNA methylation and ALDH1A3-mediated expression of tumor suppressor RARRES1. Oncotarget. 7(28):44096-112.
Sharif T, Ahn D-G, Liu R-Z, Pringle E, Nunokawa A, Kwak M, Clements D, Martell E, Murphy P, Dean CA, Marcato P, McCormick C, Godbout R, Gujar SA, Lee PWK. (2016) The NAD+ salvage pathway modulates cancer cell viability via p73. Cell Death Diff. 23(4):669-80.
Canino C, Luo Y, Marcato P, Blandino G, Pass H, Cioce MA (2015) STAT3-NFkB/DDIT3/CEBPβ axis modulates ALDH1A3 expression in chemoresistant cell subpopulations. Oncotarget. 6(14):12637-53.
Clements D, Sterea A, Helson E, Dean CA, Nunokawa A, Coyle KM, Sharif T, Marcato P, Gujar SA, Lee PWK (2015) Newly recruited CD11b+, GR-1+, Ly6Chigh myeloid cells augment tumor-associated immunosuppression immediately following the therapeutic administration of oncolytic reovirus. J. Immun. 194(9):4397-412
Marcato P*, Dean CA, Liu R-Z, Coyle KM, Bydoun M, Wallace M, Clements D, Turner C, Mathenge E, Gujar SA, Giacomantonio CA, Mackey JR, Godbout R, Lee PWK* (2015) Aldehyde dehydrogenase 1A3 influences breast cancer growth rate via differential retinoic acid signaling. Mol. Oncol. 9(1):17-31. (*co-corresponding authors)
Mathenge EG, Dean CA, Clements D, Vaghar-Kashani A, Photopoulos S, Coyle KM, Giacomantonio M, Malueth B, Nunokawa A, Jordan J, Lewis JD, Gujar SA, Marcato P, Lee PW, Giacomantionio CA (2014) Core needle biopsy of 4T1 breast cancer tumors increases distant metastasis in association with an immunosuppressive microenvironment. Neoplasia. 16(11):950-960.
Thomas ML, Coyle KM, Sultan M, Vaghar-kashani A, Marcato P (2014) Chemoresistance in Cancer Stem Cells and Strategies to Overcome Resistance. Chemotherapy. 3:125. doi: 10.4172/2167-7700.1000125
Gujar SA, Clements D, Dielschneider R, Helson E, Marcato P, Lee PWK (2014) Gemcitabine enhances the efficacy of reovirus-based oncotherapy through anti-tumor immological mechanisms. Br. J. Cancer. 10(1):83-93.
Coyle KM, Marcato P (2013) Cancer stem cells: clinical relevance. Can J Path. 5(4):141-149.
Coyle KM, Sultan M, Thomas M, Vaghar-Kashani A, Marcato P (2013) Retinoid signaling in cancer and its promise for therapy. J. Carcinogene. Mutagene.  S7:006. doi: 10.4172/2157-2518.S7-006.
Pan D, Marcato P, Ahn D, Gujar S, Pan LZ, Lee PWK (2013) Activation of p53 by chemotherapeutic agents enhances reovirus oncolysis. PLOS One. 8(1):e54006.
Gujar S, Dielschneider R, Clements D, Helson E, Shmulevitz M, Marcato P, Pan D, Pan L, Ahn DG, Alawadhi A, Lee PWK (2013) Multifaceted Therapeutic Targeting of Ovarian Peritoneal Carcinomatosis through Virus-induced Immuno-modulation. Mol. Ther. 21(2):338-47.
Pan D, Pan LZ, Hill R, Marcato P, Shmulevitz M, Vassilev LT, Lee PWK (2011) Oncolytic reovirus and Nutlin-3a synergistically kill tumor cells through p53-dependent NF-kB activation. Br. J. Cancer. 105(7):1012-22.
Marcato P, Dean CA, Giacomantonio CA, Lee PWK (2011) Aldehyde dehydrogenase: its role as a cancer stem marker comes down to the specific isoform. Cell Cycle. 10(9):1378-84.
Gujar SA, Pan D, Marcato P, Garant KA, Lee PWK (2011) Oncolytic Virus-Initiated Immunotherapy of Prostate Cancer. Mol. Ther. 19(4):797-804.
Marcato P, Dean CA, Pan D, Araslanova R, Gillis ME, Joshi M, Helyer L, Pan L, Leidal A, Gujar S, Giacomantonio CA, Lee PWK (2011) Aldehyde dehydrogenase activity of breast cancer stem cells is primarily due to isoform ALDH1A3 and its expression is predictive of metastasis. Stem Cells. 29(1):32-45.