Tahani

Ahmad

,

MD, ABR
Associate Professor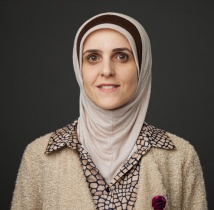 Email:
tahani.ahmad@iwk.nshealth.ca
Phone:
902-470-3770
Fax:
902-470-7463
Mailing Address:
IWK Health Centre 5850/5980 University Avenue PO Box 9700 Halifax, Nova Scotia B3K 6R8

Research Topics:
Neuroradiology
Pediatric Body Radiology
IWK Health Centre
Research Topics:
Brain Development and Prematurity
Education:
Certified, Pediatric Radiology Subspecialist Affiliate, Royal College of Physicians and Surgeons-Canada.
American Board in Radiology
Certified, Clinical Densitometrist (CCD), International Society of Clinical Densitometry), USA
Fellowship, Pediatric Radiology & Pediatric Neuroradiology, University of Toronto/ The Hospital for Sick Children
Jordanian Board in Diagnostic Radiology
Higher Specialization Certificate, Diagnostic Radiology, Faculty of Graduate Studies. Jordan University
Residency - Diagnostic Radiology, Jordan University Hospital
MBBS, Jordan University
Profile:
Dr. Tahani Ahmad is an Associate Professor in Diagnostic Radiology at Dalhousie University. She is a staff radiologist at the IWK Health Centre with certifications in Pediatric Imaging and Pediatric Neuroradiology. She joins Dalhousie University from the Hospital for Sick Children in Toronto, where she was trained.
In addition to her clinical and teaching engagements, she also serves as the research director-Department of Diagnostic Imaging-IWK Health Center.