News
»
Go to news main
Mice model adding to research on frailty and aging
Posted by
Cory Burris
on November 27, 2012 in
News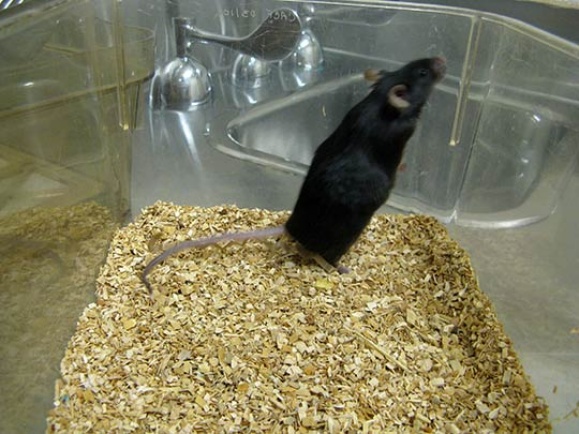 It may seem intuitive that frailty and age go hand-in-hand. But anyone who's attended a high school or university reunion can testify that no two people age the same way.
Currently, very little is known about frailty and its effects on the body and organs like the heart. This is partly because researchers have not had an animal model to investigate frailty and its potential treatments.
Until now.
By creating a frailty index for use in mice, Dr. Susan Howlett, researcher and professor in the Department of Pharmacology at Dalhousie, has shown that the relationship between frailty and age is almost the same in mice as it is in humans.
"This research project is important because it will help us understand how frailty develops over the lifespan of individual mice and how this compares to the development of frailty in humans," says Dr. Howlett.
Dr. Robert Rose, collaborator on the study and assistant professor of Physiology and Biophysics at Dalhousie, says that the study is completely novel and adding an important new dimension to the research on aging and cardiovascular disease happening in Dr. Howlett's lab.
"Age is being considered in a different context in this model," says Dr. Rose. "The age of the mice is being measured and quantified in terms of frailty, rather than by their biological age."
What animal models are showing us
Animal models like Dr. Howlett's play a crucial step towards translating basic mechanisms of cellular dysfunction in aging into meaningful clinical interventions. Dr. Howlett's model is a first of its kind and will lead to a better understanding of how cardiovascular disease develops in frail, aged animals.
"We took a model that had been developed for use in people and modified it for use in animals," says Dr. Howlett. "We measured many different health problems in individual mice and used this information to estimate a frailty index score."
The study has shown that frailty is associated with harmful changes in heart cells and susceptibility to heart diseases. Specifically, frail animals tend to have very large heart cells.
"As the heart cells in mice became larger, we observed a greater decline in a cell's ability to contract," says Dr. Howlett. "The ability to contract is an important function in reducing the force of heartbeats."
Dr. Howlett noted that on average, mice only have a two-year lifespan. Her model creates a system to test drugs and other interventions – like exercise – that could modify frailty. It also gives insight on optimal time frames to administer these interventions.
Translating to patient care
"This could have numerous impacts," said Dr. Rose. "The model will produce new methods to reduce or prevent the development of frailty, as well as the ability to tailor a patient's treatment strategies based on that individuals level of frailty."
As Dr. Howlett says, frailty indexes (FI) are being used more commonly to accurately assess patient vulnerability. Sometimes called a "deficit index," a FI can be created by counting accumulated health deficits in an aging person, divided by the total number of deficits measured.
Frailty predicts whether medical procedures like cardiovascular surgery can be performed on an aged person: the procedure can greatly benefit a fit, 90-year-old, but can cause death or long-term care in a vulnerable, frail individual of the same age.
Dr. Kenneth Rockwood, professor of Geriatric Medicine and frailty specialist, is lending his expertise to the project.
"Sorting out how to count 'things wrong' has been very challenging, even more so in animals," said Dr. Rockwood. "What Dr. Howlett has done is to translate from work on humans to work on animals. She has opened up a new way to study aging, and new ways to test interventions that might affect the entire aging process. This is really quite exciting."
In context, the study is helping clinicians understand when and how best to use traditional medical care on frail, aged persons.
"As people get older, on average, they have more things wrong with them," said Dr. Rockwood. "Not everyone of the same age has the same risk of death. It is the number of things that people have wrong with them – more than age itself – that best correlates with the risk of dying."
With Dr. Howlett's mice model, clinicians will be able to increase the likelihood of positive treatment outcomes. The study will also allow researchers a new way to test treatments for frailty in older people, and will allow them to evaluate how current drug treatments might be modified by frailty.

Media Enquiries:

Allison Gerrard, Dalhousie Medical School, (902) 494.1789 / (902) 222.1917, allison.gerrard@dal.ca