News
»
Go to news main
A shot worth taking: the importance of flu shots for pregnant women
Posted by
Ryan McNutt
on January 10, 2014 in
News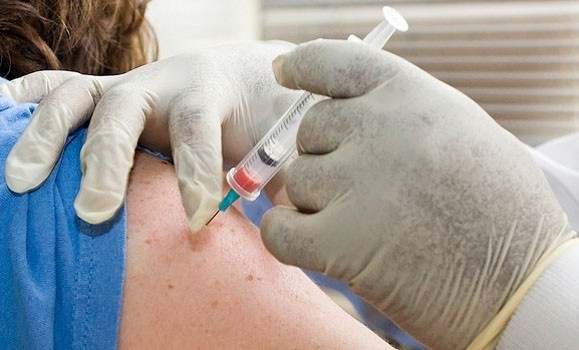 Three years ago, H1N1 influenza swept the planet in the first global flu pandemic in more than 40 years. Now, it's back in the news, with cases nationwide and even multiple deaths reported in the prairies.

The 2009 H1N1 outbreak saw record vaccination rates in Nova Scotia, with more than half the province's population getting their flu shot. But how did those rates change in the years since, particularly among at-risk groups like pregnant women?

That's what fourth-year medical student Alex Legge wanted to find out. She's co-lead on a new paper, published in the Canadian Medical Association Journal this week, which makes a convincing case for pregnant women to get vaccinated against the flu.

Legge's research found that the vaccination rate for pregnant women in the 2010-11 and 2011-12 flu seasons fell back to where it was before 2009 — approximately 16 per cent.
The benefits of vaccination

That's a problem, because the study also found a significant relationship between vaccination and healthy births.

"The findings from our study would suggest that women who receive the flu shot during pregnancy are at lower risk for pre-term birth or low birth weight infants compared to women who do not get vaccinated during their pregnancy," Legge explains on the phone from a geriatrics rotation in Lunenburg. "The number we saw in our study was approximately a 25 per cent reduction."

The study used data from the Nova Scotia Atlee Perinatal Database, which collects information for all deliveries in the province. Legge and her co-authors — all Dal faculty — looked at results from women who had received the flu shot during pregnancy and those who had not, comparing the neo-natal outcomes.

The relationship between birth outcomes and the flu shot didn't surprise the authors: there's a great deal of pre-existing research demonstrating the detrimental effects influenza can have during pregnancy, for both mother and infant. And yet, despite this, vaccination rates for pregnant women remain low.

"The take home message from our study is that despite mounting evidence for a protective effect of the influenza vaccine in pregnancy, and despite the fact that our current Canadian and World Health Organization guidelines are that all pregnant women should receive the influenza vaccine, we're still seeing disappointingly low rates of vaccination in Nova Scotia," says Legge.

"The next step is really to look at the reasons behind this low vaccine uptake and look at what strategies are going to be effective in improving that… A big part of this is providing patients with accurate information and letting them know that the vaccine is safe, as well as educating them on the risks of contracting influenza during pregnancy."
A compelling research experience

Legge, originally from Mahone Bay, N.S., conducted the research as a summer project following her second year of medical school. (Legge also did her undergrad degree in neuroscience at Dal and was a Top 8 Academic All-Canadian with the Tigers basketball team.) The study was supervised by its co-author, Dr. Linda Dodds, director of the Perinatal Epidemiology Research Unit at Dalhousie and the IWK Health Centre.

"She and the other co-authors had done a lot of research in this area in the past, so when I approached her wanting to do a summer research project, she presented this topic to me," says Legge. "I thought it sounded like an interesting one."

Legge says she hopes to continue to include research like this in her forthcoming career as a clinician.

"I've just had a great experience working with this group of experienced researchers at the IWK, and learned a tremendous amount. The skills I've acquired have really helped me to grow as a researcher."