News
»
Go to news main
Close to home: Dalhousie Medicine New Brunswick graduates its first class
Posted by
Lisa Roberts
on May 23, 2014 in
News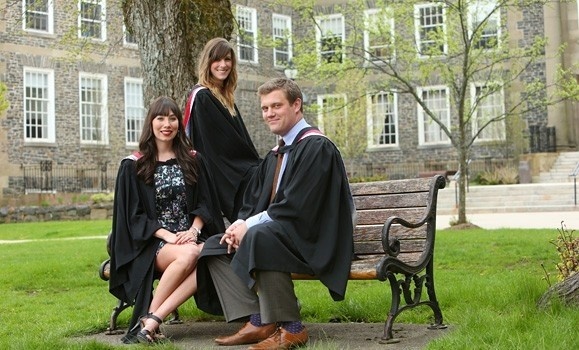 When Will Stymiest's hopes for a career in baseball were dashed by knee surgery, he set his sights on becoming a doctor.

"When I found out I couldn't be a major league baseball player, it was kind of the next option," says Stymiest, now 26.

By his second year of a BSc at Dalhousie, the Miramichi, NB-native was intent on going to Dal for medicine, and pictured staying for another four years in Halifax. Instead, he graduates this Friday with his MD as part of the first class of students Dalhousie Medicine New Brunswick (DMNB).

After working for a decade to bring the medical school to New Brunswick and meeting weekly with Stymiest and his fellow students during their first year to troubleshoot any problems, Dr. John Steeves is readying himself for their convocation in Halifax.

"[Like] a parent watching a first-born graduate from university," says Dr. Steeves, associate dean of DMNB and an orthopedic surgeon. "I think that would be a similar feeling."

High-definition fibre optic cables connected multiple classrooms in Halifax with a purpose-built building on the University of New Brunswick's Saint John campus, plus lots of willing collaboration from New Brunswick health care professionals, enabled Dalhousie to offer first- and second-year medical school curriculum. In third and fourth year, medical students do their clerkships and other training in locations across the province, such as Miramichi, Moncton and Fredericton, and further afield. 
Surpassing expectations

Stymiest credits Dr. Steeves for the success of DMNB, which surpassed his expectations.  After soaking up his undergraduate experience, Stymiest says he had mixed feelings about entering medical school in Saint John instead of on the Tupper campus, where he envisioned a rich extracurricular life.

"I was confident that Dalhousie would give me the education experience that I needed, but it was the rest I'd been told to expect from medical school that I wasn't sure about."

Dr. Steeves anticipated that and addressed it, offering help to students to travel for Halifax for big, traditional med school events like the Med Ball.

He also gave them a taste of what they were — or were not — missing.

"Every student in the first year was able to travel down to Halifax and actually sit in a class at that end," says Dr. Steeves, "to come to the realization that they didn't have a bad deal."

During lectures, often delivered from Halifax, DMNB students sit at desks in pairs with a microphone between them. A press of a button puts them in a queue to ask a question. A camera focuses on the speaker and project him or her on a large screen in the lecture theatre in Halifax.

"The Halifax group knew the 30 of us by name within a couple of weeks because we were on camera all the time," says Stymiest.

Connections between campuses

It was "like being part of a live television broadcast every day," says student Sheldon Wood, 41, who left an established career in IT to pursue medicine.

"With my IT background, I was kind of expecting more bumps along the way.  But really it worked quite well," says Wood, who had two children when he started medical school and now has a toddler as well. "We only lost minutes of lecture time in the first two years."

Given his young family and extended family in New Brunswick, Wood was grateful for the chance to pursue medicine close to home. He and his wife sold their home in Fredericton to moved to Quispamsis, just outside Saint John, for his first two years of school.  Now they're back in Fredericton, where Wood did most of his third-year clerkship and where he'll do a family medicine internship over the next two years.

"The fact that we were close enough to get help if we needed it from our family, it meant the world to us," says Wood, whose long-term goal is to practice in Fredericton.

Jaclyn LeBlanc, 37, got through medical school without moving her family from their Quispamsis home, and she even gave birth to a daughter (now 23 months old) during her studies. A pharmacist, LeBlanc and her husband moved home to New Brunswick when they were expecting their son, now 6. At the time, LeBlanc was teaching in Oklahoma and her husband was working in Ottawa.  They wanted their children to know their New Brunswick grandparents.  

"It was like the fates had aligned," says LeBlanc of the opening of the DMNB program. "We had a support network already in place.  Having that through medical school is the only reason I made it through medical school."  

The same support network and stability will now help her get through her internship in internal medicine, also in Saint John.

Building capacity in New Brunswick

For younger MDs who have their pick of where to set up practice, the exposure to New Brunswick communities helps steer them home.

"Students go where they know," says Dr. Steeves, summarizing research on physician recruitment. Because the 30 DMNB students have spent most of their medical school experience in New Brunswick, they're more likely to establish their practice there.

DMNB also addresses a second important consideration when doctors are looking at where to set up practice.

Surveys show that 85 per cent of Canadian graduates want to be in an area where they can be actively involved in medical education, says Dr. Steeves. DMNB relies on physicians to help teach students in Miramichi, Moncton, Saint John, Upper River Valley and Fredericton, and it also sends students for shorter experiences in smaller, rural communities.
    
"We've mobilized well over 600 physicians to be actively involved in teaching in this program. And their enthusiasm, their excitement, is virtually palpable when you talk to them," says Dr. Steeves.

That enthusiasm explains why Stymiest is now glad he ended up with the Saint John class.

"It didn't take long for me to become a huge advocate of the DMNB program," says Stymiest, who did some rotations in Halifax as well. "In Saint John, there are fewer learners.  The hospital is small, but per staff physician there are fewer learners to split up their time."

"What I saw were staff members at the hospital that were excited we were there," echoes Wood, saying physicians were "quite happy to put in time and any extra effort."
A proud moment

New Brunswick patients should be happy, too: Dr. Steeves knows of New Brunswick communities that have successfully recruited physicians because "they know they can be involved in the teaching program. "

And — despite Stymiest's early worries — the class of 2014 did gel, both across high-definition fibre optic cable and as a smaller group of 30 in Saint John. Finding peers to enjoy extracurricular pursuits got easier once the class of 2015 joined the first group.  And after their last exams, 13 students from DMNB, including Stymiest, flew to Mexico to celebrate completing med school with another 49 classmates from the Halifax campus.

That trip wasn't in the cards for LeBlanc or Wood, but they will travel to Halifax for convocation.

"I have a couple of degrees before this one and I didn't go to those graduations," says LeBlanc. "But this one seems to mean more."