News
»
Go to news main
Medical Sciences: A new degree option for undergrads
Posted by
Cory Burris
on September 11, 2014 in
News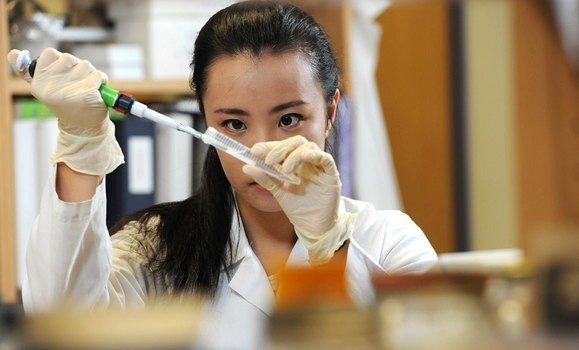 Those looking to explore the science of the human body now have a new Dalhousie degree option.
Last week, students enrolled in the first Bachelor of Medical Sciences program were officially welcomed to the university.
A first of its kind in Atlantic Canada, the program helps prepare students for careers in research, graduate programs in life sciences and health-related professional programs. 


The 100-seat, four-year bachelor's was developed in response to high demand among current and prospective science students for a degree option more targeted towards the medical sciences. 
"As soon as I heard about this program, I was immediately drawn in," says Prathana Nathan. "I often used to discuss with fellow students about the need for a medical sciences program in the Maritimes due to the growing interest in the field of study. Not only does the medical sciences program provide a great foundation for many medical schools across Canada, it also prepares you for many other professional paths such as pharmacy, dentistry and research." 
A cross-faculty program
Housed in the Faculty of Science, the interdisciplinary program draws on contributors from Science, Dalhousie Medical School and the Faculty of Arts and Social Sciences. The cross-faculty nature of the program sets it apart from similar programs elsewhere in Canada.


"I chose Dalhousie's medical sciences program because of its extremely thought-out design for students interested in pursuing further education in any health profession," says Julia Guk. "Although many of the courses that I'll take in this program have been decided for me, there's more than enough room for flexibility -- so I still have the option to choose, and am not forced to take anything that wouldn't benefit me in whichever medical career path I aspire to follow."
Students entering the BSc in Medical Sciences program, which can be taken as a major or a major or an honours, will be introduced to a broad biomedical science background. It will begin with foundational science courses like biology, chemistry and math, after which students will take biomedical courses like immunology, anatomy and pharmacology in the latter half of the program.


The medical sciences program also opens up an array of research opportunities for learners. Third- and fourth-year students will take courses in a number of relevant biomedical fields, setting them up for more advanced courses in their final year. This will allow them to pursue honours research and be excellent candidates for graduate programs in a specialized field.


Dr. Tim Lee, professor in Dalhousie's Department of Microbiology & Immunology and assistant dean of the medical sciences program, says the program will greatly benefit Dalhousie's science departments.


"This program will feed students interested in graduate studies into departments like Physiology, Medical Neuroscience and Pharmacology," says Dr. Lee. "This means more availability for undergraduate summer students and honours research students to work in basic science laboratories."
A launching pad for careers in medical science
The medical science program was previewed to students at last fall's Dalhouse Open House, where Dr. Julie Jordan, program coordinator, heard from prospective students from around the Maritimes and beyond.


"Until now, high school students would have to leave the region to find this type of program. Now we'll have further opportunity to retain some of our best young minds," says Dr. Jordan.


"Those who go through the medical sciences program will have already taken courses like pathology, epidemiology and anatomy," says Dr. Jordan. "We hope that the core courses we offer will enable our graduates to perform better when they are faced with those topics again in professional programs or industry, government or research."


For more information on the program, visit its website or email medsci@dal.ca.