News
»
Go to news main
Dal med student to represent international peers at climate conference
Posted by
Allison Gerrard
on November 19, 2015 in
News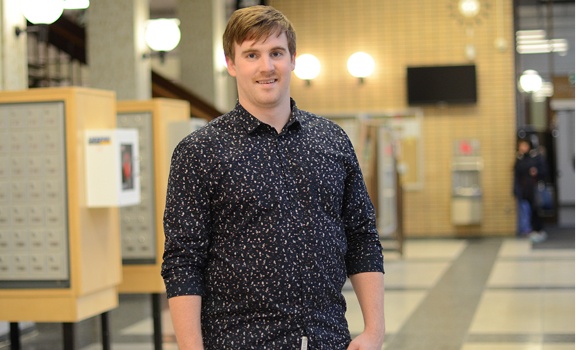 Canada's environment minister, Catherine McKenna, says climate change will be a priority for the federal government. It's also a priority topic for first-year Dalhousie medical student Kit Moran.
At the end of the month, the 25-year-old is travelling to Paris. He's one of two Canadian med students – and one of only six in the world – selected to represent the International Federation of Medical Students Associations (IFMSA) at the 2015 United Nations Climate Change Conference.
Originally from Prince George, B.C., Moran studied environmental science at Dalhousie before pursuing graduate studies at the London School of Economics.
"To choose members of the group, the Canadian Federation of Medical Students put out a call to medical student societies across Canada. And I thought, 'this is kind of perfect.' My masters degree is in environmental policy and regulation, and I studied international frameworks."
Clean air, safe drinking water, sufficient food, and secure shelter have a direct impact on the social and environmental determinants of health. The World Health Organization (WHO) expects between 2030 and 2050, climate change will lead to 250,000 additional deaths worldwide per year. These deaths will be due to malnutrition, malaria, diarrhea, and heat stress.
"A lot of places will be very severely impacted and that, in turn, is going to mean we'll be taking in environmental refugees," says Moran. Already, parts of the world have seen climate migrants. Droughts will cause people to migrate. And crop failure will lead to famine. The problem is, environmental refugees aren't very well defined under international law. It's really a tricky situation right now, but it needs to be dealt with."
Climate change and health in Canada
Though people living in hotter climates are expected to experience the most hardships from climate change, Moran notes the health of Canadians is also being threatened.
As a delegation, IFMSA is focused on the right of all peoples to health and how climate change impacts on that. But Moran is hoping through the group's talks with the WHO, the World Medical Association, the Canadian contingent, and other partners, some attention will be given to national climate-related health issues, too.
Through his thesis work, Moran looked at how fossil fuel development is affecting the culture and health of Canada's northern indigenous peoples.
"Their livelihoods, their way of life is going to be severely impacted by climate change over the next half century. Their culture is very much based upon the land, the polar ice, their relationship with the animals. Over time, the migratory pattern will change. The ice will melt. Climate change is really going to alter indigenous culture. And it will affect their health as well."
"Even in Nova Scotia, we're seeing the affects of climate change on health. As our climate is warming and becoming more temperate, it's becoming more suitable for the spread of Lyme disease. So already, our right to health is being impacted here at home."
And as climate becomes more of an issue around the world, Moran says governments and health care systems are going to have to adapt.
"Climate change is going to be increasingly important in our lives as physicians. So it's important that my classmates and I be educated in the role of climate change on health. It's going to be a huge part of our future practise."