News
»
Go to news main
Dal glaucoma researcher recognized for contribution to vision science
Posted by
Allison Gerrard
on December 7, 2015 in
News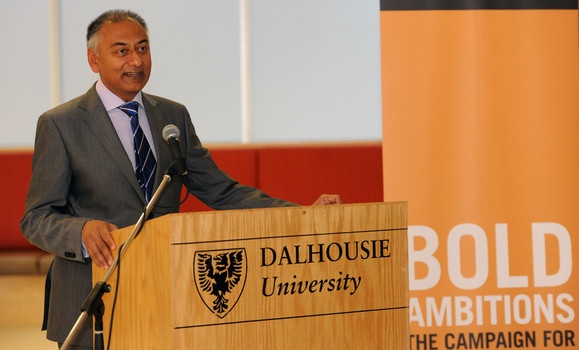 Dr. Balwantray Chauhan, Dalhousie Medical School's Dr. R. Evatt & Rita Mathers Chair in Ophthalmology & Visual Sciences, was recently recognized by the Alcon Research Institute (ARI) for his contributions to the field of vision research. He's only the sixth Canadian to receive the prestigious international award.
The goal of the ARI is to encourage, advance, and support vision-related science, with the aim of finding new therapies for diseases of the eye.
"This award is something that I am quite proud of," says Dr. Chauhan. "It is an honour to receive such a distinction from an organization that recognizes all areas of vision and ophthalmology all over the world."
In addition to the high-profile recognition, the ARI award carries with it a $US 100,000 research grant. The QEII Foundation provided Dr. Chauhan with another $100,000 in matching funds.
"This award will enhance my current research endeavors. It will also be used to support students with the aim of motivating them to be bright junior scientists who can go out and develop their own ideas and a passion for research."
Studying glaucoma
Dr. Chauhan, an affiliated scientist at the Nova Scotia Health Authority, conducts much of his work through Dalhousie's Retina and Optic Nerve Research Lab. The laboratory has brought together leading vision researchers to conduct eye-related basic science research.
"The main focus of this lab is to look at the function of the retina and optic nerve in healthy and experimental disease states – particularly in relation to glaucoma," says Dr. Chauhan. "This basic science research dovetails nicely with the clinical research."
Glaucoma, an age-related disease, harms the optic nerve, which carries signals from the eye to be processed by the brain. If not detected and treated, glaucoma can result in permanent vision loss; it's one of the leading causes of blindness in Canada.
The objective of Dr. Chauhan's research is to study how the optic nerve is damaged and develop new tools for effectively monitoring the progress of the disease, contributing to more efficient and applicable patient management by ophthalmologists.
"The more I become more involved in this area of research, the more humbled I am by how much we don't know," says Dr. Chauhan, who has been studying glaucoma for 25 years. "That is why awards like this, along with other funding sources, are imperative to continue research in this area and further our knowledge of this important and prevalent disease."