News
»
Go to news main
Investing in MS research and care in the Maritimes
Posted by
Christena Copeland and Allison Gerrard
on December 9, 2015 in
News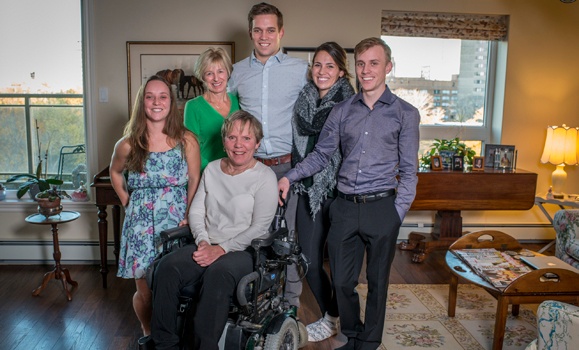 An estimated 100,000 Canadians live with multiple sclerosis, and Nova Scotia has one of the highest rates in the country.
"Multiple sclerosis is the most common, serious neurological disease affecting young adults," says Dr. Jock Murray, neurologist and director of the Dalhousie Multiple Sclerosis Research Unit.
In an effort to improve multiple sclerosis care in the Maritimes, philanthropist Margot Spafford has established the Dalhousie Medical Research Foundation Gillian's Hope Fund. Over one million dollars has been raised.
"The DMRF Gillian's Hope fund was created in honour of my dear friend, Gillian, who has lived with multiple sclerosis for over two decades," says Spafford.
The goal is to grow the endowment to three million dollars. The money will be used to support the recruitment of an MSologist to Dalhousie Medical School.
"In the Maritimes, we have a coordinated MS research unit that provides care, research, and education," says Dr. Murray. "We now need a well-trained MSologist who can carry out important research and collaborate with other professionals in MS research programs."
As the only MSologist in Atlantic Canada, the specialist will focus on four key areas of multiple sclerosis research: immunology, genetics, environmental factors, and MRI diagnosis. And with dedicated time for clinical work, patient and public education, and physician training, the MSologist will help foster alliances between scientists and clinicians who have an interest in the disease.
"While we are pleased to already have over one million dollars endowed to the fund, we are eager to reach our goal of three million dollars and bring hope to the thousands of people who are impacted by MS in the Maritimes and beyond," says Spafford. "Too many people in our region and around the world are suffering with this debilitating condition."