News
»
Go to news main
Stop, collaborate and listen: Health students compete at working together
Posted by
Kathryn Morse
on January 28, 2016 in
News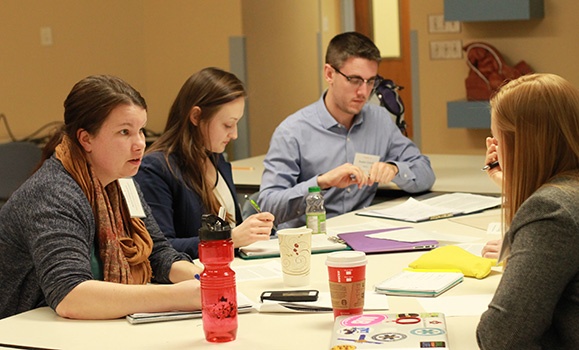 Kyle is an eight-year old patient who ended up seriously ill in hospital because he refused to take his asthma medication. The reasons are complicated, but bullying at school was one factor and tension at home was another. The question for Kyle's health-care team: how to send him back home and back to school safely?

Kyle is fictitious but the scenario is a realistic one. It was part of the Health Care Team Challenge (HCTC) on January 28, an event which involved nearly 40 Dalhousie students from across the Faculties of Health Professions, Medicine and Dentistry.

This was the second year for the competition, organized by Dalhousie and the IWK Health Centre based on a format that began at the University of British Columbia but is now part of interprofessional health education at universities across Canada and around the world. While fun, the event also has serious stakes: the six teams were vying for a spot at the national HCTC championships based on their ability to work together collaboratively across disciplines to develop a patient plan. There was some advance work, but the bulk of the competition consisted of the teams being given 90 minutes to talk over Kyle's case, agree on a treatment plan and present it to the judges.  

"I think it's fantastic," says Kathy Johnston, one of the coordinators of the challenge from the IWK. "It's very exciting to see people in the undergraduate world working together. I hope the teams take away the idea that they are more than the sum of their parts."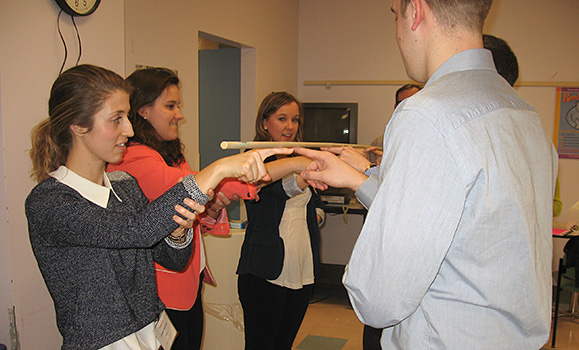 The event features a few surprises. While each team was huddled together in separate rooms, phantom judges suddenly walked in and listened to the conversations, evaluating how well individual team members were working together.
Later, as the teams raced the clock to finalize their plans, there was another surprise that had nothing to do with the patient's scenario, but everything to do with teamwork and coping with the unexpected. The teams were given a lightweight stick, and told to lower it to the ground as a team, each person balancing part of the stick on one finger. In spite of repeated tries, and plenty of lively discussion, it was a tough problem to solve in the short time provided — and that made it a good learning experience.

"I was impressed with how well we worked together," says Izaak McLaughlin, a respiratory therapy student. McLaughlin felt his team excelled in case planning for the patient, but struggled with the stick exercise. "If I could do it again, I think I might suggest we listen more and have a designated decision-maker!"

Although set up as a competition, the HCTC is designed to get students in the health professions to practice working together in situations similar to those they will face some day in the healthcare system. It's just one of the opportunities for interprofessional education offered at Dalhousie.  

"It's fun working together," says Heather Webster, a Health Administration student who recruited her team to compete in the challenge. "I learned a lot about the other professions and how we each overlap."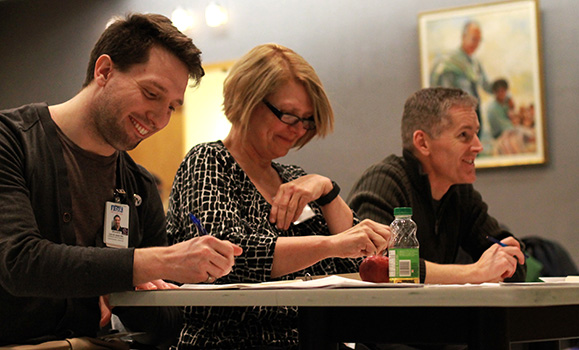 At the end of the competition the teams were judged on how well they met four criteria: their oral presentation, their written submission, how well they worked together as judged by the phantom judges, and how well they dealt with the stick exercise.
After a tough competition, the 12 judges awarded the top prize to Team 4: Connor Bray (Nursing), Kathleen MacMillan (Pharmacy), Erik Merchant (Physiotherapy), Kate Palkovits (Nursing), Drew Rajaraman (Medicine), and Yaeesh Sardiwalla (Medicine). The team will represent Dalhousie at the upcoming National HCTC, to be held at Dalhousie in March.