News
»
Go to news main
Government of Canada supports groundbreaking Dal research with new Canada Research Chairs
Posted by
Michele Charlton
on December 5, 2016 in
News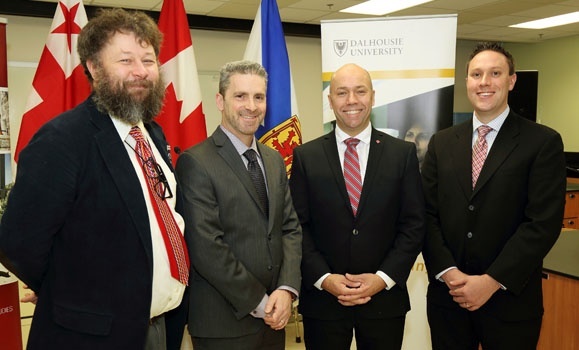 Dalhousie is home to two new Canada Research Chairs. Andy Fillmore, Member of Parliament for Halifax, shared the news at a local announcement event Friday morning at Saint Mary's University.

"Halifax is the proud home to some of the Canada's leading research universities. The researchers we celebrated today at Dalhousie and Saint Mary's University are experts in their field whose work will benefit our city, province, country — and the world," said Fillmore. "Our federal government is proud to support these impressive researchers and their important work."

The Canada Research Chairs Program supports and attracts the world's best researchers in the fields of engineering and the natural sciences, health sciences, humanities, and social sciences. Friday's announcement was part of a larger national announcement of over 200 new and renewed Canada Research Chairs.

From improving our understanding of the human microbiome, to exploring the impact of nitrogen on different ecosystems, to studying the cultural history of Europe's "small nations," these new chair holders are truly making an impact.

"These researchers are playing a critical role in positioning Canada as a leader in scientific research," said Martha Crago, Dal vice-president research. "Their unique and essential expertise will enrich our basic understanding relevant to culture, environment and health."

Meet Dal's Newest Canada Research Chairs

Carolyn Buchwald – Assistant Professor, Department of Oceanography
Dr. Buchwald is the Canada Research Chair in Ocean Chemistry, and has come to Dalhousie from Woods Hole Oceanographic Institution. Dr. Buchwald's focus is on the impact of fixed nitrogen in open ocean ecosystems and coastal ecosystems. Her research uses a powerful new tool to interpret the processes that control nitrogen in the environment.



Morgan Langille – Assistant Professor, Department of Pharmacology
Dr. Langille is the Canada Research Chair in Human Microbiome. Microbiomes assist with the digestion of the foods we eat, synthesize essential vitamins, help our bodies defend against unwanted pathogens and help keep our immune systems in check. Dr. Langille's research aims to improve the understanding of the human microbiome and how it interacts with the human body.

In addition to the appointment of two new research chairs, one of Dal's current Canada Research Chairs has been renewed.

Gerald White – Associate Professor, Department of English
Dr. White has been the Canada Research Chair in European Studies since 2011. Dr. White's project engages with the cultural history of Europe's "small nations" and minority groups. The focus is on cinema, but it is also engaged with the literature and history of these European communities. Dr. White's research will result in the first book-length studies in English of all three subjects, in addition to article-length studies of related problems and a vigorous program of public presentations.

More information about the program can be found on the Canada Research Chairs website.