»
Go to news main
Students band together to provide interdisciplinary care to Halifax's vulnerable populations
Posted by
Melanie Jollymore
on May 16, 2017 in
News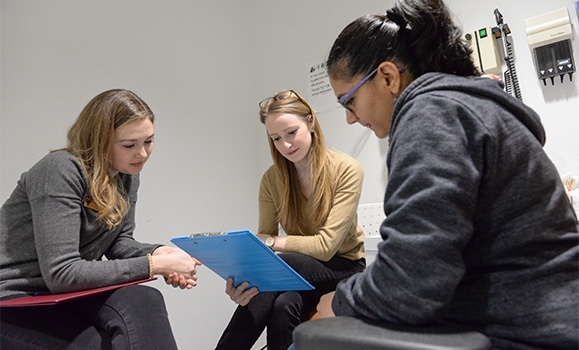 Students in nine different professional programs have joined forces to tend to the unmet health needs of low-income, vulnerably housed and homeless people in Halifax, through a new student-led initiative called HOPES (Halifax Outreach Prevention Education & Support).
Through the HOPES multi-faceted approach, junior students provide information, initial screenings and general guidance on Sunday afternoons at the St. Andrew's United Church on Robie Street in Halifax, in conjunction with the long-running Sunday Suppers and Walk in Our Shoes programs at the church. Meanwhile, senior students work in interdisciplinary teams, supervised by volunteer preceptors, to provide clinical care at the HOPES Health Centre on the corner of South and LeMarchant streets (Dalhousie Health Services location).
"People who lack a secure income or housing face many barriers when it comes to accessing health care," notes Braydon Connell, a second-year Dalhousie medical student who is co-executive director of HOPES alongside Heather Webster, a student in Dalhousie's combined master's program in Health Administration and Law.
Read more on Dal News.