»
Go to news main
Working together for "Wheezy Will"
Posted by
Laura Hynes Jenkins
on July 14, 2017 in
News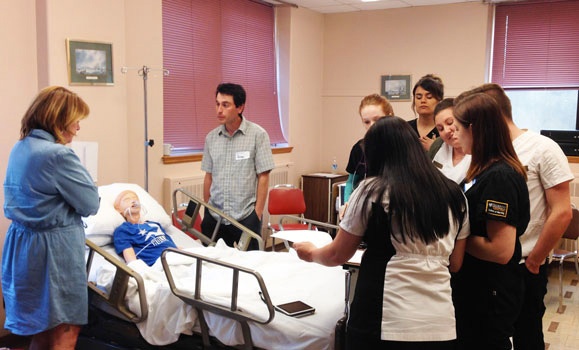 Last month, students from eight professions spanning the field of health participated in Interprofessional Education (IPE) Simulation Day in Yarmouth.
The students, who study at the Yarmouth site of the Dal School of Nursing or who were on clinical placements in the Yarmouth area, came together on June 5 to work on a variety of simulation experiences from various practice areas. 
"The group I was a part of learned within the first scenario that as health-care providers, we are all capable of communicating with family members of patients to inform, support, and include in the care we provide, regardless of our professional discipline. This inclusion allowed us, a healthcare team, to resolve the conflict scenarios much more effectively," said Lucas Jenkins, a radiological technology student currently on clinical placement at the Yarmouth Hospital.
Providing students with the opportunity to work as a team and to experience the non-clinical aspects of a health environment was one of the key goals of the day, says Noel Pendergast, IPE coordinator for the Faculty of Health.
Read more on Dal News.